Romanian consumers' coping strategies with price increases
IPSOS & RETAILZOOM ANALYSIS: Confronted with price increases, consumers are constantly adjusting their consumption habits and developing coping strategies to efficiently manage their budgets. An analysis combining sales data across international retail chains in Romania, provided by RetailZoom, and a recent consumer survey conducted by Ipsos highlights the specific actions taken by consumers to alleviate the impact of price increases across various categories. The adjustment to the shopping baskets involves volume decreases for food and household care, followed by personal care products. Purchased quantities decreased with 3% at the beginning of 2023 (Jan-May) compared with the same period of 2022.
The background: double-digit inflation
The inflation rate in Romania was 10.3% in June and 10.6% in May, according to the National Institute of Statistics. Inflation has constantly dropped during recent months, after peaking at 16.8% in November 2022. Food products continue to top the chart of price increases (18%), followed by services (11.5%).
The largest price increases across food products, compared with June 2022, were recorded for sugar (55%), potatoes (32%), butter (31%) and eggs (29%).
Under these circumstances and considering the recent discussions among retailers and government officials regarding the voluntary limitation of commercial margins for basic food products for a period of 3 months, Ipsos and RetailZoom have conducted an integrated analysis about how price increases are reflected in both consumer baskets and their perceptions.
Quantitative purchases (in number of units) in the first 5 months of 2023 (Jan-May) across international retail chains in Modern Trade channel have plummeted compared with the last 5 months of 2022 (-10%). This is a direct sign of the downward progression in Romanians' shopping budgets across international retailers. Despite a few of these drops being justified by seasonal differences, certain non-seasonal product categories maintain their decreasing trend compared with the same period of the previous year. Among these, a few categories top the chart of constant decreases compared with January-May 2022: sugar (-36%), canned meat (-33%), corn flour (-24%), edible oil (-28%) and ice tea (-12%).
Product categories which register the largest decreases for the beginning of this year (Jan-May 2023) across international retailers activating in Romania, compared with the last 5 months of 2022, are highlighted in the chart below. Among these, edible oil and margarine, alcoholic beverages and groceries also recorded sharp decreases compared with the first half of 2022 (Jan-May), indicating a narrowing shopping behaviour, in the form of category reduction or drop out, or migration towards other retail channels (such as wholesalers, open markets or directly from the producers).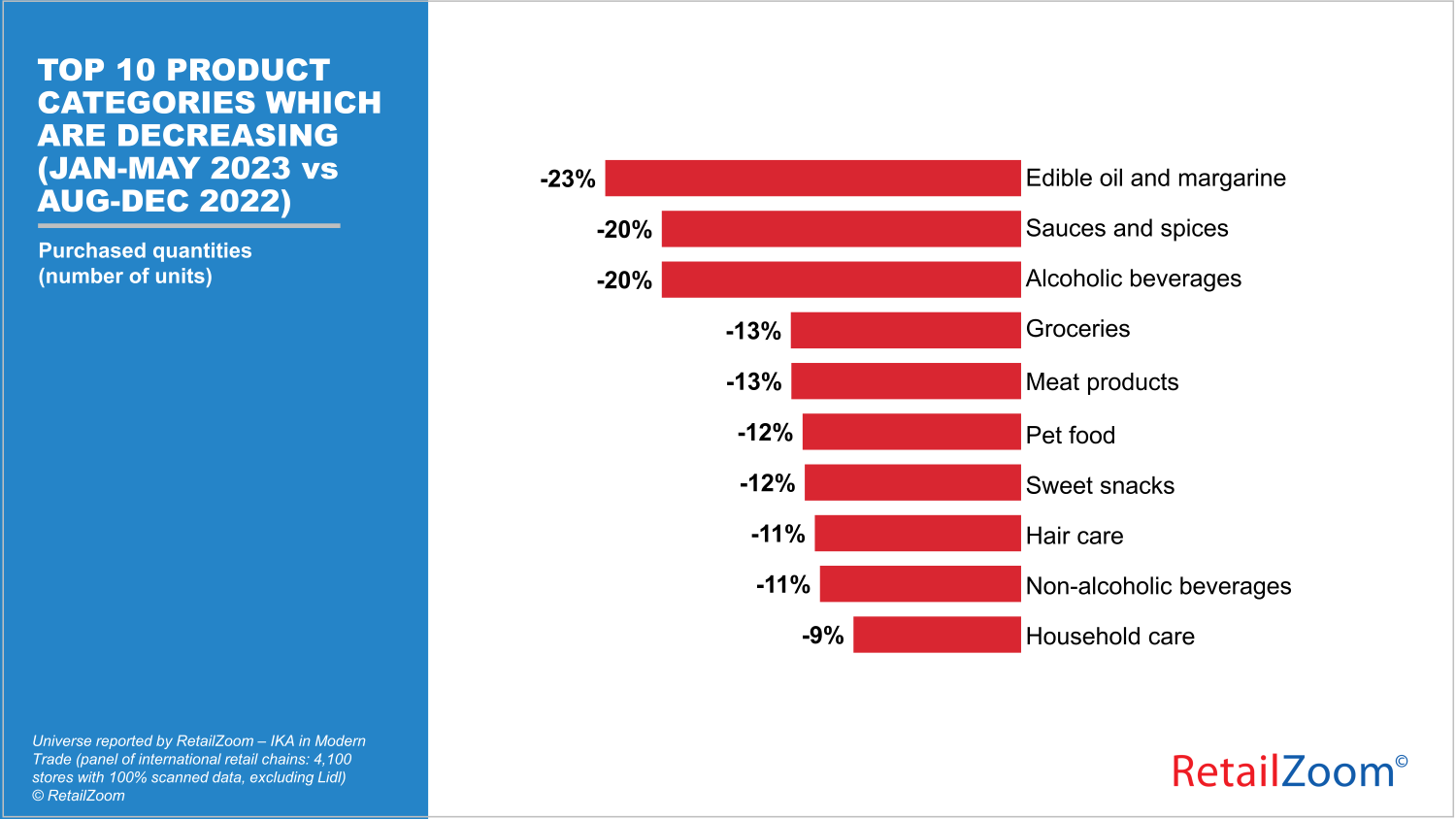 Decrease in consumption: the citizen perspective
The survey among Romanian consumers has highlighted several coping strategies in response to price increases. Here are the key findings:
Essentials: 48% of respondents have declared having given up buying certain food products to compensate for price increases, which indicates a strategic focus on essential categories rather than impulse buying.
Eating at home: 43% of consumers taking part in the survey say they are no longer ordering food at home, instead opting for preparing meals at home in order to save money.
Cutting on indulgence products: 4 in 10 consumers (41%) have given up buying snacks, sugar-based beverages and coffee in order to reduce their spending.
Clothes, shoes and accessories: 40% of respondents have given up buying clothes, shoes and accessories, prioritizing essential spendings over discretionary purchases.
Consumer electronics: 38% of those participating in the survey have slashed consumer electronics or mobile phones from their shopping lists.
Travel: In response to price increases, 37% have given up travelling abroad, while 26% have renounced to spending their holidays in Romania.
Insurance: 23% and 21%, respectively, have adjusted their life or health insurance to adapt to budget constraints.
Other adjustments: A smaller share of consumers have taken different approaches, such as giving up on personal care and cosmetics (21%) or cancelling their TV or medical subscriptions (20% and 8%, respectively).

What role do promotions play in adjusting the shopping budgets?
The focus on adjusting shopping baskets for Consumer Packed Goods (CPG) is reflected in retail sales by a significant increase in the share of on-promo purchases, compared with the previous year – from an average of 20.5% in 2022 to 24% of total sales value in the second quarter of 2023. Shoppers, retailers and manufacturers have started to pay more attention to products on promotion – even though promotions do not always involve the lowest prices, they have regained an important position for the shopping budgets.

Coping strategies
The survey shows that consumers adopt various coping strategies to manage the impact of price increases. They look for promoted products (55%), use smaller quantities (32%) and closely follow the shopping list (31%) to save money. Moreover, consumers freeze certain food products at home (30%), look for the cheapest options (27%) and reduce the quantities they are buying (24%). Some consumers also explore alternative stores (21%) and opt for buying multipacks (21%) or bulk (18%). These strategies reflect consumer efforts to prioritize essential purchases and stretch their budgets across longer periods of time.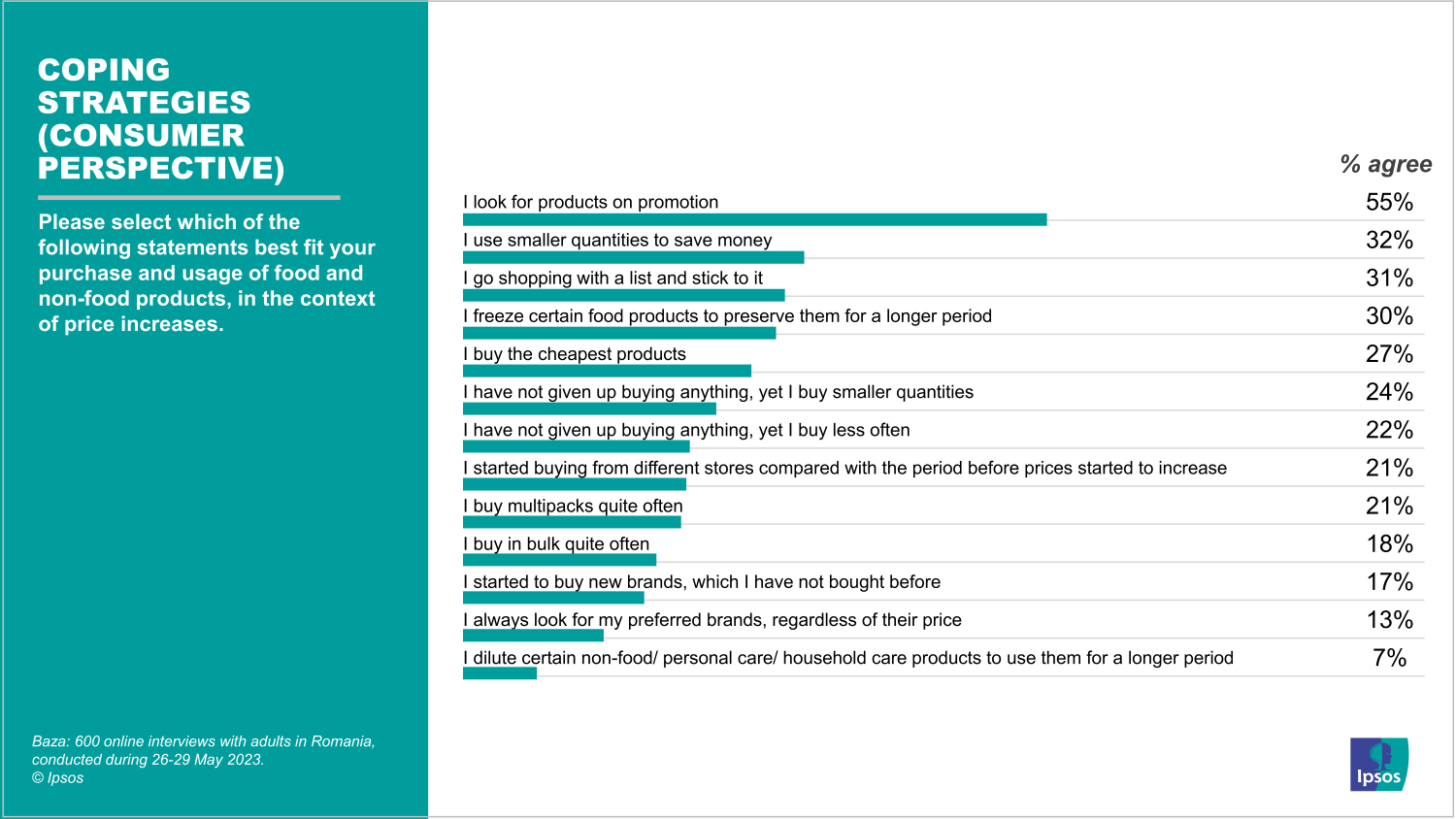 In conclusion
As prices continue to rise, consumers adopt various coping strategies to efficiently manage their budget. From closely monitoring promotional offers and adjusting the quantities they buy, and up to more thorough planning of shopping visits and exploring cheaper alternatives, consumers show resilience and adaptability when faced with price increases. These findings are useful both for businesses and policy makers, highlighting the requirement to understand and answer to the evolving needs of consumers across inflationary pressures.
About the analysis
An online survey was conducted by Ipsos on Ipsos.Digital platform during 26-29 May 2023, among 600 adult citizens in Romania. Results are representative for the Romanian population connected to the Internet. The maximum sampling error at 95% confidence level is ±4%.
RetailZoom reports are representative for Modern Trade in Romania across international retail chains (except for Lidl), on a panel of more than 4,100 stores which provide electronic sales data on a weekly basis.
About Ipsos
The international, French-based Ipsos Group is one of the largest Market Research companies in the world, listed on the Euronext Paris and present in 90 markets. Ipsos is the largest research group in Romania, employing more than 1,000 people. Ipsos Romania is a full-service research company, established in 2001. For more information, please visit https://www.ipsos.com/en-ro
About RetailZoom
RetailZoom is a Market Research company specialized in Retail Audit and in-depth analysis of business data. RetailZoom offers a wide range of solutions and services developed for the retail industry (merchants, producers, distributors) – sales monitoring and market reports, distribution and market shares, assessment of promo sales and pricing strategy efficiency, understanding purchase behaviours and consumption experiences. RetailZoom is active in Romania since 2012 and offers similar services across Europe, Middle East or Africa. RetailZoom has 20 years of expertise in this field. For more information, please visit https://retailzoom.net