Ipsos in MENA Launches Syndicated E-Commerce Study
A new study looking at online shopping behaviors in KSA, UAE, and Egypt.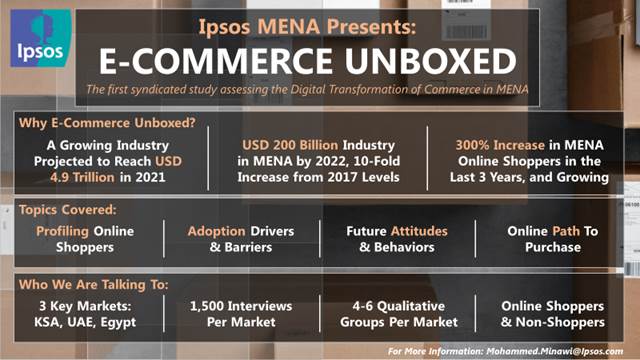 E-commerce has seen rapid growth rates globally, and while still relatively new to the region, MENA is also witnessing high growth levels across a wide ranges of product categories and services. The number of online shoppers in the region has surpassed 30% of the region's adult population, a threefold increase in the last 3 years, and the region is expected to hit USD 200 Billion in volume by 2022.
As e-commerce in MENA rapidly approaches a tipping point, driven by a new, digitally connected, and younger shopper, it becomes increasingly important to understand the key trends shaping the digital transformation of commerce. As such, Ipsos in MENA is launching the region's first syndicated e-commerce study, "E-commerce Unboxed", to help clients understand adoption triggers and barriers to online shopping, omni-channel behavior, shopper paths to purchase, and attitudes towards the future of commerce.
"E-Commerce Unboxed" covers the 3 key e-commerce markets in MENA, namely Saudi Arabia, UAE, and Egypt, understanding behaviors and attitudes across 5 key categories: Groceries, Personal Care, Home Care, Electronics, and Fashion. It incorporates both quantitative interviews and qualitative focus groups in each market, speaking to current online shoppers and non-online shoppers. Results will be released in May 2019.
Contact: Moh[email protected]