What Worries the World – October 2023: Worry about immigration control reaches its highest level in over three years
Inflation has now been the top global concern in our What Worries the World survey for the last 19 months.
Please note: Fieldwork for his month's edition ended on Friday, October 6th prior to the conflict in the Israel and Palestine conflict.
Concern over immigration control, globally, is up two points to 15%, the highest it's been since March 2020.
Inflation remains the top concern across 29 countries, where it has been for the last 19 months, with 39% saying it is a major issue.
Our monthly What Worries the World survey explores what the public thinks are the most important social and political issues, drawing on more than ten years of data to place the latest scores in context. This wave was conducted between September 22nd – October 6th, 2023.
Key findings
Inflation (39%) has now been the number one concern for 19 months in a row, the longest an issue has been top in our survey's history.
Concern over immigration control (15%) is up 2pp, the highest level since March 2020.
This month two countries record the lowest ever right direction scores: Canada (32%) and Germany (25%). This is the second month in a row Germany has recorded this score.
Canada also records its lowest "good" economic score (29%) outside of the pandemic.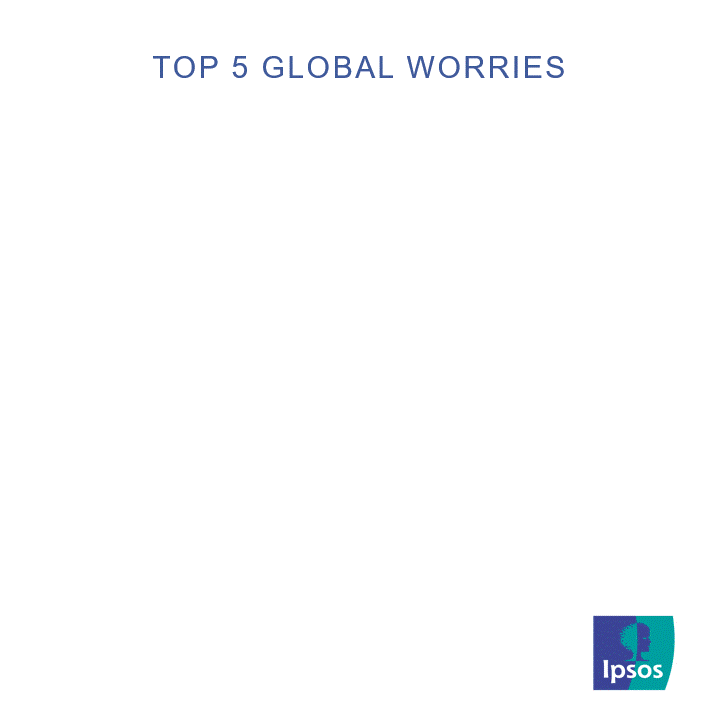 Inflation
Almost four in ten (39%) across 29 countries choose inflation as one of the biggest concerns facing their country.
Worry around the cost of living globally peaked at 43% in February. Since then, it has remained at an elevated level with around four in ten picking it as an issue this year.
Argentina (69%) is the most concerned nation and worry has risen by 3pp this month. The country has been the most worried for the last 11 months.
Ten countries this October have inflation as their highest worry – Argentina, Australia, Canada, France, Germany, India, Poland, Singapore, the US, and Turkey.
For more on public attitudes towards inflation, see our recent 29-country Global Inflation Monitor.
Immigration Control
Immigration control ranks ninth out of 18 concerns in our What Worries the World survey with 15% globally choosing it as an issue. This is 2pp higher than last month and 4pp more than October 2022.
Concern is much higher in Europe than other regions. Germany is now the most concerned country with 44% saying it is an issue. Worry is up 11pp compared to last month and has risen 26pp since October 2022. This is the highest level of concern for immigration among Germans since February 2016 when 47% chose it as an issue.
Other countries to see noticeable increases this month include Chile (+5pp), the US (+5pp), and Sweden (+7pp).
Crime and Violence
Just under one in three (31%) across 29 countries choose crime & violence as worry in their country.
Nearly seven in ten (68%) Swedes are worried about crime & violence this month, a sharp rise of 11pp from September. This is only the second time in our survey that Sweden has recorded such a high figure for crime. The last time was two years ago in October 2021. It should be noted that fieldwork took place before two Swedish football fans were murdered in Belgium.
After its recent spike last month, concern in South Korea (28%) is down 14pp. Excluding September's score, this is the highest level of worry for the country since June 2019.
In majority of six countries say crime & violence is a major concern. These include Chile, Israel, Mexico, Peru, and Sweden.
Poverty & Social Inequality
Poverty & social inequality remains unchanged from last month, with just under a third (31%) picking it as a worry.
Indonesia is the most worried about poverty & social inequality for a third month in a row, with 44% picking it as an issue. It's also the nation's second biggest concern, behind financial/political corruption.
A third (32%) of people from Belgium list this as a major issue in their country, a 6pp rise from last month. It's the country's third biggest worry, following taxes and inflation.
Three countries have poverty & social inequality as their number one worry – Brazil (43%), the Netherlands (40%) and Japan (34%).
Unemployment
One in four (26%) across 29 countries choose unemployment as one of the biggest concerns in their country. This level of concern is unchanged from last month.
South Africa is the most concerned about unemployment, with 64% choosing it as a worry. South Africans have been the most worried about jobs since April 2021. Following South Africa, Singapore is the second most concerned country. Half (49%) of Singaporeans put unemployment as one of their main worries. This is an increase of 14pp from last month and the highest recording this year for Singapore on unemployment. It is the nation's second biggest worry behind inflation.
Satisfaction with the economy
Just over a third (35%) globally would say their country's current economic situation is "good". Since the beginning of 2023, the current economic sentiment has changed very little, fluctuating from 34% to 36%. This time last year, "good" sentiment was at 32%.
A 6pp decrease sees Canada record its lowest "good" economic score outside of the height of the pandemic. This is following on from recent polling by Ipsos Canada, which found 60% of Canadians think Justin Trudeau should step down before the next election.
A 9pp month-on-month increase sees India climb further ahead in the rankings, with more than eight in ten (83%) describing the country's economy positively.
Positive economic perceptions have increased most since last month in Turkey (+9pp), Hungary, Chile and Brazil (+9pp each). Meanwhile, Malaysia has recorded a 14pp decrease down to 39%. Belgium (-8pp) and Canada (-6pp) also see notable month-on-month drops.
After increases in positive economic perceptions over the summer, Sweden's score has fallen 3pp since last month, recording a new all-time low.
---
About this study
This 29-country Global Advisor survey was conducted between September 22nd 2023 and October 6th 2023 via the Ipsos Online Panel system among 20,570 adults aged 18-74 in Canada, Israel, Malaysia, South Africa, Turkey and the United States, 20-74 in Indonesia and Thailand, 21-74 in Singapore, and 16-74 in all other nations.