Making belonging joyful: Inclusive representation in advertising to grow brands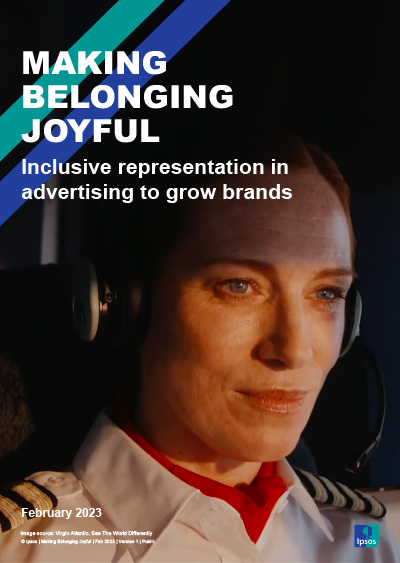 There was a lot of debate in 2022 about how to make effective ESG (Environment, Social, Governance) advertising. Brands were looking to find the right balance between delivering a great creative experience to the audience, having a differentiated ESG angle, and connecting their brand in a way that delivered business outcomes.
In this context, it gives us great pleasure to share that Virgin Atlantic's "See the World Differently", made by Lucky Generals, is our ad of the year 2022 and a good example of how to do the 'S' in ESG with flair. It is a brilliant effectiveness case study on the power of positive representation done well, with the use of entertainment, joy, and brand consistency.

Breaking the stereotypes: never imitate, always misfit!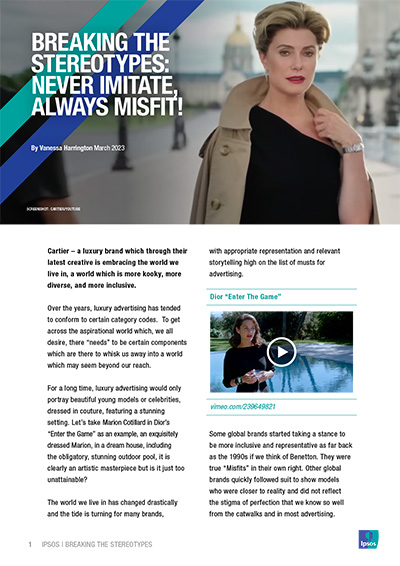 Cartier – a luxury brand which through their latest creative is embracing the world we live in, a world which is more kooky, more diverse, and more inclusive.
In this paper, Ipsos reveals why their latest campaign is a true 'Misfit'. Featuring non-conforming characters and original storytelling, with the brand at the heart of the narrative, the creative delivers a remarkable audience experience.

Advertising: finally… a 'Misfit' Christmas ad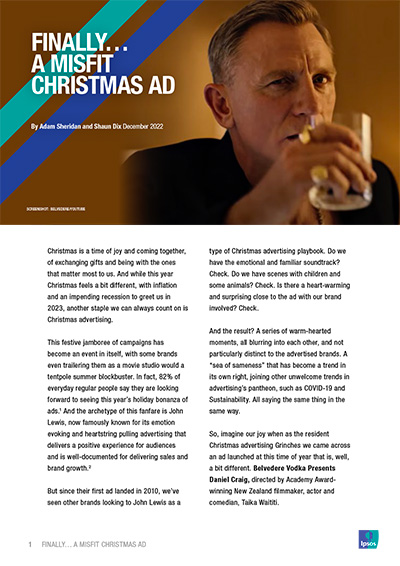 Christmas is a time of joy and coming together, of exchanging gifts and being with the ones that matter most to us. And while this year Christmas feels a bit different, with inflation and an impending recession to greet us in 2023, another staple we can always count on is Christmas advertising.
In this paper, Ipsos reveal why the campaign is a true 'Misfit' advert and explore the creative drivers behind this stellar creative and other effective ads in the drinks category.

The MISFITS mindset - Contagious "Mavericks and Mischief Makers" event
Creative Corner - MISFITS
Diving into some key learnings from Ipsos' latest publication, MISFITS, Shaun Dix and Arnaud Debia are joined by the MISFITS's author Adam Sheridan. Discussing what creativity really means in advertising, and looking at a range of examples, the team explores how embracing the uncertainty of creativity when producing advertising is the most certain way to spark brand growth. Find out more in this video.
MISFITS: Discover how creativity in advertising sparks brand growth!
In MISFITS, Adam Sheridan highlights the tension and missed opportunity of harnessing creativity in advertising and explores what it means to the regular people it needs to influence.
With this shared language in hand, he identifies its value to end advertising effects. And he frames this language and value of creativity in the qualities of the MISFITS of popular culture. The people who do not fit in and, in doing so, can harness creativity to deliver the best experience for their audiences.
Finally, Adam outlines considerations for marketers and agencies when developing advertising, knowing that the evidence confirms trusting in a MISFITS mindset to pursue the extraordinary has more business value than the safe and ordinary.