Data-Driven Insights Show How the Hope Probe has Driven the 'Brand UAE' Forward
Three nations are currently in a race to the "red planet," including NASA's Perseverance Rover from the USA, which will be arriving on Mars in just over a week, China's mission to Mars which arrived on Wednesday February 10, and UAE's Hope Probe (Dubbed Al Amal in Arabic) which was the first to enter Mars' orbit on February 9.
These national initiatives are conducted to advance human knowledge, evaluate future economic potential, as well as drive national pride on the international level.
In the world of business, decision-makers are keen to know the return on their investment for any activity that comes with a price tag. In this case, and while the dynamics and objectives are different, more patriotic, more nationalistic and more globally aspirational, Ipsos' data-driven insights are also able to assess the ROI for the mission, yet on the 'brand UAE'. Ipsos Social Intelligence Analytics (SIA) are able to assess the impact that 'the brand' has received from the vast coverage on social and mainstream media, as it related to the 'Hope Probe' Mission.
Looking at 'Brand UAE,' the chart below shows how the Hope Probe has elevated UAE's social reputation score. The score provides a very useful one-number index for marketers to understand their online reputation. It takes into account the volume of mentions across social and mainstream media and the net sentiment that these mentions generate. We can see here the reputation score of the UAE as a brand has reached a three-month high of 88 points, due to the coverage and engagement with content around the Hope Probe mission. This compares favorably with the previous peak which came with National Day celebrations in the UAE (87).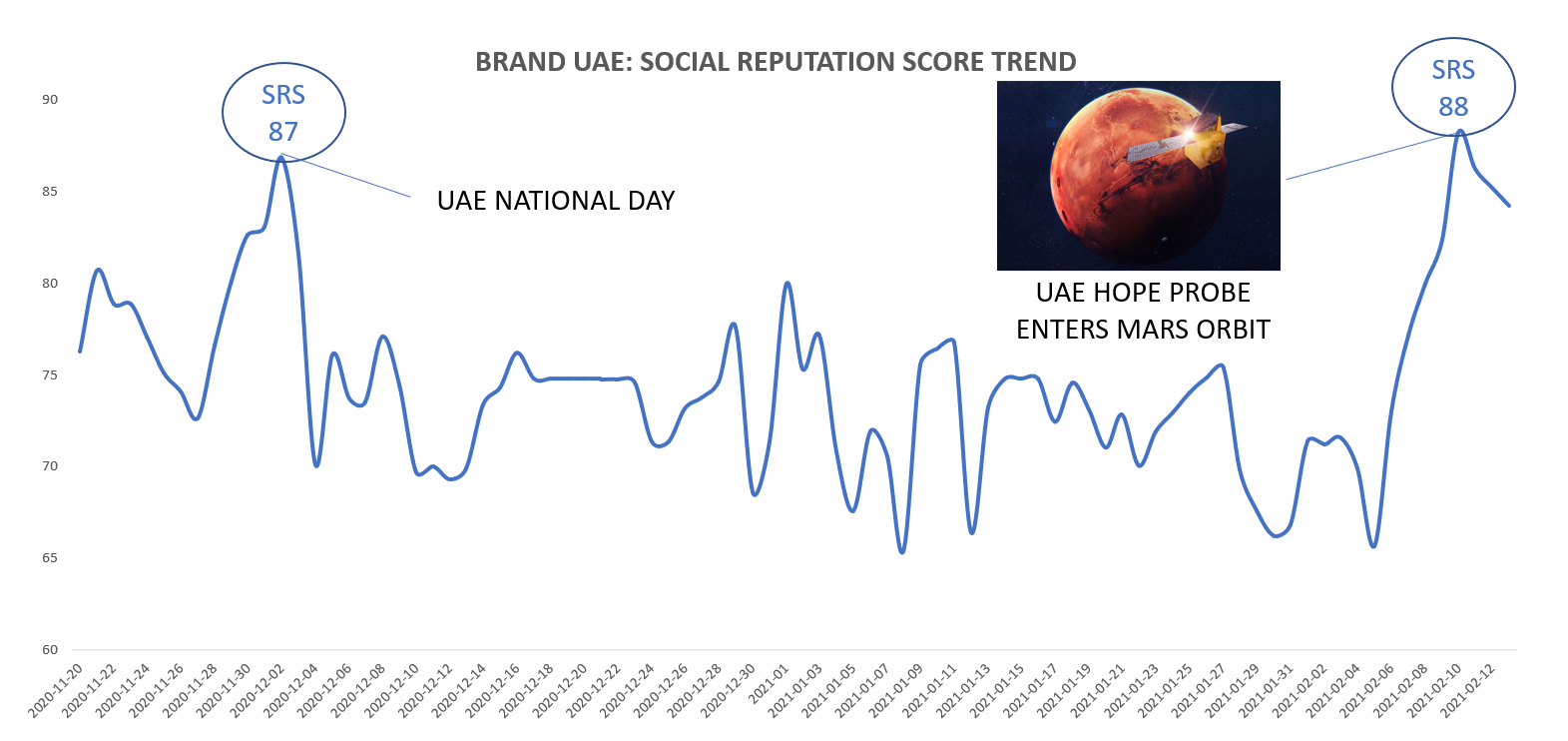 Furthermore, we delved deeper into the data-driven insights, to understand how citizens across the globe are responding to these initiatives, how much interest there is, and what is driving it.
A first look at interest from citizens worldwide shows peaks at different key milestones in respective Mars Missions (launch and entering Orbit), but also interestingly a consistent interest in the human angle, and People's fascination with a manned landing on Mars. This information comes in the context of wider trends and opportunities to engage with audiences.
While the NASA Perseverance Mission gains significant traction, so does the UAE's Hope Mission which peaked in interest this week as its probe entered Mars' orbit. On the other hand, China's mission to Mars has generated little interest. Here, it is important to note that data from Chinese search engines such as Baidu, is not included in this analysis, as such, the insight we gather here is that the China Mars Mission has not been able to garner any serious interest on social or mainstream media outside of Mainland China.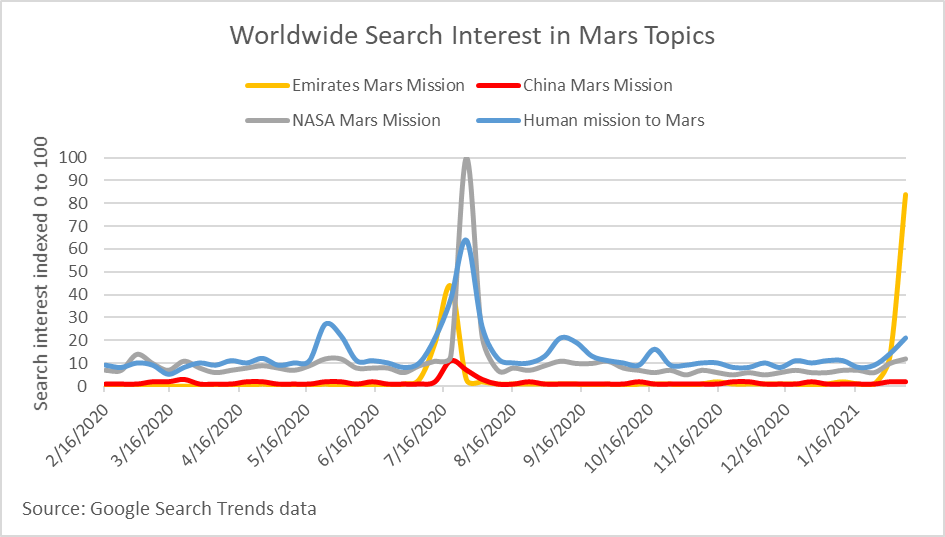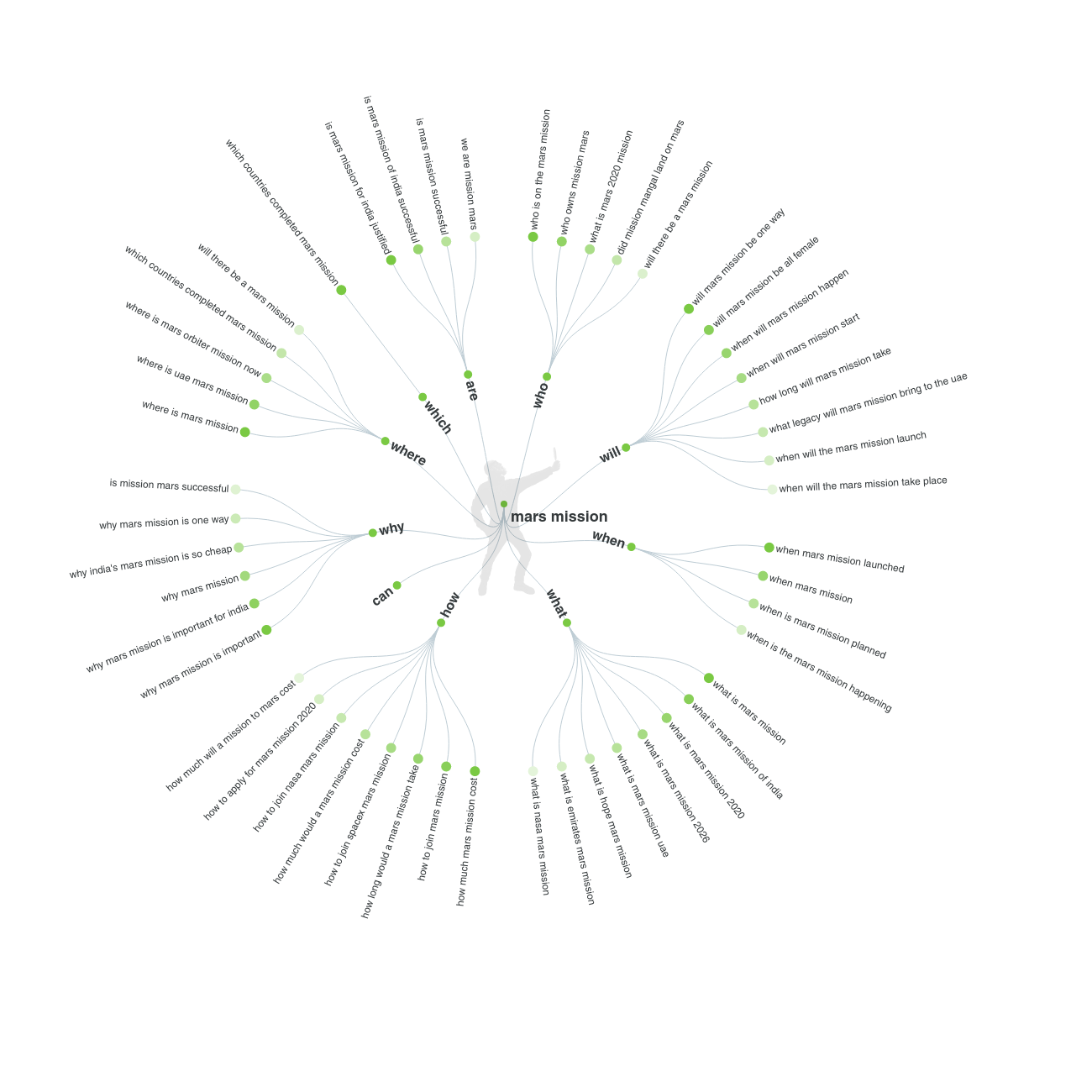 These findings are generated by Ipsos, based on data-driven insights from social and mainstream media via its Synthesio platform, search data, behavioral data and consumer review data.