Impulsively Planned: A New Paradigm of Shopping Behavior in the Digital Era
A point of view on the impulsively planned purchases authored by Ramesh Redekar, Service Line Leader - Brand Health Tracking at Ipsos in UAE, and Mahmoud Shammout, Head of Research, and Insights at TikTok METAP.
We live in an age of instant gratification, always seeking products and experiences that grant us immediate satisfaction and fulfill an emotional need. Unsurprisingly, impulse buying is on the rise. Shoppers frequently go beyond planned buying budgets on a whim. 54% of Impulse purchases are generally classified as wants and not needs, which indicates that people no longer plan their shopping trips; they're constantly shopping. So, it is imperative for brands and marketers to understand and adapt to this paradigm shift in buying behavior.
People no longer go shopping, they are always shopping
Historically, marketers tapped into the dynamics of impulse shopping by being available at the point of purchase "when the consumers are ready to transact." Today, it's equally important to be mentally available when consumers are constantly in a state of discovery for services/products. So how can brands and marketers leverage impulsive shopping behavior to its full potential?
Content
It starts with engaging storytelling
Consumers want brands to create experiences and campaigns that make users feel good. Feelings of adventure, of purpose, of self-worth bring joy and inspiration to them. So, when you switch your communication from stories, you connect with your audience across the user journey. 67% TikTok users are inspired by content leading to higher spends.
Communities
Shoppers seek social guidance from others before committing to a purchase
Many of us need one final reassurance before committing to a purchase, particularly in MENAT. A need that is more prevalent than ever before. That's why a community is superior to a following. And the community is at the heart of the purchase experience on platforms like TikTok, providing guidance through reviews and recommendations and inspiring the confidence to 'buy.' 61% of TikTok users claim to have been inspired by the TikTok community to make a purchase.
Creators
People trust other people
Content creators are a great way for brands to tell their story authentically, opening the door for meaningful engagement with audiences. Content created by real, like-minded individuals is increasingly driving what consumers consider and buy today. Unlike influencers on other platforms, who are typically famous, associated with a bandwagon of collaborations, and driven by the need to influence decisions, content creators on TikTok are considered more creative, passionate and, most importantly, authentic. According to Ipsos' research on the Power of TikTok Content Creators 2021, their content makes people happy (65%), and they are viewed as authentic (82%).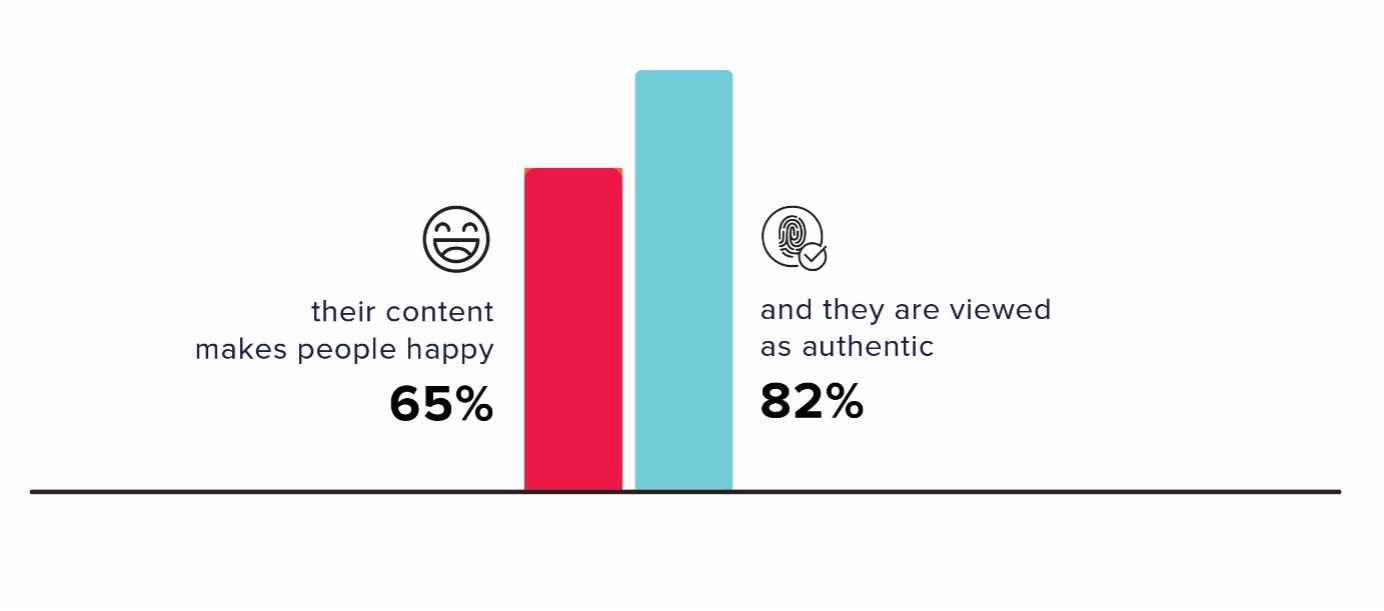 TikTok Works beyond mental availability. The platform doesn't only drive higher mindshare (2.4x higher impact on brand awareness than other digital channels), it also delivers across the purchase funnel with 3.2x Return On Ad Spend vs total media.

It's the brands' opportunity to unlock the full potential of impulse purchases and ultimately lead to higher spending. To read more, please download full whitepaper below.