The shifting power of influence
The dynamic, rapidly changing, consumer controlled environment demands that we rethink how we build brands, from a static approach to a dynamic, evolving philosophy.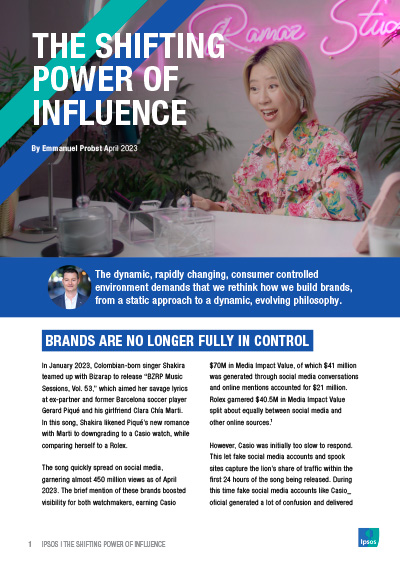 Social Media considerably amplified the voice of the consumers to drive the future of the brands in a positive or negative way. New usages are spread and open opportunities for brands. To drive brand success, marketers must understand the role brands play in people's lives, empathize with them and shape their expectations. Ipsos' most recent research brings to light how brand choice is driven by shaping expectations, integrating context, and acting with empathy.
This philosophy calls for a new approach in analyzing consumer data and surfacing insights. As people's choices vary based on occasions, the performance of the brand must be tracked across time, markets, and in the context of varied experiences. From there, marketers can identify brand growth opportunities tied to specific occasions.
Finally, empathy can be measured through a perceived empathy indicator, which relies on image statements to indicate the degree to which a given brand performs on empathy relative to its competitor.
Download the article for an in-depth look at the shifting power of influence.