What Segment of Canada's Burgeoning Non-Meat Protein Market is Driving Growth
As Canadians increasingly align their food behaviours to their evolving and expanding healthy eating aspirations, more consumers than ever are opting for non-meat proteins as meat alternatives.
According to Ipsos FIVE, the rising demand for meat substitutes (+4% since 2016) is being driven by consumers increasing desire to add more protein to their diets to augment both satiety and energy levels while being mindful of the impact of their choices on both the environment and animal welfare.
Consider evaluating what segments of Canada's burgeoning non-meat protein universe are driving growth together with investigating decision-making priorities like health and sustainability to determine how to harness this opportunity for future growth.
Non-Meat Protein Universe Segments
% Occurrences — Vegetarian/Vegan Dishes — All Venues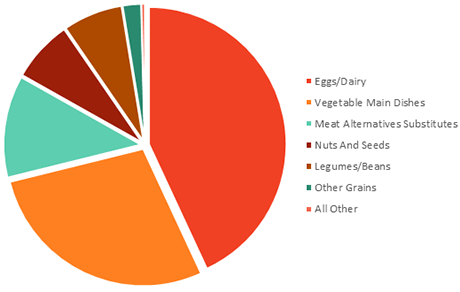 Ipsos FIVE's daily tracking of what individuals eat and drink details the consumption behaviour and attitudes of 20,000 Canadians annually trended over time. Our robust sample, coupled with the experience and expertise of the FIVE Team, ensures that key business issues are addressed with actionable insights to help our clients uncover and capitalize on opportunities to grow their businesses.