Governing Past the Next Election
Ipsos and the IOG have partnered to examine critical challenges facing Canada and the new government. Read our articles today.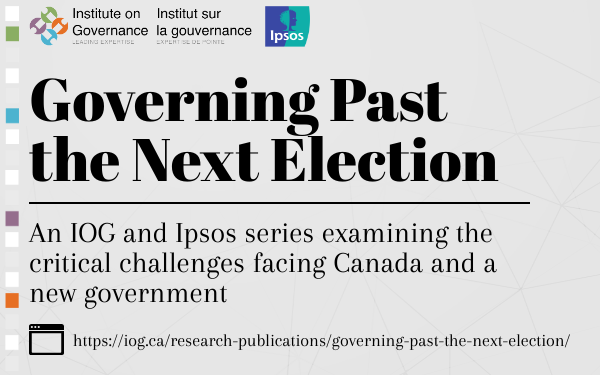 Latest editions:
October 17:
Complex, But Not Complicated: Indigenous People are Raising the Bar on the Climate Change Dialogue
October 11:
Youth Disengagement - Maybe it is Us, Not Them
September 25:
The Future of Health Care: Will that be One Tier or Two?
September 4:
The Climate is Changing; Why Can't the Debate?
August 20:
The Elephant in the Vault
August 6:
Does Canada Need More Canada?
---
Starting in August and running through the federal election campaign to October, Ipsos and the Institute on Governance (IOG) are pleased to offer a series of research-based thought pieces related to public sector governance in Canada, merging Ipsos survey-based opinion data with the expertise and insights into governance provided by the IOG.
The series will not review political party platforms – that's for the media and others.  Rather, we will put big issues squarely on the table to spur debate and offer objective and practical solutions for key decision-makers.  We will examine major issues ranging from: public sector governance, health care, immigration, youth engagement, the environment, housing, and fiscal policy all against a backdrop of declining social cohesion.  We will explore positive strategies of how to strengthen social cohesion, democratic participation and the perceived value of government.
Our first edition, Does Canada Need More Canada? can be accessed on demand here.
Be sure to join the mailing list in order to receive each edition in the series directly to your emailbox. Or return to our website regularly for new content.
The series will also have guest contributors from: