Courting the Undecided: One in Ten Voters (11%) Still Up for Grabs Ahead of Election Day
Nearly half (47%) are completely certain they will vote, majority (62%) disapprove of Liberals' performance, but see Trudeau (32%) or May (24%) as best choice for PM
Toronto, ON, September 28, 2019 — With the latest polling numbers showing the Liberals and Conservatives still within just a few points of each other in terms of voter intent, the outcome on October 21st may be riding on how those who are currently undecided choose to cast their ballot – if they decide to vote at all. Who are the undecided? Ipsos has taken a look at the past two waves of polling for Global News to get a better look at Canadians who are still making their minds up.
Undecided Voters: A Profile
In all, one in ten Canadians (11%) who are eligible to vote say that if a federal election were to be held tomorrow, they don't know who they would vote for. Some parts of the country have significantly more undecided voters than others.
In profiling the 11% of voters who are undecided, a majority of (63%) are based in Canada's two most seat-rich provinces. Ontario is home to 32% of all undecided voters, but represents 38% of Canada's population. By contrast, Quebec has 31% of all undecided voters, but accounts for 23% of Canada's population, indicating that there are more undecided voters in Quebec than Ontario. The remaining undecided voters are divided between British Columbia (13% of undecided voters, 14% of the national population), Alberta (11% of undecided voters, 11% of the national population), Atlantic Canada (7% of undecided voters, 7% of the national population), and Saskatchewan and Manitoba (6% of undecided voters, 7% of the national population).
When looking at regional proportions of voters who report that they are undecided, Quebec has the largest at 14%, followed by BC (11%), Atlantic Canada (11%), Alberta (10%), Saskatchewan and Manitoba (10%), and Ontario (9%). Despite Ontario having the largest number of undecided voters in absolute terms, when viewed as a percentage of the province's population, it actually has the smallest proportion of voters who report having not yet made a decision about how they will vote.
Voter indecision also appears to be a nearly exclusively urban phenomenon: nearly nine in ten (86%) Canadians who don't know who they will vote for are based in urban centres, including 73% residing in cities with populations of 100,000 or more.
Gender differences are at play among the 11% of Canadians who don't yet know how they will vote: Two in three undecided voters (68%) are women, while one in three (32%) are men.
Indecision affects voters at any age, and seems to peak as Canadians hit their middle years: the average undecided voter is 47 years old. Indeed, undecided voters skew heaviest to Canadians aged 35-54 (40%), followed by those aged 55 and over (35%), with younger Canadians aged 18-34 representing 25% of all undecided voters.
Education doesn't seem to have an undue impact on Canadians knowing who they will vote for: within the 11% of voters who are undecided, nearly as many have a post-secondary education or higher (46%) as have a high school diploma or less (54%). However, Canadians who earn less are noticeably more likely to be undecided: half of all undecided voters (50%) report an annual household income of $60k or less, while only one in four (24%) have incomes above this level – including just 8% who have a household income of $100k or more. The remaining 26% of undecided voters chose not to report their income.
Will They Vote?
Nearly half of undecided voters (47%) say they are 'completely certain they will vote', rating their certainty a 10 out of 10. While this is well behind the 64% of all Canadian voters who say they are completely certain to cast a ballot on October 21st, in a close race every vote counts.
How Do They Feel About Trudeau?
Skepticism toward the Trudeau Liberals runs deep among the 11% of voters who are as yet undecided: a majority – six in ten (62%) disapprove of the Liberal government's performance (27% strongly/35% somewhat), compared to 58% of Canadian voters overall. Two in three (66%) say it is time for another federal party to take over, leaving 31% who feel the Trudeau government has done a good job and deserves re-election, and just 3% who don't know.
Undecided voters appear more forgiving in light of the Trudeau brownface photos that emerged last week. While most (85%) have seen or heard about the photos and video, more than half of undecided voters (56%) think that Trudeau's apology is sufficient and that he should continue. This compared to just 45% of all Canadian voters who feel the same way.
One way in which undecided voters differ noticeably from Canadian voters at large is who they think would make the best Prime Minister of Canada. While the undecided (32%) are just as likely as the overall electorate (35%) to think Trudeau would make the best PM, they are far less likely to feel the same about Conservative leader Andrew Scheer. Less than two in ten (18%) feel that Scheer is best suited for the top job, compared to 31% of voters overall.
Who do the undecided feel more favourably towards? Green Party leader Elizabeth May. One in four undecided voters (24%) say May is their pick for best PM, ahead of NDP leader Jagmeet Singh (12%), People's Party of Canada leader Maxime Bernier (8%), or Bloc Québécois leader Yves-François Blanchet (1%).
What Issues Do They Care About?
Despite their uncertainty over who to vote for, undecided voters have strong opinions when it comes to the issues that matter most to them. Like all Canadians, healthcare tops the list as an issue of importance in determining how they will vote, and is seen as such by an even larger proportion of undecided voters (45%) than the electorate at large (36%). Affordability and cost of living is cited as an issue of importance by three in ten undecided voters (30%), in line with 27% among all voters.
However, undecided voters are more likely to see taxes (24%) as an issue of importance than climate change (19%), while for voters at large, the pattern is reverse (26% say climate change is important to them, while 23% say the same about taxes).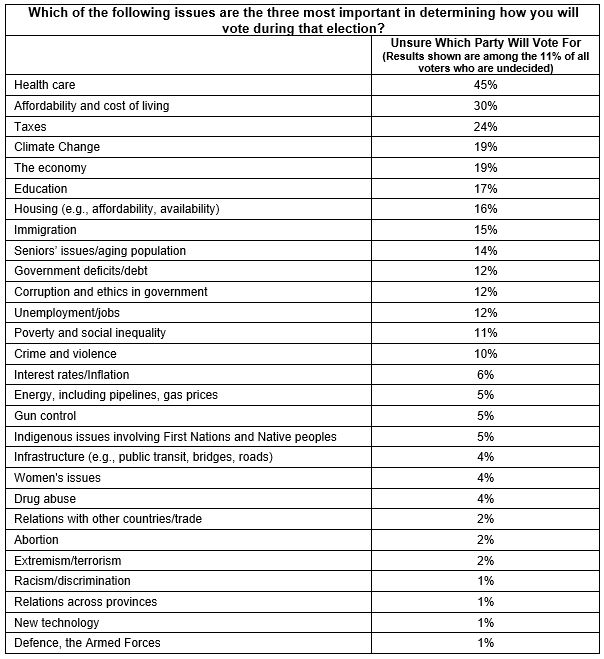 These are some of the findings of Ipsos polls conducted between September 11 and 13, on behalf of Global News and La Presse, and between September 20 and 23, on behalf of Global News. For the September 11-13 survey, a sample of n = 2562 Canadians aged 18+ was interviewed. A sample of n = 2062 was interviewed online, via the Ipsos I-Say panel and non-panel sources. A sample of n = 500 Canadians aged 18+ was interviewed by live-interview telephone interviewers by landline and cellphone, using random-digit dialing. For the September 20-23 survey, a sample of n = 1500 Canadians aged 18+ was interviewed online via the Ipsos I-Say panel and non-panel sources. Respondents earn a nominal incentive for their participation. Quotas and weighting were employed to balance demographics to ensure that the sample's composition reflects that of the adult population according to Census data and to provide results intended to approximate the sample universe (weighting efficiency = 62.9% for the September 11-13 survey and 63.9% for the September 20-23 survey). The precision of Ipsos polls which include non-probability sampling is measured using a credibility interval. In this case, the September 11-13 poll is accurate to within ± 2.2, 19 times out of 20, had all Canadians been polled. The September 20-23 survey is accurate to within ± 2.9 percentage points, 19 times out of 20, had all Canadians been polled. The credibility interval will be wider among subsets of the population. All sample surveys and polls may be subject to other sources of error, including, but not limited to coverage error, and measurement error. Ipsos abides by the disclosure standards established by the CRIC, found here: https://canadianresearchinsightscouncil.ca/standards/
© 2019, Ipsos Limited Partnership
This polling release and the data contained in it are the sole and exclusive property of Ipsos. They are NOT designed to support any election outcome or prediction model and no license to use the polling release or the data is either granted or implied by their publication. Ipsos does not endorse, and has no responsibility for the accuracy of, the result of any predictive model that incorporates this polling data. Furthermore, any use of this information to produce polling aggregations or election models without Ipsos' written permission will be considered a violation of our intellectual property, and Ipsos reserves the right to take appropriate legal action. Detailed tabular data tables can be found here: https://ipsosintelligence.ca/canadiancontext/
For more information on this news release, please contact:
Darrell Bricker, PhD
CEO, Ipsos Global Public Affairs
+1 416 324 2001
[email protected]
Mitra Thompson
Senior Account Manager, Ipsos Public Affairs
+1 514 904 4329
[email protected]
About Ipsos
Ipsos is the world's third largest market research company, present in 90 markets and employing more than 18,000 people. Our passionately curious research professionals, analysts and scientists have built unique multi-specialist capabilities that provide true understanding and powerful insights into the actions, opinions and motivations of citizens, consumers, patients, customers or employees. We serve more than 5000 clients across the world with 75 business solutions. Founded in France in 1975, Ipsos is listed on the Euronext Paris since July 1st, 1999. The company is part of the SBF 120 and the Mid-60 index and is eligible for the Deferred Settlement Service (SRD). ISIN code FR0000073298, Reuters ISOS.PA, Bloomberg IPS:FP www.ipsos.com