Ipsos HR in Canada wins HR Team of the Year
Ipsos HR in Canada wins the Accompass Award in 4th Annual Canadian HR Awards
Toronto, ON — The Canadian HR Awards celebrates the very best in people strategy and represents the gold standard of excellence in HR leadership. On September 14, at the Liberty Grand in Toronto, Ipsos Canada's human resources team was honoured at a gala awards ceremony for the 4th Annual Canadian HR Awards.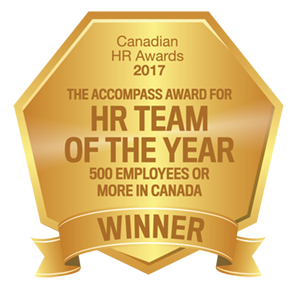 The Canadian HR Awards, hosted by HRD Magazine and HRM Online, is an event celebrating excellence in the HR profession and recognizes individuals, teams and companies for their outstanding achievements in people management.
Earning the title of Canada's HR Team of the Year, Ipsos Canada's human resources team was given the Accompass Award, a distinction given to an outstanding human resources team, within an organization with 500 employees or more in Canada. Recipients of this award have excelled within the HR function and across their business as a whole, by partnering with different business functions. This award focuses on the team's collaborative approach to the HR function as a whole.
Rob Myers, President & CEO, Ipsos Canada, congratulated the team for their success. "We're pleased to see that our human resources team has been recognized for their hard work and dedication. The team has excelled in their commitment to both Ipsos and Ipsos employees and we're proud to see their work recognized." Ipsos in Canada's successful submission focused on two key initiatives in 2017.
Diversity
Recognizing increased staffing from international candidates and the globalization of Ipsos, Ipsos Canada formed a partnership with the Canadian Centre for Diversity and Inclusion (CCDI). Ipsos worked with CCDI to host a Diversity and Inclusion training session for all Ipsos managers, including senior leadership.
Continuing in the same vein, Ipsos Canada has encouraged staff to become socially engaged in the community with newcomers to Canada. Employees have volunteered at WoodGreen Community Services in Toronto to assist with resume building, interview skills and assist newcomers who may find navigating the Canadian workplace challenging. Human resources teams across Canada are beginning similar partnerships in Winnipeg with the Immigrant Centre and Spark: Connection in the Community. Ipsos Canada has additionally been invited as a guest speaker at the YRA Forum for Youth on the topic of education and career paths in efforts to help racially marginalized youth and those new to Canada understand and navigate the post-secondary education system and explore various career paths.
2017 Health & Wellness Program
The second example of programs recently implemented, is the expansion of the Health and Wellness Program in 2017. This year Ipsos continued its positive partnership with the Not Myself Today Campaign, but also extended the program from one week to a full month of activities for Mental Health Month and will be extending key items throughout the rest of the year. The partnership with the Senior Leadership Team has been a key aspect in large employee turnout for the mental health & wellness initiatives. Along with employee events, the HR Team itself has engaged in several training opportunities in this area. In addition, the team had their HR Business Partners in all large offices across Canada complete Mental Health First Aid Certification, as well as currently completing the Investing in Healthy Minds Program in Ontario.
For more information on the Canadian HR Awards, click here.
About Ipsos
Ipsos is an independent market research company controlled and managed by research professionals. Founded in France in 1975, Ipsos has grown into a worldwide research group with a strong presence in all key markets. Ipsos ranks fourth in the global research industry.
With offices in 88 countries, Ipsos delivers insightful expertise across five research specializations: brand, advertising and media; customer loyalty; marketing; public affairs research; and survey management.
Ipsos researchers assess market potential and interpret market trends. They develop and build brands. They help clients build long-term relationships with their customers. They test advertising and study audience responses to various media and they measure public opinion around the globe.
Ipsos has been listed on the Paris Stock Exchange since 1999 and generated global revenues of €1,782.7 million in 2016.
Download