Doctors are the most trusted profession in Canada and across the world
Canadians place a higher trust in both doctors and scientists than they did before the pandemic; though Canadian armed forces see a decline in trust ratings
Toronto, ON, October 12, 2021 — A new Ipsos poll finds doctors to be the world's most trustworthy profession. Across 28 countries where Ipsos asked the public how much they trust different professions, an average of 64% rate doctors as trustworthy, ahead of scientists (61%) and teachers (55%). In contrast, politicians are rated as trustworthy by only 10%, cabinet officials by 14%, and advertising executives by 15% on average globally.
In Canada, doctors also came in as the most trusted group (rated as trustworthy by 70%), followed by scientists (64%), teachers (62%), and judges (49%). Across the 28 countries surveys, Canadians are among the top 3 countries most likely to rate their doctors as trustworthy: 70% do so, closely following Great Britain (72%) and the Netherland (71%). Canadians also place a much higher trust in the judiciary system than the average of the 28 countries surveyed (at 49%, 15 percentage points ahead of the global average).  It is interesting to note that Canadians are 2.5 times more likely to rate fellow Canadians as trustworthy (42%) than government ministers (17%), a trend not different from that seen in other countries. 
Trust in physicians has increased significantly since the onset of the pandemic, both globally and in Canada. Compared to a 2019 survey conducted months before the emergence of COVID-19, the proportion of Canadians rating doctors as trustworthy has increased by 6 percentage points. Canadians have also grown more trusting of scientists (+8 points) and to a lesser extent, of teachers (+ 4 points) judges (+ 4 points). Armed forces (-6 points) record a significantly lower level of trust among Canadians than in 2019 and are accompanied by a marginal drop in the trust rating of the police (-3 points).
The survey was conducted among over 19,500 adults under the age of 75 on Ipsos' Global Advisor online platform in April and May 2021.
Detailed Findings
Canadians are among the most trusting people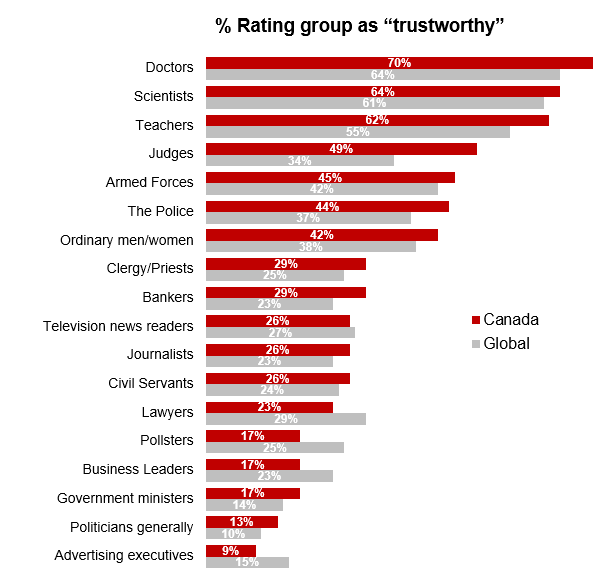 The Ipsos Global Trustworthiness Index, calculated as the sum of net trust scores across 18 professions and groups, finds Canadians to be among the most trusting people. With an index score of 182, Canada ranks fifth out of the 28 countries, behind Malaysia, India, Sweden, and the Netherland and followed by its southern neighbour, the U.S. The four countries with the lowest index scores are all in Latin America: Colombia, Chile, Peru, and Argentina.
In addition to members of the judiciary, Canadians also tend to be more trusting – or less distrusting – of the teachers, police, bankers, ordinary people and members of the clergy than the citizens of most other countries surveyed. On the other hand, they are less trusting – or more distrusting – of pollsters, lawyers, business leaders and advertising executives. In fact, Canada finds ranks in the bottom 5 countries in its trust rating towards advertising executives and is rated 8th lowest out of all the 28 countries when it comes to the trust Canadians assign to private-sector management.
Trust in doctors has increased during the pandemic
Ipsos has reported the level of trust afforded to many types of professionals since 2018, providing comparisons between the pre-pandemic world and where we are today. 
While many professions' positions have barely shifted over the last few years, one notable impact during the pandemic has been a boost to the standing of doctors, moving them above scientists who were the top profession in previous waves.
Across 22 countries where the survey was already conducted in previous years, the average percentage of those rating doctors as trustworthy (64%) has increased by seven percentage points since 2019 and nine points since 2018.
Doctors are the most trusted group of people in 19 of 28 countries. Canada (70%) is among those countries where doctors are most widely trusted along with Great Britain (72%), the Netherlands (71%), Argentina, Turkey and the U.S. (all three at 69%). Trust in doctors by Canadians has increased by 7 points since 2018, and 6 points since 2019, in line with the average increase globally. 
Countries showing the biggest upticks in trust in doctors since before the pandemic are Hungary and Chile (with a 19-percentage point increase in the proportion rating doctors as trustworthy), Saudi Arabia (+17 points), and Poland (+12 points).
No change for scientists at the global level
In aggregate, the pandemic has not changed how widely scientists are trusted, unlike physicians. On average, the proportion of adults rating scientists as trustworthy has remained about six in ten across all countries surveyed since 2018. However, trust in scientists has shifted positively or negatively in several countries. Since the last pre-pandemic reading in 2019, it has increased most in Saudi Arabia (+17 points), Hungary (+13 points), Brazil (+9 points) and Canada (+8 points), while it has dropped most in Argentina (-11 points) and Mexico (-8 points).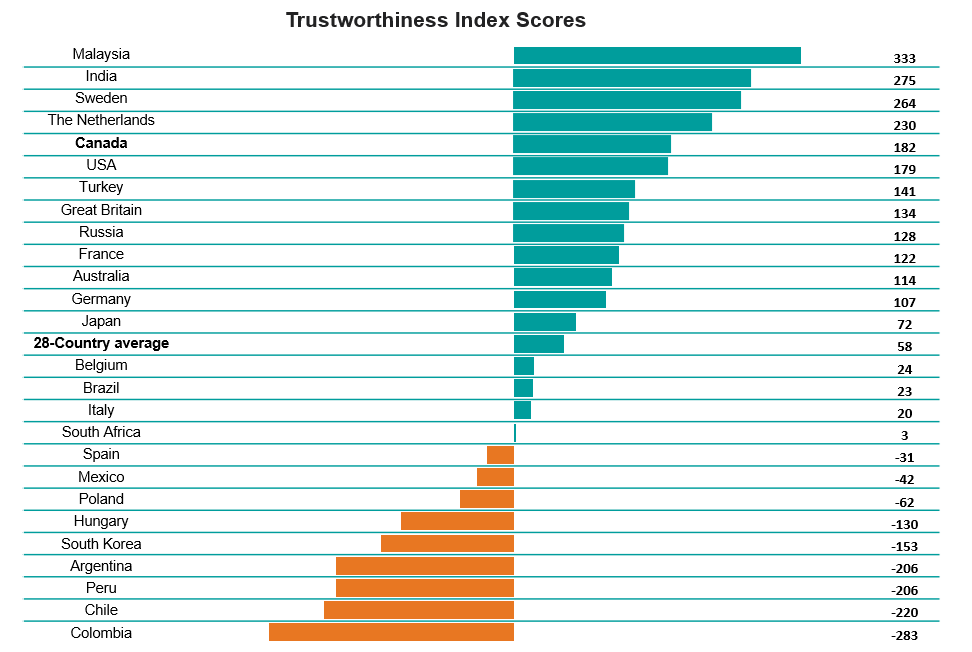 Teachers are still the third-most trusted group worldwide
Teachers remain the third-most trustworthy profession globally, as was already the case in 2018 and 2019, with an average of 55% rating them as trustworthy. As with scientists, in many countries trust scores for teachers have moved little through the pandemic. However, between 2019 and 2021, there have been major increases in trust for teachers in Saudi Arabia (+ 16 percentage points), Hungary and Japan (+9 points), Malaysia (+8 points), and Italy and South Africa (+6 points). On the other end, decreases have occurred in the U.S. (-6 points) and Argentina (-5 points).
Distrust of politicians, cabinet officials, and ad execs eased slightly
Many other professions remain at similar levels to those recorded in pre-pandemic waves, including politicians, who have been bottom of the list in all three years. This year just ten percent on average rate politicians as being trustworthy.
Globally, three professions stand out as the least likely to be considered trustworthy: politicians in general (rated as trustworthy by only 10% on average globally), cabinet officials or "government ministers" as they are labeled in other English-speaking countries (14% on average), and advertising executives (15%). While these percentages are similar to those seen in previous years, the level of distrust in these professions (percentage who rated them as untrustworthy) has fallen somewhat. Between 2019 and 2021 the average proportion who see politicians as untrustworthy across 22 countries has decreased by four points from 66% to 62%, that for cabinet officials has dropped by five percentage points (from 58% to 53%) and that for advertising executives by six points (from 45% to 39%).
About the Study
These are the findings of an Ipsos online survey conducted between April 23 and May 7, 2021.
The survey was conducted in 28 countries around the world, via the Ipsos Online Panel system in Argentina, Australia, Belgium, Brazil, Canada, Chile, China, Colombia, France, Germany, Great Britain, Hungary, India, Italy, Japan, Malaysia, Mexico, the Netherlands, Peru, Poland, Russia, Saudi Arabia, South Africa, South Korea, Spain, Sweden, Turkey, and the United States. The headline index results for this year are based on the full 28-country sample while trended results looking back to 2018 and 2019 focus only on the 22 among the 28 markets where the survey had been conducted both of those years.
The results are comprised of an international sample of 19,570 adults aged 16-74 in most countries and aged 18-74 in Canada, Malaysia, South Africa, Turkey, and the United States. Approximately 1,000 individuals participated on a country by country basis via the Ipsos Online Panel, except for Argentina, Chile, Colombia, Hungary, India, Malaysia, Mexico, the Netherlands, Peru, Poland, Russia, Saudi Arabia, South Africa, South Korea Sweden, and Turkey, where each has a sample of approximately 500.
The samples in Argentina, Australia, Belgium, Canada, France, Germany, Great Britain, Hungary, Italy, Japan, the Netherlands, Poland, South Korea, Spain, Sweden, and United States can be taken as representative of their general adult population under the age of 75. The samples in other countries (Brazil, China, Chile, Colombia, India, Malaysia, Mexico, Peru, Russia, Saudi Arabia, South Africa, and Turkey) produce a national sample that is more urban and educated, and with higher incomes than their fellow citizens. The survey results for these countries should be viewed as reflecting the views of the more "connected" segment of their population.
Weighting was then employed to balance demographics and ensure that the sample's composition reflects that of the adult population according to the most recent country Census data.
The "Global Country Average" reflects the average result for all countries and markets where the survey was conducted. It has not been adjusted to the population size of each country and is not intended to suggest a total result.
Where results do not sum to 100 or the difference appears to be plus or minus one point more or less than the actual, this may be due to rounding, multiple responses, or the exclusion of "don't know" or not stated responses.
The precision of Ipsos online polls is calculated using a credibility interval with a poll of 1,000 accurate to plus or minus 3.5 percentage points and of 500 accurate to plus or minus 5.0 percentage points. For more information on the use of credibility intervals, please visit the Ipsos website.
The publication of these findings abides by local rules and regulations.
For more information on this news release, please contact:
Sanyam Sethi
Director, Ipsos Public Affairs
+1 416 324-2307
[email protected]
About Ipsos
Ipsos is the world's third largest market research company, present in 90 markets and employing more than 18,000 people.
Our passionately curious research professionals, analysts and scientists have built unique multi-specialist capabilities that provide true understanding and powerful insights into the actions, opinions and motivations of citizens, consumers, patients, customers or employees. We serve more than 5000 clients across the world with 75 business solutions.
Founded in France in 1975, Ipsos is listed on the Euronext Paris since July 1st, 1999. The company is part of the SBF 120 and the Mid-60 index and is eligible for the Deferred Settlement Service (SRD).
ISIN code FR0000073298, Reuters ISOS.PA, Bloomberg IPS:FP www.ipsos.com