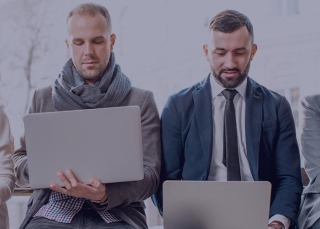 Innovation
Ipsos Syndicated Studies
OUR SOLUTIONS
In a syndicated study, costs are shared amongst a specified group of study subscribers. Subscribers receive either standard comprehensive reports or access to a syndicated database for ad hoc analyses via a bank of analysis hours provided.
Review our current syndicated study offerings below and contact the specific Ipsos study representative or your Ipsos representative for more information about how to subscribe.
Our Syndicated Offerings
Essentials is Ipsos' latest offering providing subscribers with monthly access to the largest and most precise study done on critical attitudinal and behavioural change resulting from the COVID-19 crisis. Essentials monitors the new global order as we navigate the new rules of engagement and the resulting impact on our state of mind, state of wallet, and future intentions.
To be best positioned for success and to strategize for the future, companies and leaders need to stay connected to people, keeping a pulse on:
Their behaviours, routines and habits
Their shopping choices
Their emotions
Their concerns, health, financial, others
Their outlook and future perspectives
Their priorities
We gather data every 2 weeks in Canada and 15 other markets (Australia , Brazil, China, France, Germany, India, Italy, Japan, Mexico, Russia, South Africa, South Korea, Spain, United Kingdom and United States) and extract the key findings that are relevant for your business.
With a unique set of features & depending on your subscription level, Essentials provides:
Longitudinal data – weekly/twice a month variation of consumer sentiment by market from February up to and including the present day
Great depth in consumer understanding with hundreds of variables analyzed
COVID-19 Journey Mapping showing where people are in dealing with the crisis and what is likely to happen
Brand and product switching and likelihood to continue buying the new brand and/or product in the future
Click here to read Frequently Asked Questions about subscribing to Essentials, or contact: [email protected]
Financial Services Channel Optimization Report
A lot has been written about channel usage changes in financial services, and well before Covid Canadians have been embracing digital finance options. Through Covid, some organizations have improved their digital infrastructure while others - perhaps those with fewer development resources - are waiting to see how the market matures before setting their own strategy and development priorities.
As the saying now goes, Covid has accelerated the digitization of everything by 5 years; the horse has been brought to the digital trough, so to speak. Who is drinking? How are different consumers changing their channel behaviour and what is the adoption trajectory of digital behaviour?  What are the different ways that organizations can pivot?  And how does this fit with overall market strategy?
This report will quantify and verify the trends based on 15 years worth of Ipsos behavioural tracking data including weekly tracking since March 2020. It will provide a framework for smaller financial institutions to consider as you make choices on channel functionality and priorities going forward. This report is offered in tandem with a customized ideation and activation session to facilitate the integration and activation of the data provided into your organization's distribution strategy and to turn information into concrete development plans.
Table of Contents
Introduction
The Traditional View By Channel
A Framework for Anticipating Behaviour After Covid
Defining Your Distribution and Development Strategy

High Touch
Omni-Channel
Digital First
Optimized
Task Ecosystem
A Behavioural Sciences Based Approach to Improving Adoption of Digital Tools
Want more information? Contact [email protected]
Alcohol Consumption Tracker (ACT)
ACT tracks consumers' real time alcohol consumption over the course of a full month, across all categories, brands, and types of occasions. ACT is currently serving Canada (ACT Canada) and the United States (ACT US).
Contact: John Mohler
Canadians & Financial Advice – Mass
Canadians & Financial Advice - Mass is one of a series of reports since 2001 focusing on financial advice and the advisory channel in Canada, focusing on Canadians with $25,000+ in investable assets.
Contact: Heidi Wilson
Canadians & Financial Advice – Affluent
Canadians & Financial Advice - Affluent is one of a series of reports since 2001 focusing on financial advice and the advisory channel in Canada, focusing on affluent Canadians with $500,000+ in investable assets.
Contact: Heidi Wilson
Canadian Automotive Aftermarket Monitor (CAAM)
Launched in 2010, CAAM is a large (14,000 respondents) tracking study designed to help you understand how Canadians service their vehicles and to track their buying behaviour of select automotive aftermarket products.
Contact: Michael Hsu
In the release of Canada CHATS 2022, 8th edition, we mark the continued investigation shifting consumption patterns, preferences and lifestyle dynamics with a key focus on evaluating changes versus the pre-pandemic period to assist our clients in determining which habits will stick moving forward.
Contact: Kathy Perrotta
Canadian Financial Monitor (CFM) - Household
Launched in 1999, CFM is a large (8,000 households) tracking study designed to help subscribers understand the banking habits, product holdings, spending habits and financial health of Canadian households.
Contact: Michael Hsu
Canadian Financial Monitor (CFM) - Individuals
Launched in 2018, CFM Individuals, based on 18,000 respondents annually, is the recognized premier source for consumer information on personal banking, investments, credit, debt and insurance
Contact: Michael Hsu
Cannabis Consumption Tracker (CCT)
CCT tracks consumers' real time cannabis consumption during the course of a full month, across all categories, brands, and types of occasions. CCT is frequently subscribed to in conjunction with the Alcohol Consumption Tracker (ACT).
Contact: John Mohler
Consumer Health & Safety Check-up
Consumer Health & Safety Check-up is a syndicated study combining CEX (Customer Experience) and CHP (Channel Performance). The program leverages Mystery Shopping to understand & compare how companies are implementing health & safety measures within their own industry and across industries, then digs deeper into what Canadians expect and how their journey is changing using the CX Health Monitor.
Contact: Becky Harris
Customer Service Index - Banking (CSI)
CSI is a quarterly personal banking customer experience survey. CSI provides Canada's financial sector with comprehensive benchmarking by key financial institution across multiple metrics for each banking channel, including branch, online, ATM, telephone and mobile. At the end of each year, top performing banks are awarded for their leadership in certain categories such as (NPS, Customer service, value, and channel experience).
Contact: Lesley Haibach
Customer Service Index – Insurance (CSI Insurance)
CSI Insurance is a syndicated study focused on understanding the insurance landscape in Canada by zooming in particularly on the experience metrics. This study runs 3 times a year, with the benchmark wave kicking off in July 2020. At the end of each year, Ipsos will award the top performing insurance companies.
Contact: Mariam Nabilsi
Customer Service Index – Digital Finance
CSI digital finance is a syndicated study designed to understand the full financial digital experiences that customers are going through today. The study captures feedback from digital users who have on going experiences with online and mobile banking as well as payment and online brokerage platforms. General study advantages include:
Gain a deep understanding of your performance across digital channels
Understand the "Why's" behind customer ratings and experiences
Compare to banks but also to new emerging players such as online brokerage and digital payment channels
Benefit from a structured approach to digital understanding
Contact: Mariam Nabilsi
Delivery Unlocked is a syndicated study focused on understanding the landscape of food delivery experiences in Canada today, highlighting digital experience gaps, and comparing across brands. Uses a mixed-methodology approach with Mystery Shopping (food delivery experience in app and online) and Customer Experience (online survey).
Contact: Becky Harris
Digital Wallet and Payment Trends (DWPT)
DWPT incorporates digital and fintech features, alongside Open Banking concepts. DWPT helps you track payment usage (including credit cards), payment habits, methods and preferences, and spot emerging fintech trends.
Contact: Heidi Wilson
Food & Beverage Consumption Study (FIVE)
FIVE is a daily food and beverage consumption tracker that provides an accurate and unparalleled view of the food and beverage landscape, across both in and out of home. FIVE has delivered "One Source of Consumption Truth" since 2013.
Contact: Kathy Perrotta
FSM is a daily market measurement of foodservice occasions that links market needs with actual consumer behaviour to offer subscribers a 360 degree look at the foodservice experience, whether it be on-premise or off-premise. FSM captures and analyzes custom menus across 250+ foodservice operators.
Contact: Asad Amin
The Most Influential Brands Study(MIB)
MIB unveils and ranks the most influential brands in Canada, and offer a case study perspective on the dimensions that drive each brand's influence.
Contact: Steve Levy
Online Brokerage is an annual report focusing on investors' use, choice of and loyalty to specific online brokerages and a full competitive analysis of Canada's largest online brokerages.
Contact: Heidi Wilson
People With Disabilities Panel (PWD)
Ipsos has developed a community of People with Disabilities (PWD) that can be accessed to do research with this growing, important, unique segment of the population.
Our goal is to help businesses ensure that their products and services are meeting the needs of every audience, regardless of physical and cognitive ability.
Contact: Kristen Owens