3 in 4 Indians wearing masks to protect themselves from COVID-19 – Ipsos 15-Nation Survey
Highest surge in mask adoption seen for Vietnam, China, Italy, Japan and India
According to the new Ipsos 15-Nation Survey on COVID-19, 3 in 4 urban Indians (76%) are wearing masks to protect themselves from the deadly COVID-19 virus and pandemic.
"India as a market per se has seen natural progression for safety measures from corona virus. It started with personal hygiene and social distancing and of course the lockdown. Now the safety precaution highly stresses on wearing a mask, which  can be made even at home.  That is why we see this mass adoption. And the Indian Prime Minister, Mr. Narendra Modi, has himself been leading the crusade against the COVID-19 health crisis, with campaigns and advisories across radio, TV, newspaper and social platforms," says Amit Adarkar, CEO, Ipsos India. 
Interestingly, the countries where most respondents are taking this personal action, of wearing a mask are  Vietnam (91%), China (83%), Italy (81%), Japan (77%) and India (76%). Meanwhile, on the contrary, those in developed nations are least likely to wear a mask, and that includes the United Kingdom (16%), Germany (20%), Australia (21%), Canada (28%) and France (34%).
More people across 15 major countries say they are now wearing a face mask to protect themselves, from the coronavirus pandemic.
In the survey of nearly 29,000 respondents conducted from April 9 to 12 in 15 countries, there's been gradual surge in the number of people choosing to wear a mask, for self-protection.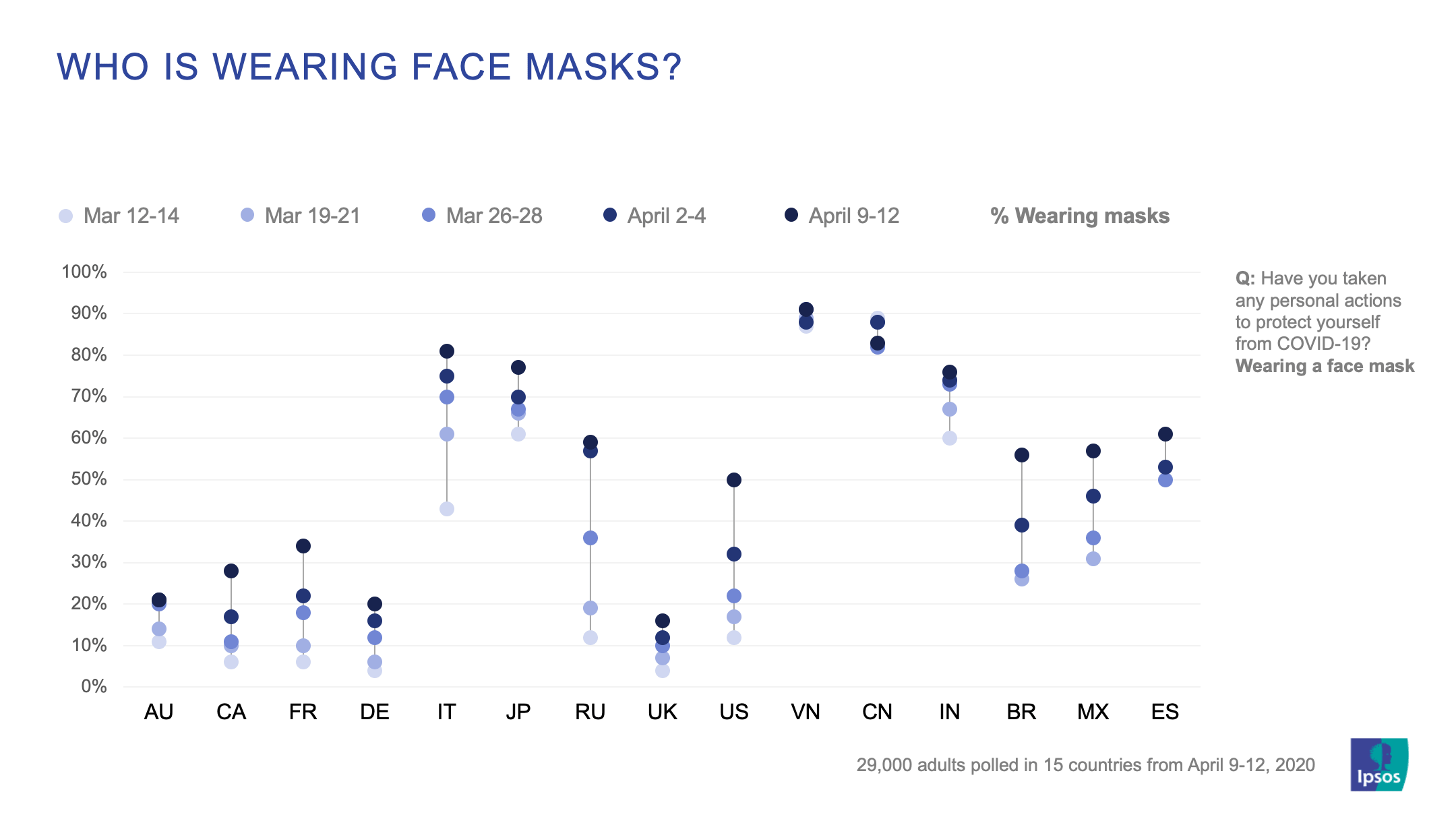 Since March, Russia (+47 percentage points), the United States and Italy (+38) have seen the biggest jumps in the number of people who now say they are wearing a mask, followed by significant increases in Brazil (+30), France (+28) and Mexico (+26). China remains high with only a small decline (-6) on this measure since March 12 to 14.
Why people in large markets are not wearing masks?
Some feel it is expensive; some think it is not available and many others believe only the sick have to wear it.
The survey shows, the perceived drawback in wearing face masks in many countries, is getting access to one. Nearly three in five people (57%) in Japan say they have heard masks are not available or are too expensive, even if they wanted to wear one. This sentiment is also high in France (49%), Germany and Spain (45%).
In terms of expectations, people in Japan (58%) and Vietnam (55%) and hard-hit Italy (53%) expect others to wear a mask around them so they don't get sick.
Meanwhile, respondents in Australia (46%) and the U.K. (41%) were most likely to say they did not see the value in wearing a face mask if they are not sick. This sentiment was lowest in Vietnam (7%), China and Spain (9%).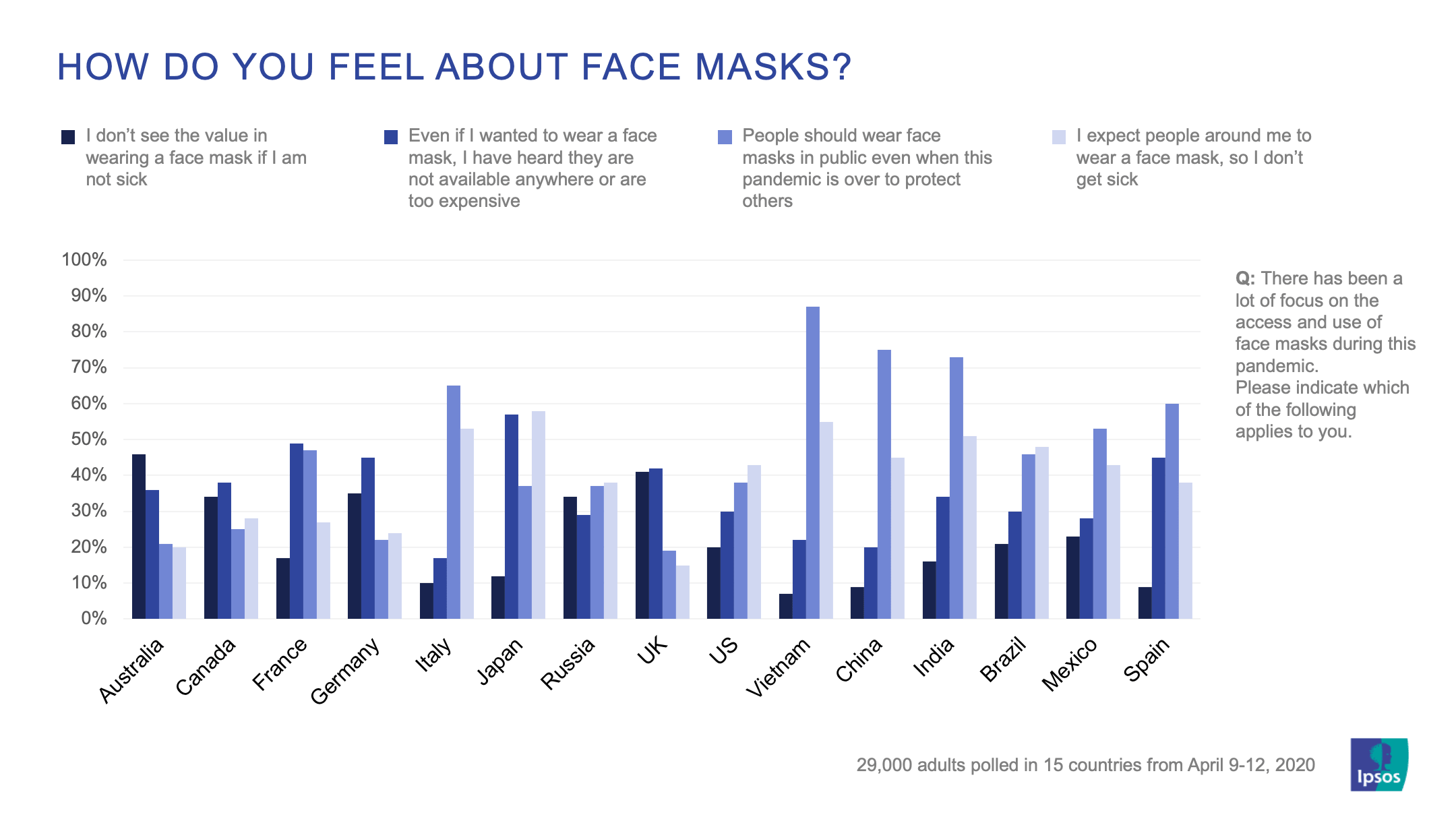 These are the results of an Ipsos survey conducted April 9th to 12th , 2020 on the Global Advisor online platform among 28,000 adults aged 18-74 in Canada and the United States and 16-74 in Australia, Brazil, China, France, Germany, Italy, India, Japan, Mexico, Russia, Vietnam and the United Kingdom. Where available, tracking results from previous studies, conducted through March and selected results from February are referenced by date.
Please get in touch with [email protected], COO, Public Affairs, Ipsos, for queries.