Pressure to stay thin: How do we feel about body image around the world?
Three in five people across 29 countries say eating well is more important than being thin.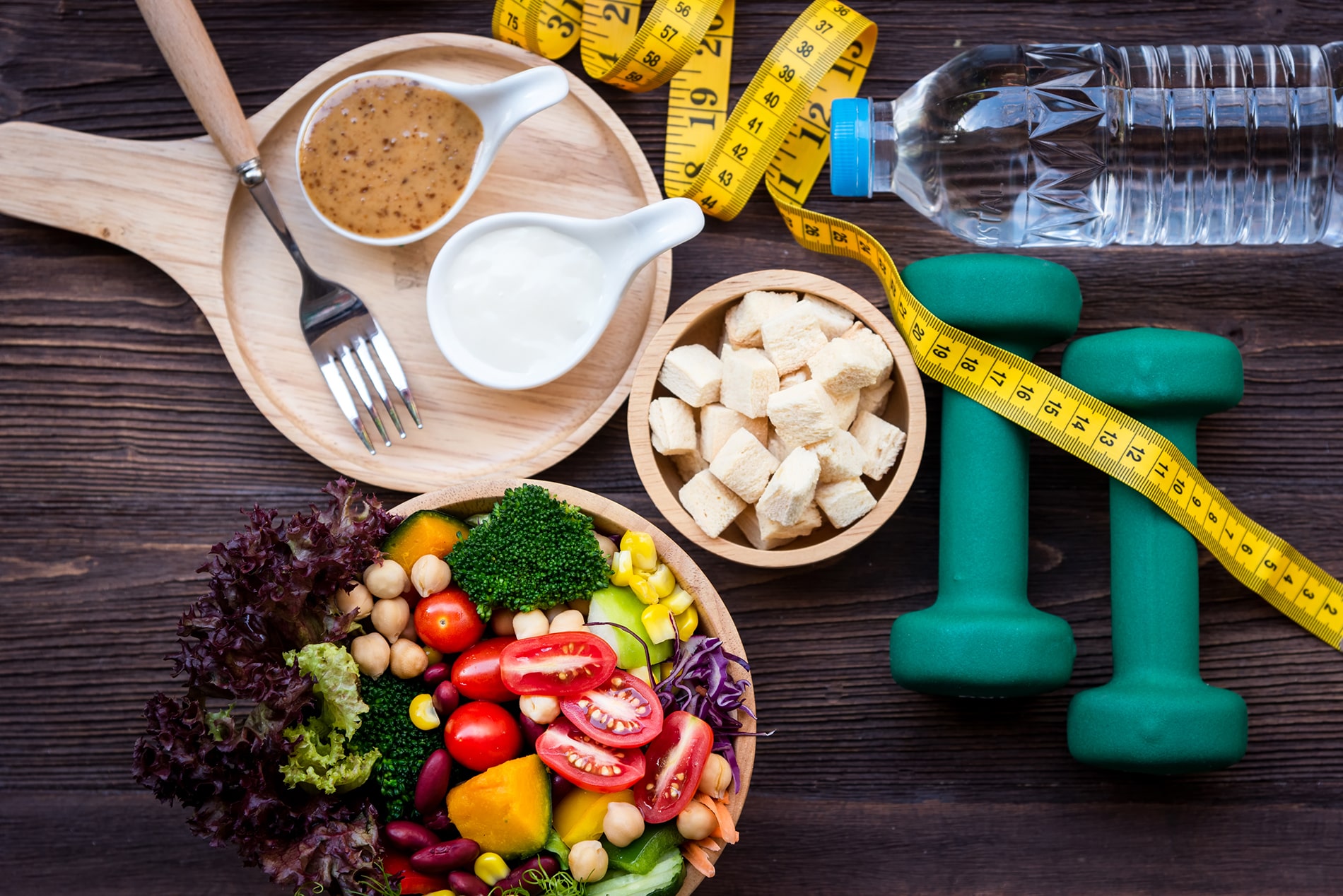 Clean eating, cleanse, detox, intermittent fasting, plant-based and mindful eating are just some of the new terms being thrown around as people focus on a healthier lifestyle.
Some of these nutrition trends stress there's no need to diet  ̶  just eat healthier.
But on the other end of the spectrum, the popularity of diets from keto to paleo, and the emergence of fat-shaming in the headlines suggests otherwise.
So, are we really at a turning point when it comes to health, wellness and body-image, or are these new forms of eating just another sugarless coated way to lose weight?
A Global Advisor survey of nearly 21,000 people across 29 countries found that more three in five people (62%) believe eating well is more important than being thin.
People in the eastern part of the world – South Korea (78%), India (77%), Japan (72%) and Saudi Arabia (70%) were most likely to agree to this, while those in Europe were most likely to disagree – Romania (55%), Germany (43%), France and Hungary (42%).
At the same time, those in the developed world were more likely to believe that most diet plans ultimately fail – with Canada (75%), Germany, Russia (73%) and Australia (71%) most skeptical – over those in emerging markets with the exception of Japan (55%), followed by Malaysia (48%), Mexico (46%) and Argentina (45%).
Healthy eating vs. losing weight
Dr Sally Norton, NHS consultant and UK-based Weight Loss Specialist, said it's refreshing that the majority of the respondents would rather eat well than be thin – suggesting they are prioritizing healthy food over obsessing over calories at the expense of nutrients.
"However, we have to accept that the more weight we carry, even if those excess pounds come from eating healthier food, the more risk we have of health issues," said Dr Norton.
"The fact that almost two-thirds realize that most diet plans ultimately fail, reflects awareness of the fact that cutting calories alone isn't the answer to healthy eating."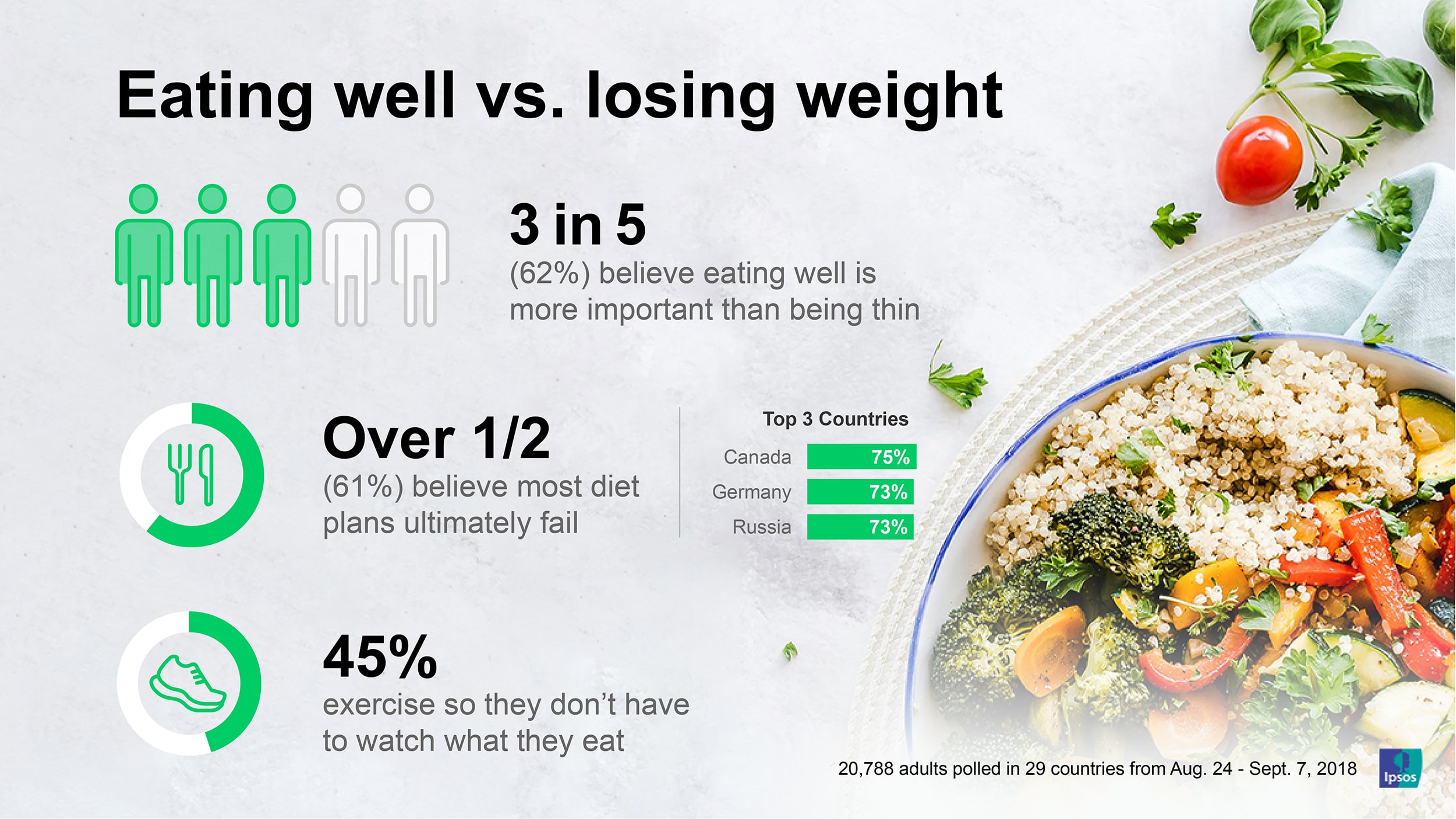 A major step forward in weight management and lowered self-esteem due to body shape concerns, according to Dr Norton, would be if we truly saw a trend towards prioritizing health over weight and shape alone.
"While we should continue to aim for a healthy weight, a focus on health and fitness is a much better way to achieve this – better for both mental and physical health," said Dr Norton.
What's wrong with working out to eat?
But working out so you don't have to watch what you eat is also another problem, according to experts.
More than two in five people (45%) said they exercise so that they don't have to watch what they eat. This sentiment was highest in emerging markets of India (67%), Malaysia (60%), and Colombia (56%), over much of the developed world.
Belinda Larety, Associate Director of Ipsos Healthcare in the UK, said this suggests you are eating anything, and you can't reverse poor eating habits by exercising.
"It shows a very narrow view by these people of what exercise, moving your body actually does for you and suggests these people are still quite weight focused," said Larety.
Dr Norton agreed, adding studies have shown that you can't out-run a bad diet.
"The belief that you can overcome poor eating behaviour with exercise alone is flawed," said Dr Norton. "It seems unlikely that the majority of respondents have recognized this fact... More likely is that they simply don't exercise for other reasons."
 She said a focus on health and fitness rather than weight alone should see us prioritizing exercise for a range of benefits such as bone and joint health, stress release, brain function, heart and lung health and more. Weight control would be a bonus.
How we view ourselves
But globally more than half of those surveyed (51%) said they have tried a diet to lose weight. However, at the same time, even more people were content with their weight (55%).
Diets aside, Lartey said that in places like Great Britain there is a growing diversity of opinion around body image, especially on social media.
"Although in the mainstream it is still the norm to have a particular body type, there is more messaging around 'body positivity' and Health at Every Size (HAES) – which is growing," Lartey said. "But this idea that it's not a person's body shape that makes them ultimately attractive/worthy is the foundation of this."