The third moment of truth: Why sustainable packaging became a corporate necessity
As environmental attitudes and consumer shopping habits change, packaging offers rewards for brands who demonstrate leadership on sustainability
Sustainable packaging is no longer a choice for brands but a corporate necessity, the Third Moment of Truth says.
In the paper, Global Service Leader, Pack Testing at Ipsos, Ian Payne, argues: "Fifty years on from the birth of the recycling symbol, we're at a metaphorical tipping point where fundamental attributes of packaging design are increasingly questioned.
"But necessity is the mother of invention and those companies who grasp the opportunity to take leadership have the potential for great reward. In a world of flat CPG growth, it is packaging which offers manufacturers real opportunity to develop meaningful differentiation, driving distinctiveness, salience and ultimately influencing choice."
Sustainable packaging is becoming a greater concern to consumers. Eight in 10 people globally feel we are heading for an environmental disaster unless we change our habits quickly.
Furthermore, in the US, 82% of adults agree with the statement "I think manufacturers should actively support recycling initiatives for the products they sell." From a consumer perspective increasingly, there is a 'third moment of truth' as illustrated in the image below.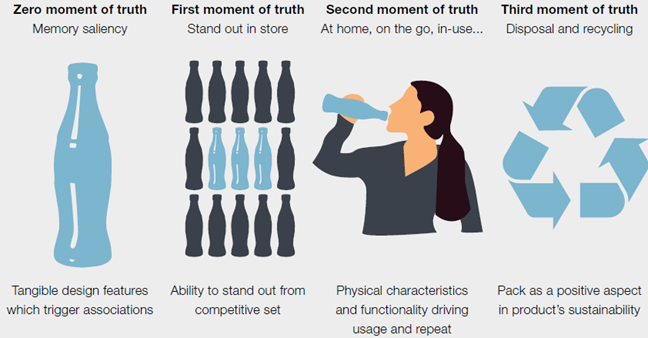 There are rewards for brands for demonstrating leadership on the issue of sustainable packaging. For example, 48% of 18-34-year olds in the United States say they are more favourable to Starbucks, after the brand announced it will remove plastic straws from its store by 2020.