Singapore and Hong Kong's affluent significantly decrease spend on luxury goods
Singapore and Hong Kong's affluent significantly decrease spending on luxury goods and shift investment strategies as economy falters: Ipsos 'Affluent Asia' Study 2019
As Singapore narrowly misses a technical recession and Hong Kong enters into one, Ipsos has investigated the challenging economy's impact on their respective affluent populations for the launch of its annual "Affluent Asia" study today, with a special, exclusive study conducted in early October 2019.
The affluent population is measured in the study as the top 18% of the total Asia Pacific population in terms of household income (Top 31% in Singapore and Top 30% in Hong Kong).
The survey reveals a much more conservative spending behaviour and clear shifts in investment strategies in both markets.
A much more conservative spending behaviour
Spending on most luxury categories has dropped sharply compared to three months ago, in both Singapore and Hong Kong, with quality spirits & wine, luxury watches, jewellery or designer clothes declining by at least 20%. 
This is worrying for those categories as the affluent see themselves as normally 'ahead of the curve' when it comes to new products and trends, with 56% of Affluent Singaporeans usually saying they "like to try out new things". Additionally, more than a quarter (26%) say: "People come to me for advice before buying new things."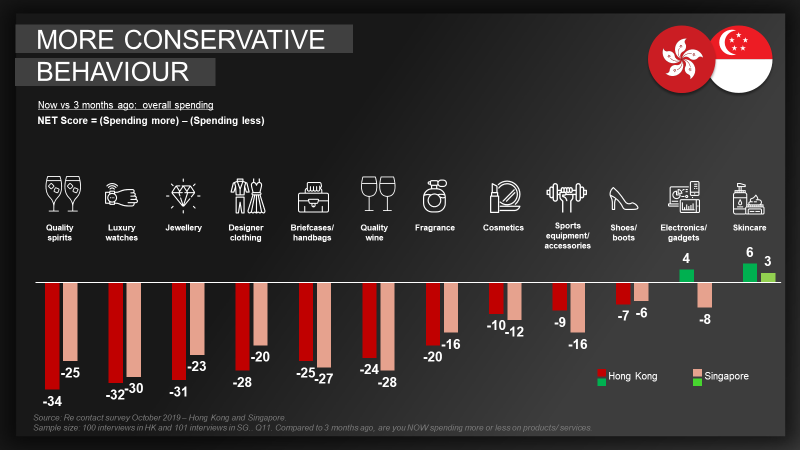 Due to the current economic situation, however, the affluent are spending less and cash is king: 61% in both Singapore and Hong Kong agree that: "At times like this, I would keep a high level of liquidity for myself."
The appetite for risk for the Hong Kong affluent sector has also clearly diminished over the past few months, with only a third (36%) seeing themselves as 'risk takers', compared to 46% for the 12-month period to July this year. The Singaporean affluent population, meanwhile do not share this opinion, with a stable level of risk appetite (up from 36% to 38%). 
A shift in their investment approach
When asked in early October, 20% of Singapore's affluent said they were more conservative with their investment approach compared with three months earlier. 13% said they were more aggressive. The situation is amplified in Hong Kong where 43% of the market's affluent consumers say they have become more conservative in their investment approach.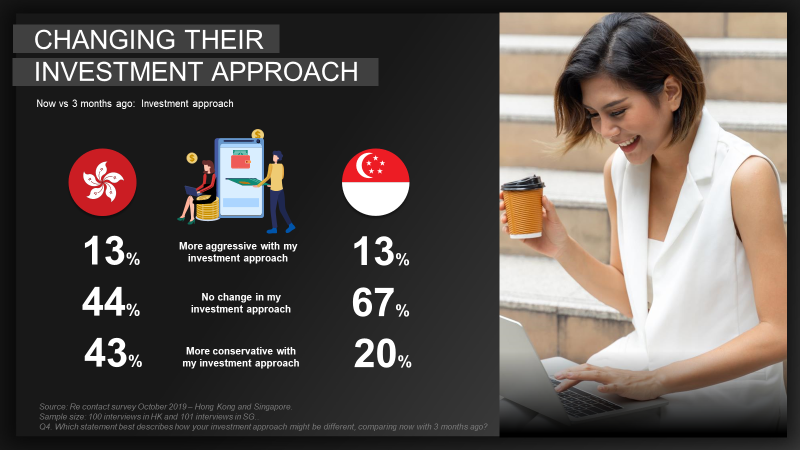 This attitude to investment is accompanied by a change in investment strategies. For Singapore's affluent, Life insurance remain the most owned product (85%) but their investments in Gold and precious metals (+19%), stocks and securities (+21%) and Unit Trusts / Investment Trusts / Mutual Funds (+24%) all have significantly increased too.
Not investing at home…or abroad.  
The proportion of Hong Kong's affluent investing at home has decreased by 23% between July and October, while investment in China (-14%), Europe (-10%) and other parts other parts of the world (-6%) also decreased. Only Singapore (+3%) and the US (+4%) saw minor increases.
Little optimism in Hong Kong
Overall Hong Kong's affluent are quite pessimistic about the evolution of their personal financial situation by the end of the year: much stronger and somewhat stronger at 15% compared to much weaker and somewhat weaker at 31%, especially compared with Singapore's affluent: much stronger and somewhat stronger at 28% compared to much weaker and somewhat weaker at 16%.
And while they are negative about their views of the Hong Kong economy for next year, as well as China's economy, and the rest of the world, interestingly, Hong Kong's affluent believe that Singapore's economy will improve next year, however, Singaporeans disagree.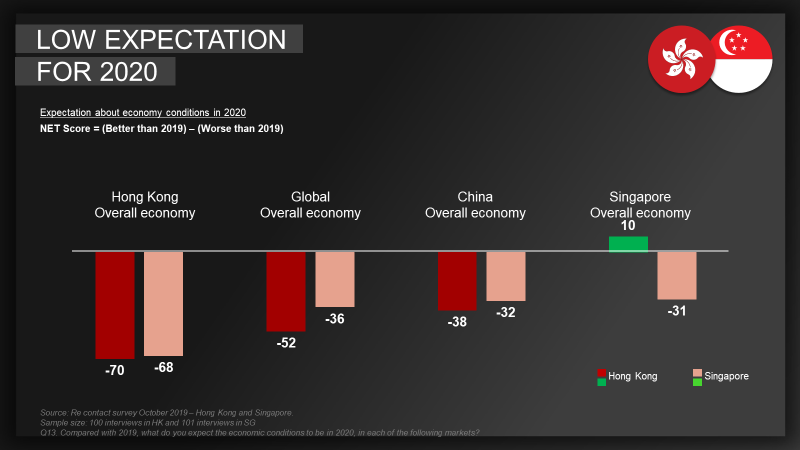 Katharine Zhou, Managing Director of Ipsos in Singapore said: "Singapore narrowly averted a technical recession this year which makes Singapore business decision makers cautious. Businesses in Singapore have been relatively resilient but because Singapore is a small country, many companies depend on the neighbouring economies and we will inevitably be affected by instability in the region. For affluent Singaporeans, they are confident that their personal finances will improve but building trust with this audience will be key for brands in these uncertain times."