Poverty, poor health, and the NHS: Stopping the spiral
Ipsos research shows that Britons believe increases to the cost of living pose a risk to the nation's health. But what does the crisis mean for the NHS and the service it can provide – particularly to those feeling the effects of increased poverty – and how can we stop a downward spiral?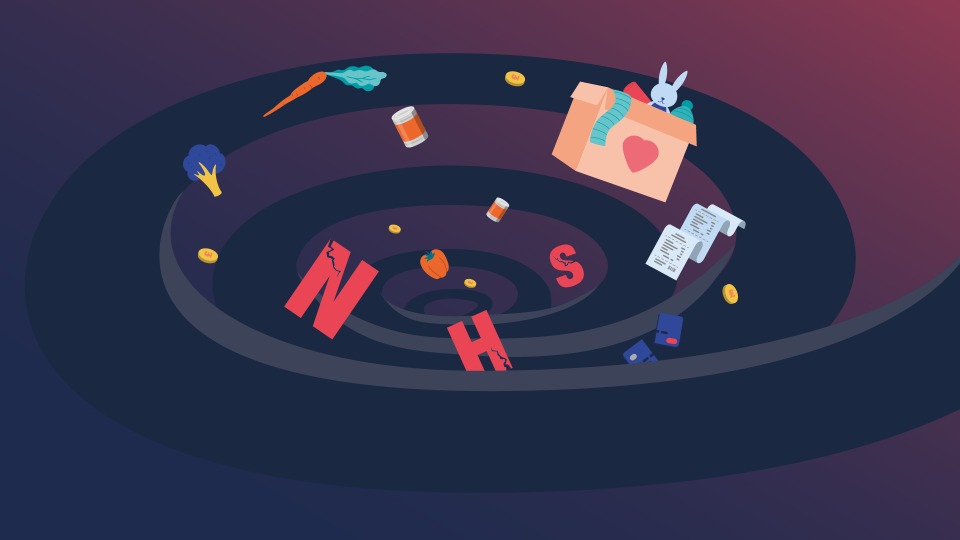 Laura Tuhou


Senior Research Executive

Anna Quigley


Research Director
The challenges facing the NHS are well documented, wrought by pre-existing pressures that have been exacerbated by the pandemic. And now, not only is it facing the longest backlog in its history, but the cost of living crisis brings new pressures for an already overstretched system.
We know that poverty leads to poor health. Marmot noted the link between deprivation and health in his 2010 landmark study, highlighting the gap in life expectancy between the rich and the poor79. The Office of National Statistics reported in April 2022 that people living in the most deprived areas of England have a greater likelihood of experiencing poor health, disabilities, and reduced lifespan80 than do those living in more affluent areas. Our own work regularly backs this up. The GP Patient Survey (GPPS) shows the correlations between deprivation level and poorer health – for example, the 2022 results showed higher incidence of conditions such as Long COVID, diabetes and poor mental health in areas of deprivation81.
So, should we be concerned about the impact on the NHS of the current cost of living crisis and its potential to drive more people into poverty?
Organisations across the health and social care sector certainly are. In August 2022, in response to the energy price cap, the Health Foundation said "Cold, damp homes make people ill. When people are having to make a choice between heating and eating, their health is going to suffer." And the public are worried too. Ipsos' research for the Health Foundation in June 2022 found that Britons think that increases to the cost of living pose a risk to the nation's health, with 57% seeing the level of threat as high or very high82.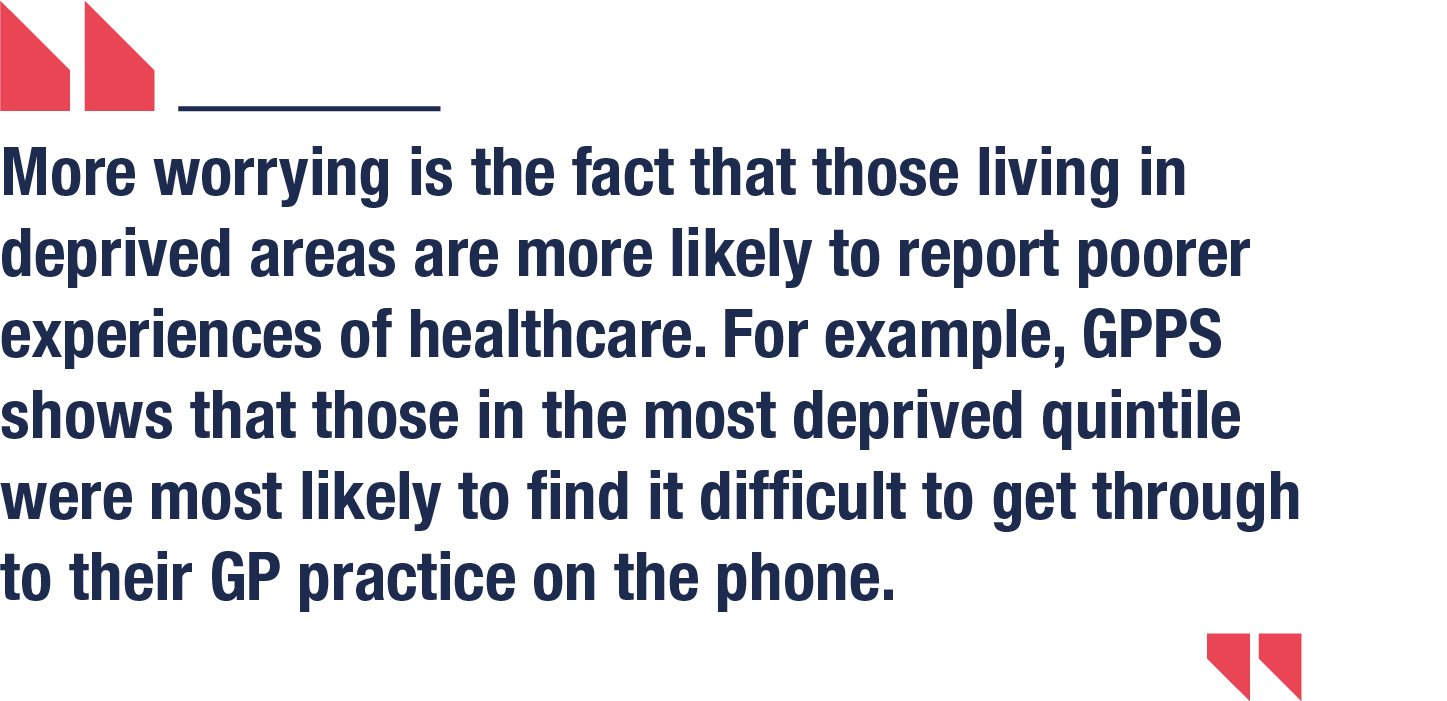 Poorer wealth, poorer health?
But we also need to look at how well the NHS meets the needs of those with poorer wealth and poorer health. Ipsos data has already shown that satisfaction with the NHS is starting to fall, with people reporting poorer experiences than in previous years. For example, 57% of people say that the standard of care in the NHS has got worse in the last 12 months83, and we've seen falls in a range of experience measures in the latest Inpatient Survey84.
Even more worrying is the fact that those living in deprived areas are more likely to report poorer experiences of healthcare. For example, GPPS shows that those in the most deprived quintile were most likely to find it difficult to get through to their GP practice on the phone (52%)85; and to have a negative experience of making an appointment (48%)86. Patients in areas of greatest deprivation were most likely to report a negative overall experience of their GP practice87, and ratings of overall experience declined as deprivation level increased88.
Of course, there are many possible reasons for this. Healthcare providers in deprived areas deal with a disproportionate number of patients who have multiple, complex, long-term conditions that require ongoing and specialised care and support. They also face greater workforce challenges than more affluent areas89.
This will only be compounded by the cost of living crisis. NHS Providers, the membership body for health providers, recently warned that higher costs of living were causing staff to look for roles elsewhere. Two thirds (68%) of trusts report a significant or severe impact from staff leaving the trust for other sectors, such as hospitality or retail90.
Is it always just about funding?
The most obvious solution for public services under strain is to increase funding. Ipsos research consistently shows that the public call for more funding for the NHS (often over and above other public services). The Autumn Statement has been cautiously welcomed as providing some respite for the service, and the commitment to publish long-term workforce projections will have been well-received91. However, there is no commitment to additional funding for any workforce strategy, and the Chancellor has also called for efficiency savings. As The King's Fund notes, this comes "after two periods of funding squeezes, where the NHS will argue that there is little fat left to cut – belts can't be tightened much further when they hit bone"92.
Away from funding, tailoring services to the very specific demands of the local population is one way to address the disparities in experiences that we are seeing in our data. Integrated Care Systems and Integrated Care Boards (ICSs and ICBs) are designed to focus on the needs of their local populations – and this could be part of the answer. But they will need to do their own work to understand their very specific populations (ICSs are still quite large), diagnose their local issues and decide how to address them.

Interrupting the downward spiral
Beyond funding, a more fundamental change is needed if we are to address the downward spiral we are currently facing. In thinking about the long-term sustainability of the NHS, there is often talk of a need to focus more on prevention. This is something that instinctively feels right – and is acceptable to the public, at least in theory. Our polling shows that the general public is more likely to agree that the government should focus resources on preventing ill health in the first place, rather than on treating illnesses93.
But this would involve some very difficult (and unpalatable) decisions, particularly at a time when every sinew is being strained to reduce the backlog of elective care. In this perfect storm of poor NHS performance and a cost of living crisis, the NHS more than ever needs to rethink and facilitate a system that works for everyone. But it will take bravery – from the government, the NHS, and the public as well.
Some other articles you might like...