Canada, Germany most likely to be viewed as positive leaders on world stage
Ipsos survey for Halifax International Security Forum finds Iran, Pakistan and Russia are considered the least likely to have a positive impact on world affairs over the next decade
Canada remains the top country expected to have a positive influence on world affairs.
New polling of more than 23,000 people by Ipsos for the Halifax International Security Forum was done in the aftermath of Canadian Prime Minister Justin Trudeau grabbing worldwide headlines for publicly accusing Indian agents of being involved in the murder of a Canadian Sikh separatist leader from Punjab state, which India has vehemently denied.
Across 30 countries surveyed, an average of 80% say that Canada will have an overall positive influence on world affairs in the next decade, down one percentage point from 2022 but retaining the top spot. The proportion that predicts India[1] will have a positive influence didn't budge year over year, remaining at 50%.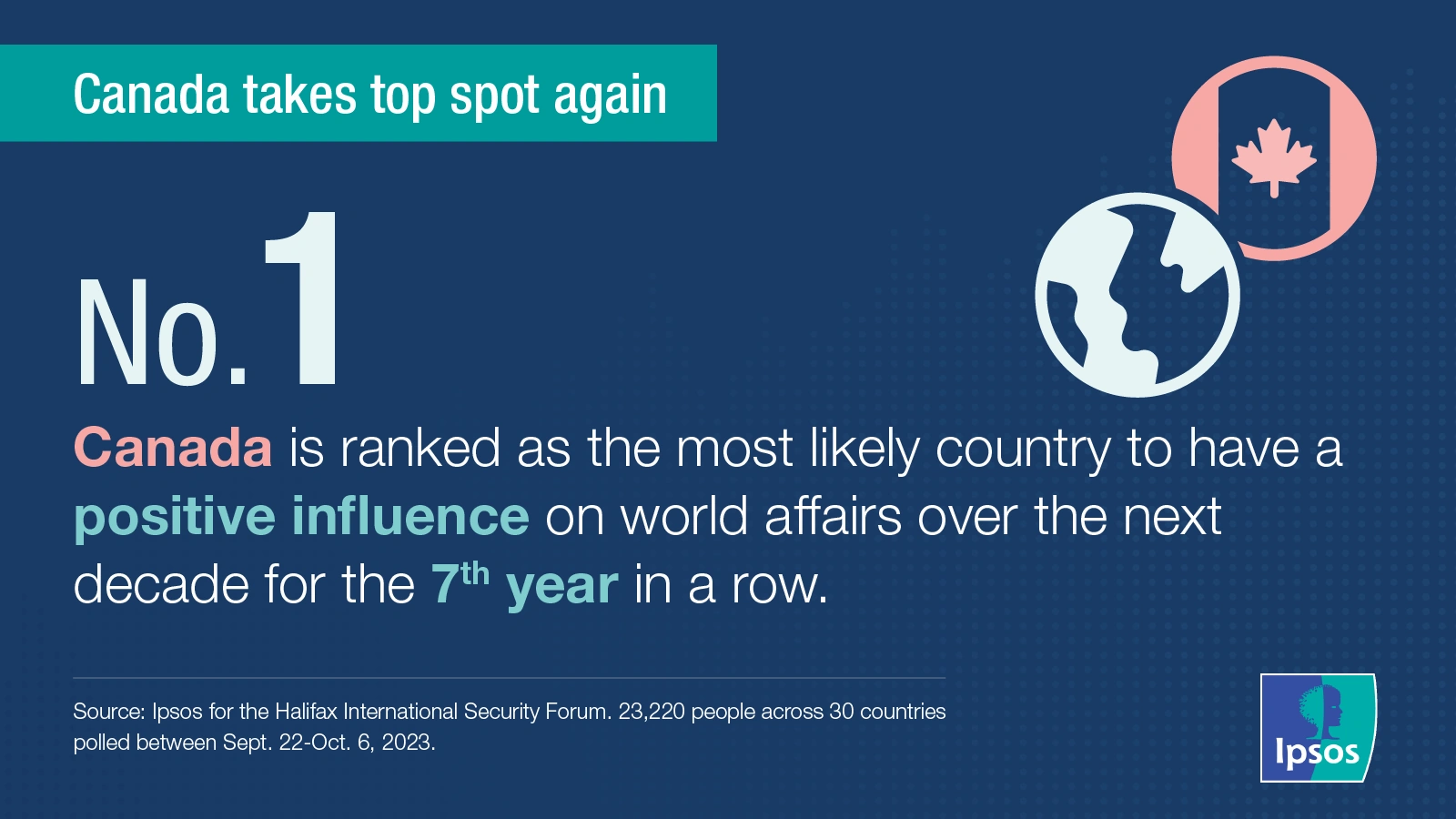 And once again the survey, conducted on Ipsos' Global Advisor online platform between Sept. 22 and Oct. 6, 2023, finds Germany (no change at 75%) right behind Canada. This is the seventh year in a row Canada and Germany have been the No. 1 and No. 2 countries expected to have a positive influence after tying for the top spot in 2016.
Tying for second place in 2023 at 75% (+three pts) is people saying "their country" will have a positive influence, with the European Union (+one pt to 72%), United Nations (no change at 71%) and France (-three pts to 70%) rounding out the top five.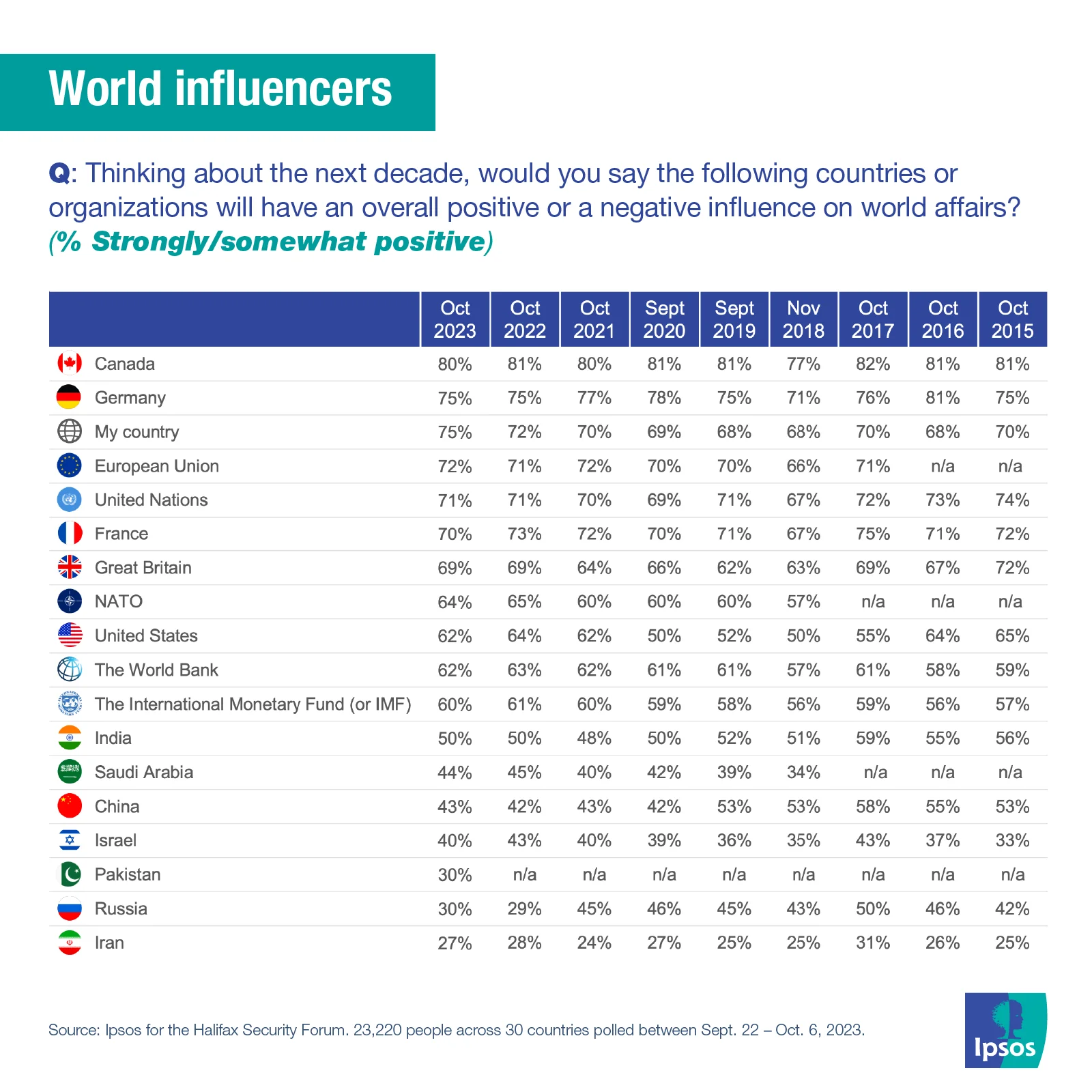 The usual suspects
On the other end of the spectrum, Iran is considered the least likely country to have a positive influence on world affairs for the ninth year in a row (-one pt to 27%).
Last year, the perception of Russia having a positive influence plummeted 16 points in the wake of the invasion of Ukraine in early 2022. In 2023, as the invasion rages on, perception of Russia ticked up ever so slightly (+one pt to 30%).
Pakistan is new to the survey this year and ties Russia at 30%. The polling wrapped up the day before the Israel-Hamas war started on Oct. 7, 2023, with 40% (-three pts) thinking Israel will have a positive influence on world affairs from 2023-2033, followed by China (+one pt to 43%) and Saudi Arabia (-one pt to 44%).
In 2019, before the World Health Organization declared a global pandemic, 53% thought China would have a positive influence on world affairs. After a pandemic was officially declared in early 2020, the proportion who thought China would have a positive influence dropped significantly to 42% and has remained near that mark ever since.
Trump slump over
Meanwhile, the proportion who think the U.S. will have a positive influence on world affairs dropped slightly from 2022 to 2023 (-two pts to 62%).
In the wake of now-former U.S. President Donald Trump being elected in 2017, the proportion of people who thought America would have a positive influence slid nine points to 55% and then hovered around the 50 percent mark during Trump's tenure. The global proportion who thought the U.S. would have a positive influence then jumped back up in 2021 (+12 points to 62%) after now-current U.S. President Joe Biden was elected.
Influence of one's own country
The perception of one's own country runs the gamut.
Residents in Indonesia (+two pts to 93%), Singapore (new to the survey at 93%) and New Zealand (new at 88%) are the most optimistic about the positive influence of their own country. While 62% (-two pts) globally think America will have a positive influence on the world, 76% (no change) of Americans think their country will have a positive impact.
Meanwhile, those in Hungary (+four pts to 44%), Turkey (-six pts to 63%) and Japan (+two pts to 65%) are least optimistic about their country's role on the global stage. And while 81% (-one pt) globally think Canada will have a positive impact, the proportion of Canadians thinking this slid seven percentage points from 2022 to 78% in 2023.
Global citizens attempt to balance foreign vs. domestic priorities
Globalization is a hot topic and Ipsos added questions this year to take the temperature of people around the world on the divisive issue.
Our polling found people are indeed divided on the topic with just over half (54% on average across 30 countries) somewhat/strongly agreeing that overall globalization is a good thing for their country.
But there's a wide range of views, from only 33% of people in France agreeing globalization is good for their country versus 77% of people in Singapore saying the same. And less than half of both Canadians (46%) and Americans (43%) think globalization is good for their countries. 
At the same time, the majority (72%) say expanding trade is a good thing, but 43% prefer to see more trade barriers to limit imports of foreign goods and services in their country, holding seemingly conflicting beliefs.
And while the majority support working with others on global goals, most also want more focus on their own country. Almost four in five (no change year-over-year at 78%) say their country should work with other countries towards global goals even if their country doesn't always get exactly what it wants. Yet, almost the same proportion (no change at 79%) say given the difficult economic issues in their country today it needs to focus less on the world and more at home.
And while most (no change at 77%) believe economic power is more important in world affairs than military power, 62% (-two pts) say that global dangers mean their government needs to spend more on their country's military power.
Looking for strong leadership
In these tense times true character emerges. And the vast majority (no change at 72%) agree their country has a responsibility to be a moral leader in the world and set an example for other countries to follow, with Indonesians (+two pts to 90%) and Indians (+one pt to 88%) leading the desire. Meanwhile, just over eight in ten (-two pts to 83%) believe the world needs new international agreements and institutions led by democratic countries.
And the majority (-two pts to 58%) still believe the U.S. is the most reliable leader for democratic nations. That's down three pts to 64% among Americans, compared to 57% (+one pt) among its neighbours to the South in Mexico and 47% (-three pts) among America's Northern neighbours in Canada.
---
About this study
These are the results of a 30-country survey conducted by Ipsos on its Global Advisor online platform and, in India, on its IndiaBus platform, between Friday, September 22 and Friday, October 6, 2023. For this survey, Ipsos interviewed a total of 23,220 adults aged 18 years and older in India, 18-74 in Canada, Republic of Ireland, Malaysia, New Zealand, South Africa, Turkey, and the United States, 20-74 in Thailand, 21-74 in Indonesia and Singapore, and 16-74 in all other countries.
[1] Thanks to a change in methodology, the survey now captures the sentiment of a much broader swath of the Indian population. India's sample now represents a large subset of its urban population — social economic classes A, B and C in metros and tier 1-3 town classes across all four zones.