What's keeping Canadians from adopting mobile payments?
Almost half of Canadians made a purchase by tapping a contactless credit or debit card in a store, coffee shop or other location in the first half of 2017, according to the Ipsos Personal Cardholder Study. Yet despite relatively high awareness of mobile pay on the big three platforms —Apple, Android and Samsung— users number in the just the low single digits.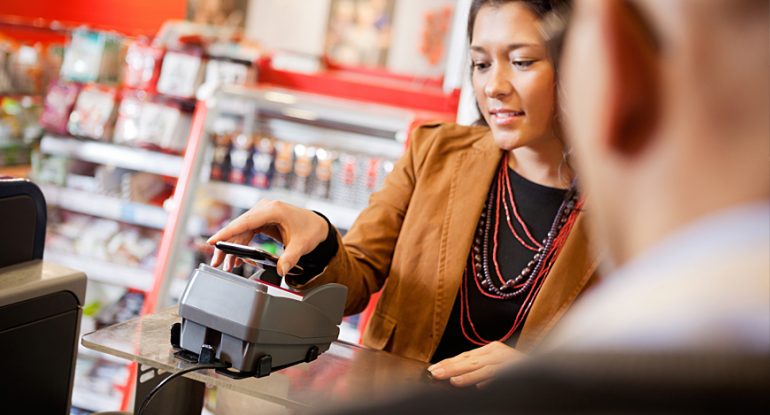 Why? Fragmentation is part of the problem. To date there is no single mobile payment system which supports all types of cards, including credit/debit as well as retail, gas, loyalty/reward and gift cards. Nor are any of the rrrrent mobile payment platforms compatible with all financial providers. That leaves the typical cardholder facing a confusing and potentially frustrating choice of which mobile payment system to use.
Consider Android Pay. Introduced to Canada in the spring of 2017, only three of Canada's Big 5 Banks currently support it. Canada's two largest banks, RBC and TD, offer customers their own native mobile payment app instead. Which means that an RBC or TD customer who wants to buy something using Android Pay on their smartphone will either have to use a card from a different financial institution if they have one or use RBC's or TD's own proprietary app. This situation limits the adoption opportunity for Android Pay, which after a few months on the market has been used by 4% of Canadian credit/debit cardholders.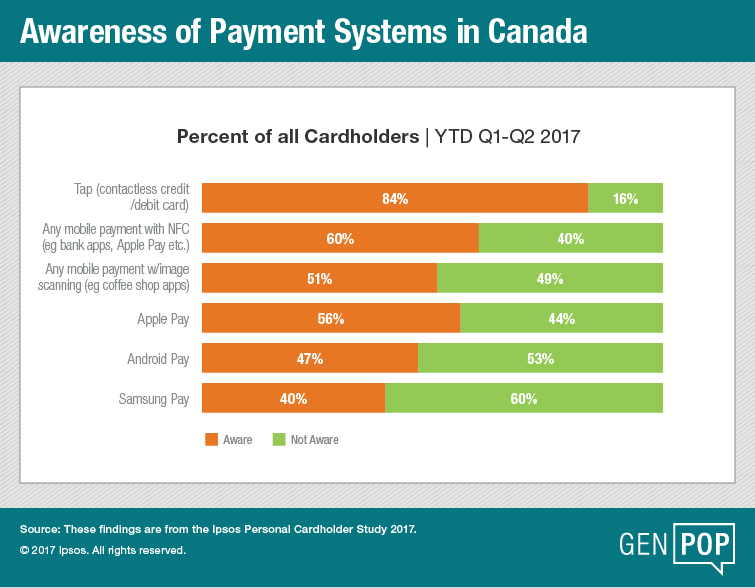 Apple Pay faced a similar situation, initially only supporting cards from American Express at its Canadian launch in November 2015. Apple has since expanded to be compatible with all five of the country's largest banks, among others, along with MasterCard and Visa, as well as Interac debit cards.
Meanwhile Samsung Pay currently only works with cards from CIBC. The platform's website states that support for more financial providers will be added, although no timeframe is given.
These factors, as well as the relative newness of the three Pay systems help explain why awareness and usage have plenty of room to grow. At the mid-point of 2017, while nearly 6-in-10 cardholders were aware of Apple Pay, only about half knew about Android Pay and just 4 out of every 10 were familiar with Samsung Pay.
More retailers need to accept these payments
Another factor limiting the growth of tap in Canada is that many retail locations have still yet to convert to point-of-purchase terminals which support contactless payments. As the number of compatible terminals continues to expand, the use of contactless cards will likewise grow further, as suggested by the fact that 84% of credit/debit cardholders are aware of making a purchase using a contactless payment method. This represents a large potential base of users for mobile payments too, and the industry is rushing to offer solutions to meet the nascent need.
So who are the early adopters? The profile is strikingly similar to the demographic who were among the first users of mobile banking a decade ago: males aged 18-34.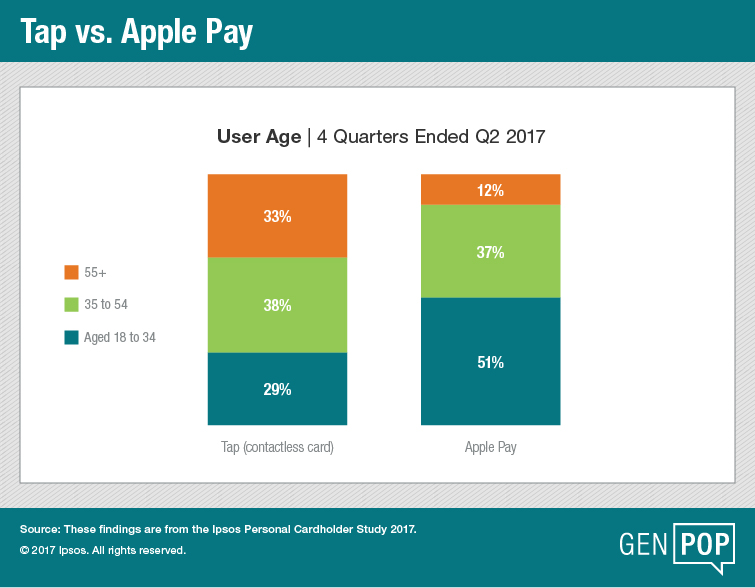 One factor in their adoption rates is that this group has greater trust in the technology. Overall more than half of all cardholders express concern about the security of mobile payments, indicating that the industry, financial institutions and tech firms alike, has more work to do to reassure the majority of cardholders that paying by smartphone is as secure or even more secure than the familiar physical card.
While 62% of cardholders aged 55+ feel that mobile payments are less secure than traditional payments, fewer than half of those aged 18-34 share the same concern. And 62% of female cardholders view mobile payments as less secure, versus 49% of male cardholders.
But do people want it?
The other factor to slow customer adoption isn't technical at all. It's a matter of do people need and want a "digital wallet" to replace their existing physical cards. Canadians have long been accustomed to swiping or inserting chip cards. Payment by tap just makes the transaction that much faster and frictionless. In some ways the credit card industry has only itself to blame for the slow adoption of mobile payments, by making the incumbent plastic card so easy and pain free to use. And cardholders never have to worry about the battery running down when using a card, definitely not the case where a phone is concerned.
Which begs the question. Despite usage by a small group of early adopters and much industry hype around the launch of Apple Pay, Android Pay and Samsung Pay, the use case for mobile payments in general seems to be still in doubt for the vast majority of Canadians. Especially as none of the pay systems or financial provider apps currently comes close to providing a true mobile wallet by supporting all types of cards and financial providers, which likely is what is necessary to achieve mass adoption. This suggests that at this stage of their development in Canada the various mobile payment systems are more a solution looking for a problem, one which most Canadians don't really feel, at least not yet. Time will tell whether or when the allure of leaving the physical wallet behind in favour of a digital one on our smartphones becomes the norm or remains the choice of a select few, technologically savvy early adopters.
This article was originally published in GenPop, a new online magazine from Ipsos about people and what makes them tick. Click here to read other articles equally as great.