Consumption Trends in Canada: A Macro Overview
Canadians increasingly expect higher quality experiences, characterized by more fresh, real, less processed and authentic food/beverage solutions that are conveniently available.
How Canadians eat and drink continues to evolve. This should not be surprising given the acceleration of change that surrounds us in our daily lives. In this year's CHATS Report, our investigation once again coalesces around the all-important consumer who is demanding more from their everyday choices.
As Canadians increasingly search for enhanced experience and increasing variety, characterized by more fresh, less processed, globally diverse and authentic solutions that are conveniently available, a new level of decision-making engagement is emerging.
With consumers firmly in the driver seat as change agents, businesses need to continually challenge traditional norms to determine how big picture factors can be harnessed for positive growth or future innovation rather than merely reacting to their force.
Quite simply put, Trends Matter. Below we touch on some highlight emanating from this year's investigation.
Trend Pillar Definitions Continue to Evolve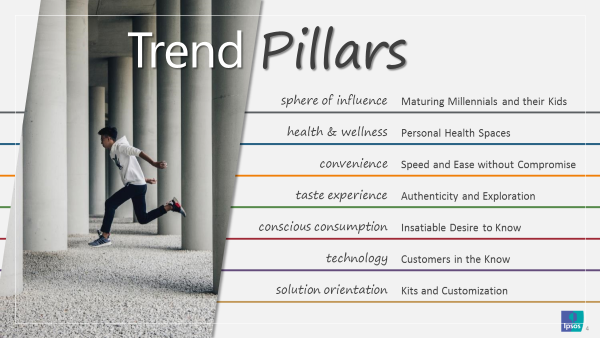 Mainstreaming Millennials
Maturing Millennials (aged 22-38 years old in 2018) represent almost a quarter of the CDN population and are not a homogeneous cohort. In fact, varying lifestages within the cohort necessitate that any Millennial investigation includes evaluating these consumers in segments. The YEMPS segment of Young Educated Millennial Parents is rising in importance to its increasing size, spending power and sphere of influence. As Millennials continue to enter the parenting lifestage, they will not only put their YEMP stamp on parenting they will also imprint another generation of consumers.
The Quality Movement Drivers
Today, Canadians aspire to a higher food quality, one that they simply did not grow up with. The requirement for high quality ingredients has increased notably over the past two years (+5%). In fact, one in five food or commercial beverage choices is prompted by the need for a premium item made with high quality ingredients.
Natural & Organic Trend
Consumption rates of natural and organic fare have risen dramatically in recent years. Rising popularity can be directly connected to choices made by YEMPS and their children. Today, one in ten foods and beverages consumed by young family members is a natural and organic product, as consumers believe these options are healthier. However, the power in targeting the natural and organic claim comes from more concisely understanding how consumers interpret and internalize benefits to reveal a new and more personalized meaning.
Convenience without Compromise
Busy lives and hectic schedules have rendered the convenience need state a 'point of entry' requirement, together with hunger, thirst and taste. Let us consider the all-important Dinner meal. This is the occasion where consumers take the most time in both planning and preparation. Here to, Meal Preparers are driven by convenience. In fact, 54% of items consumed at Dinner are selected because they meet convenience needs.
However, that is not the whole story. Among those reporting the convenience need state as the top driver of dinner choices, over two-thirds (67%) also report the need for nutrition, enhanced experience and variety. The convenience with compromise trend supports the need to not only make meals easier, but also to provide solutions that delight consumers.
Contemporary Health
The evolving definition of Contemporary Health has yielded an Intersection between functional, metabolic and social needs and benefits. Functional needs are focused on evaluating nutrient density of both good and bad variables. Metabolic requirements represent a huge opportunity space as consumers seek well-being and performance benefits from consumption choices (Satiety, Energy, Mental Focus, Sleep, Recalibration). Finally, the evolving holistic approach to health also includes conscious consumption practices focused on social impacts of the product life cycle.
The Dayparts
The voracity and impact of the trends shaping our needs and daily choices are also molded by daypart needs at Breakfast, Lunch, Dinner and Snacking, together with other situational and occasion dynamics.
Report Sources
Ipsos FIVE – A daily on-line diary capturing everything an individual ate and drank yesterday across all foods and beverages, all occasions and all venues (including out of home channels). We also capture situational dynamics, item preparation, motivations, health statuses, lifestyle habits driving choice and purchase dynamics. The study captures behaviour among 20,000 individuals annually aged 2+ years, is statistically balanced to represent the Canadian population and commenced tracking in 2013.
Ipsos FSM (Foodservice Monitor) - A detailed tracking of consumer behaviour at all Foodservice channels, both commercial and non-commercial, capturing the daily spending habits, item choices, operator performance and party dynamics among over 36,000 individuals annually. Ipsos FSM study focuses on the 'why' behind the results to provide a unique issue-focused service rather than just providing tracking results.
CHATS 2018 deliverable includes a Power Point Resource Report (~140 slides) accompanied by a live presentation.
---
Kathy Perrotta is a Vice-President of Marketing at Ipsos who leads the FIVE team. FIVE is a daily on-line diary tracking of individuals' eating and drinking behavior across all categories/brands, dayparts and venues. The information is captured among 20,000 Canadians annually and commenced in 2013. We also capture the motivations, attitudes, situational dynamics, lifestyle habits and purchase detail that drives item choice. The FIVE team produces an annual food and beverage trends report called Canada CHATS mined from the expansive FIVE data set.