Educated Conjecture: An Ipsos Podcast
In this week's episode, we talk about how data from both restaurant guests and broader trends is influencing Tim Hortons' evolving offer to Canadians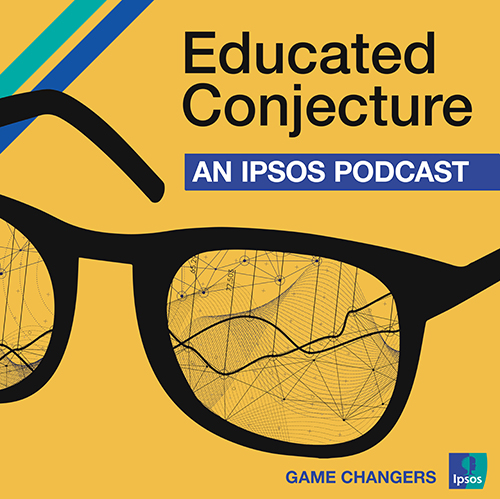 Welcome to Educated Conjecture – an Ipsos podcast that combines what the public thinks, with what the experts think. In each episode, Ipsos' Mike Colledge and Sean Simpson and an informed guest will examine a current or emerging issue. They discuss what is happening today, think ahead about the future impact (both good and bad) and reflect on what steps might need to be taken to generate a better outcome for tomorrow. This podcast series is ideal for everyone: government, businesses, non-profits, agencies, brand marketers, consumer researchers, product innovators, and you. Listen in now!
Season 1, Episode 34 - How does consumer insights play a role in menu innovation for quick service restaurants in the face of broader health and post COVID trends? In this episode, Erin Cohen, Director of Consumer Insights at Tim Hortons, joins Mike and guest host Jaclyn Chiarello, from Ipsos' Innovation group, to talk about how data from both guests and broader macro trends is influencing Tim Hortons evolving offer to Canadians. Warning, this episode may make you hungry.
Season 1, Episode 33 - In this episode, hosts Mike and Sean are joined by their Public Affairs colleague Sanyam Sethi, to drill down into the Canadian data from the recent Global Trends study. Together they explore how the country is changing and how Canadians feel about the impact of constant disruption and evolving technology, as well as the issues that are affected the most by the "say-do" and "believe-true" gap.
Season 1, Episode 32 - Listen in as Nick Chiarelli, Engagement Manager for Ipsos' Global Trends and Foresight group, joins Mike to discuss what's changed (and what hasn't) in trends and attitudes around the world as measured by Ipsos' annual Global Trends study. 
Season 1, Episode 31 - In this last episode of 2022, Mike and Sean are joined by Gregory Jack, VP of Public Affairs with Ipsos, to discuss 12 stats which helped to describe what was happening in Canada over the course of the last year.
Season 1, Episode 30 – In this episode, Milorad Ajder, Global Service Line Leader for Corporate Reputation at Ipsos, joins Mike and Sean to talk about all things reputation - how it's defined, what companies can do to develop reputational breathing space, the impact of trust, and the foundational effect of environmental, social, and governance (ESG) activities.
Season 1, Episode 29 – Ahead of the Quebec election on October 3rd, Sébastien Dallaire, SVP/ Directeur-général for Ipsos in Québec joins us to discuss the key parties & players (including who's leading and who's lagging), as well as the issues shaping public conversation.
Season 1, Episode 28 – Are policies that link sports funding to ensuring sport is abuse-free, fun and safe resulting in a healthier sport culture for high-performance athletes and participants? In this episode, Derek Johnston, Communications strategist & facilitator for Face Value Communications, & Integral Professional Coach, joins Mike to talk about the shift from win-at-all-cost coaching to an approach that considers both the mental and physical health of athletes.
Season 1, Episode 27 – Is the mainstream media losing its role as the gatekeeper of objective news reporting? With information available 24/7 from a huge variety of sources, how are Canadians getting their facts and information?  In this episode, Beatrice Politi, VP, Corporate Advisory - Earned Media, Coaching and Strategy at Hill+Knowlton, joins us to talk about where Canadians are getting their news, how media habits are changing, and the impact on democracy & open discussion.
Season 1, Episode 26 – It's an Ipsos podcast mashup! This week, the Educated Conjecture podcast joins forces with the Customer Perspective podcast to examine the perspectives (and worries) of Canadians as both citizens and customers, and how the line between these two lenses is becoming increasingly blurred. This episode features Ipsos hosts Helen Wilson, Global Chief Experience Officer for Customer Experience and Channel Performance, Mike Colledge, President, Public Affairs in Canada, and Ray Kong, a President in Ipsos' Canadian Client Organization.
Season 1, Episode 25 – More than two in three Canadians say they're worried that basic services have been neglected by our governments.  In this episode, Mike and Sean are joined by Darrell Bricker, Global CEO, Ipsos Public Affairs, to discuss precarious public confidence, concerns about the delivery of public services, and a divisive set of issues worrying Canadians.
Season 1, Episode 24 – If a week is a long time in politics, consider that when Ipsos was founded in 1975, NASA launched the first joint United States and Soviet Union space flight, Betamax and VHS videotapes were introduced, and the ethernet was just being born. In this episode, Simon Atkinson, Chief Knowledge Officer at Ipsos, talks to us about how Ipsos manages years of wide ranging knowledge, and how common (and not so common) beliefs, attitudes, opinions and issue concerns have been changing pre-and-post pandemic.
Season 1, Episode 23 – Delivery, drive-through, take-out, or cooking at home, Canadians' food and beverage choices are changing. In this episode, Asad Amin, SVP and lead of Ipsos' syndicated food and beverage group, joins us to talk about the impact of the pandemic, inflation, pent up demand for a dining experience, and generational differences which are all affecting what Canadians eat (and drink!), and where. Access more from this conversation here.
Season 1, Episode 22 – Canadians are increasingly concerned about inflation, housing affordability & availability, interest rates, and the economy more generally. In this episode, Mike Moffatt, Assistant Professor at Ivey Business School at Western University, and Senior Director of Policy at the Smart Prosperity Institute, joins Mike to talk about a wide variety of economic issues that are affecting Canadians, including the impact of COVID, climate change, and more.
Season 1, Episode 21 – Does when you're born shape who you are?  In this episode, Bobby Duffy, Director of the Policy Institute King's College London, and Author of The Generation Myth, joins us to discuss how generations shape societies, and why generational differences aren't as distinct as we think.
Season 1, Episode 20 – As the pandemic (very) slowly becomes endemic, how are working Canadians dealing with the seemingly endless sameness of remote work? Are we working more hours, but becoming less productive? What's spurring Canadians to change their jobs, their careers, or their lives to find meaning and purpose as we move into the third year of COVID?  In this episode, J.P. Gedeon,  Leadership Psychology and Transformation Expert, Management consultant, Executive coach, and Corporate educator joins us to discuss how people and organizations are coping with anxiety and uncertainty, how these factors are influencing behaviours at work, and why it's important to make your bed!
Season 1, Episode 19 – What's most worrying our neighbours to the south?  In this episode, Chris Jackson, SVP for Ipsos in the USA joins Sean to discuss the most important issues facing Americans, including the economy, COVID,  and increasing concerns about war and foreign conflict. 
Season 1, Episode 18 – Are Canadians believers or skeptics on the benefits that technology will bring to their lives over the next decade?  The answer is – it depends.  In this episode, Jesse Hirsh, Futurist & Co-Founder of The Academy of the Impossible, joins us to discuss the impact of generation, technology literacy and trust in big tech when it comes to embracing the future.
Season 1, Episode 17– In this episode, Dawn Desjardins, Deputy Chief Economist at RBC joins us to discuss the uneven financial impact of the pandemic and Canadians increasing worries about affordability and inflation.
Season 1, Episode 16– The Canadian political landscape seems to be changing by the minute. In this bonus episode recorded on February 14, 2022, Darrell Bricker, Global CEO of Ipsos Public Affairs joins us to discuss the latest news and assess the complex set of challenges that the Trudeau government faces as they move forward. 
Season 1, Episode 15– In this episode, we talk about cryptocurrency with Kimberly Grauer, Director of Research at Chainalysis Inc. and Eric Jardine, Assistant Professor of Political Science at Virginia Tech and Co-author of "Look Who's Watching: Surveillance, Treachery and Trust Online".  Although still in the minority, increasing numbers of Canadians believe that paper money and coins won't exist in ten years, while confidence in digital currency is growing.  What is cryptocurrency, who's using it around the world, and what's contributing to its growth? 
Season 1, Episode 14 – Listen in as we talk about competition with Vass Bednar, Executive Director, Master of the Public Policy Program at McMaster University, and public policy entrepreneur. Why should consumers care about the Competition Act, and about making sure the business landscape fosters fair competition? Public opinion overwhelmingly supports a more competitive marketplace to give Canadians access to a wider range of goods at lower prices, but also to help small and medium size businesses compete with dominant market players. What should Canadian policy makers consider when it comes to creating the ideal marketplace that encourages innovation and entrepreneurial spirit? Vass Bednar helps us explore the issue.
Season 1, Episode 13 – This week we are joined by Amanda Clarke, Associate Professor, Public Administration, Digital Government, Data Governance, & Civic Technology at Carlton University and Author of "Opening the Government of Canada: The Federal Bureaucracy in the Digital Age". While the pandemic has rejuvenated the value of government services in the public consciousness, it's also revealed cracks in the public sector's ability to deliver citizen services. Longer term, what investments should we be making to modernize public services, increase public trust, and build resilience to manage future challenges?
Season 1, Episode 12 – Listen in as we discuss brand purpose with Mark Tomblin, Founder of Thinking Unstuck. What are the limits of a brand's role in corporate social responsibility? Is it possible (or reasonable) to assume that brands can ensure that their business activities are being conducted in ways that also spur large-scale, societal change in the face of increasing worries about inflation, and economic concerns?
Season 1, Episode 11 – In this episode we talk with Margaret Eaton, National CEO for the Canadian Mental Health Association, about the pandemic's impact on the mental health of Canadians. Although public opinion has shifted, stigma has been reduced, and open dialogue about mental health issues has become more common, Canadians rank mental health as the second biggest health problem in the country after COVID. While government investment in mental health support has increased since the pandemic began, there are gaps that will need to be addressed now and in the post-pandemic world to ensure Canadians have access to mental health programs.
Season 1, Episode 10 – In this episode, we are joined by Jessica Long, Head of Ipsos's Climate Change & Sustainability Practice in the UK.  How has the conversation evolved from sustainability, climate change and the environment to a wider view of the long-term health of the world and its people? With concern for the environment now at an all-time global high, what do people, governments and the private sector need to know about understanding, prioritizing and leading ESG (Environmental, Social, and corporate Governance) initiatives that will make a difference?
Season 1, Episode 9 – In this episode, we are joined by Ron Vezina, Vice-President, Public Affairs at Canadian Blood Services to discuss the say-do gap between intention and action. This gap, has been a frequent topic of discussion lately as it relates to vaccination intent and climate change. But the say-do gap is particularly apparent when it comes to donating blood, an activity that although Canadians universally agree is a good thing to do, just under 4% of the eligible population actually donates. When it comes to addressing this gap, trust – built by stakeholder consultation, ensuring safety, and being accountable over the long term – is key.
Season 1, Episode 8 – In this episode, we are joined by Mike Morrice, Ontario's first-ever elected Green MP, to discuss the role of government in combatting climate change.  A  majority of Canadians say they're doing what they can to combat climate change, but they don't believe the same is true for governments and businesses.  With Canadians no longer believing that growing the economy and addressing climate change are mutually exclusive, what policies could be adopted to reduce emissions, and what trade-offs might need to be made? 
Season 1, Episode 7 – In this episode we are joined by Kendra Jones, Director at Ipsos (and also in theatres around the world!) to discuss the impact of the pandemic on theatre companies. Will live theatre will see a return to its traditions, or will it be reshaped in a post-pandemic world?
Season 1, Episode 6 – In this episode, we are joined by Kevin Crigger, President, Toronto Regional Real Estate Board (TRREB) and Broker & Team Leader with Johnston & Daniel/Royal LePage. COVID and WFH has resulted in many Torontonians re-evaluating their housing choices both in and outside the GTA. We discuss the impact of the pandemic on renting and buying, which groups have been the most mobile, and what new/improved policies could help remove barriers to housing affordability.
Season 1, Episode 5 – This week, as we race toward next week's #elxn44, Darrell Bricker, Global CEO of Ipsos Public Affairs joins us to discuss the defining moments, issues, and the latest public opinion on all things election-related, including how political parties are positioning themselves to voters in the last week of the campaign, and if any party has a clear path to a majority government.
Season 1, Episode 4 - With the election coming up fast, Kyle Braid, SVP for Ipsos in Western Canada (and Winnipeg Jets super-fan!) joins us to discuss all things political – the issues, trends, and shifting party support – in BC and the west more generally.
Season 1, Episode 3 – It's the week of August 23 (and the second week of Canada's election campaign) so in this episode, Sébastien Dallaire, SVP/ Directeur-général for Ipsos in Québec joins us to discuss how the upcoming election will play out in Quebec, including wedge issues, the role of debates, and the impact of the BQ, as well as which political parties have the most to gain (and lose) in the province. 
Season 1, Episode 2 – Today we are joined by Ray Kong, President at Ipsos and specialist in CX and Financial Services to talk about the opportunities and challenges of a K-shaped economic recovery. 
Season 1, Episode 1 – In this the inaugural episode, Darrell Bricker, Global CEO of Ipsos Public Affairs joins us as we talk about citizen-consumer sentiment and optimism, the latest vote and issue polling results, and what to look for in the coming weeks as the Canadian election campaign kicks off.