Customer Perspective: An Ipsos Podcast
A weekly podcast series exploring best practices in customer experience strategies, mystery shopping and channel performance.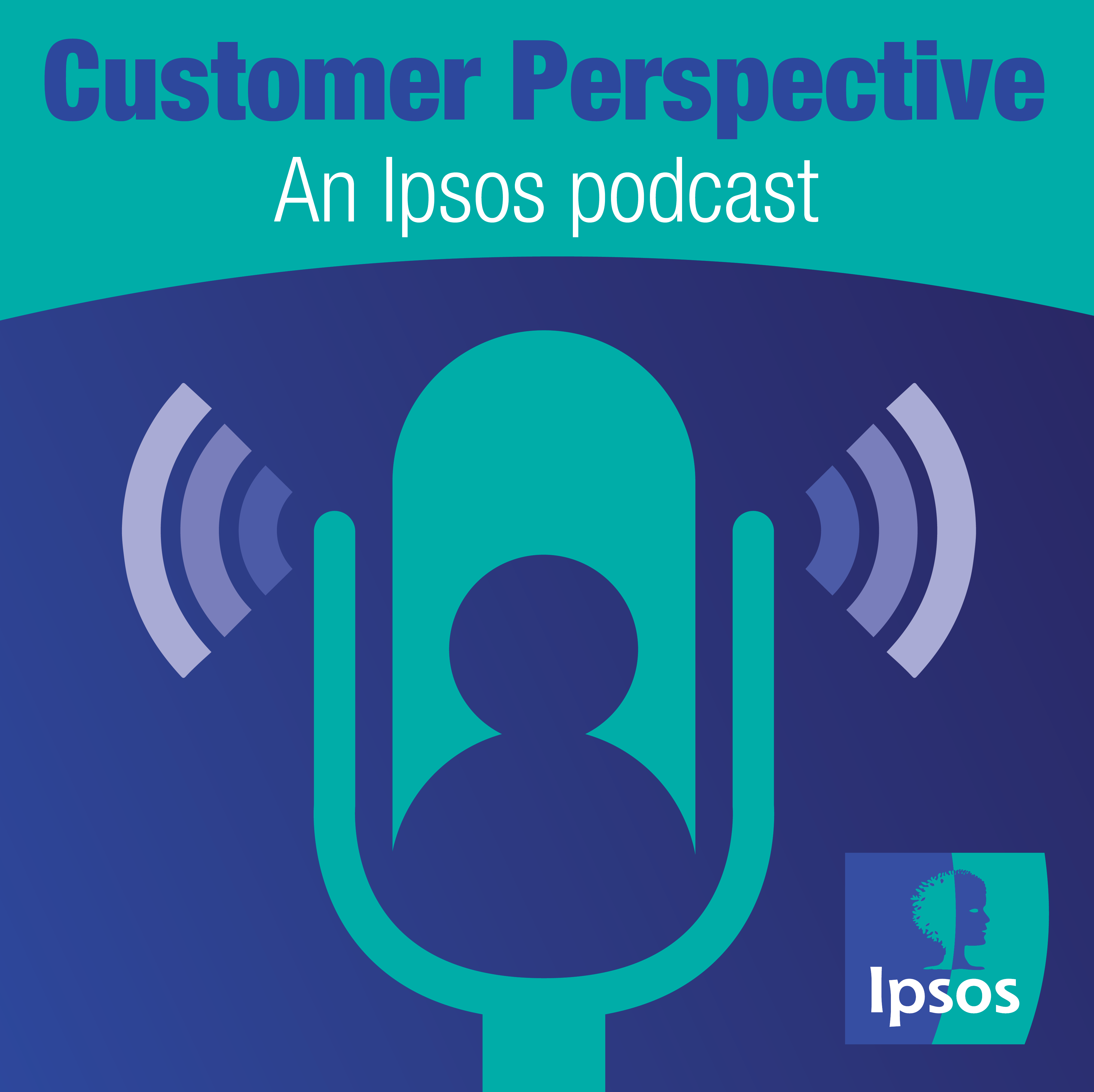 Welcome to Customer Perspective hosted by Ipsos' customer experience research specialists. Each week, our hosts will interview dynamic experts from across the insights industry, including within Ipsos, aimed at helping you deliver your brand promise to customers. Whether you are a customer experience practitioner, lead CX measurement and management programs, head up mystery shopping, are responsible for the performance of sales channels, or delivering customer success … this podcast is for you.
Subscribe today: iTunes • Spotify • SoundCloud • Anchor
If you'd like any more information about anything discussed on this podcast or if you'd like to have a question answered, contact [email protected]
---
Season 6: Episode 5 – Today we're joined by Craig Bradley, who leads Channel Performance, and Stuart Wood, product leader for 'Shopper'. At the start of 2023, Ipsos' Shopper Insights and Virtual Testing teams joined our Channel Performance business. Virtual Testing offers simulated physical and digital retail environments to measure shopper decision making, and test different activation scenarios. Craig and Stuart tell us why these businesses came together, focusing on the benefits for clients, the business challenges addressed and, of course, the impact of so doing – with plenty of example cases. They delve into each aspect of Channel Performance: Channel Sizing, including Retail Census, Retail Audit and Illicit Trade Assessment, to inform channel entry and growth strategy; Execution Measurement to ensure compliance; Mystery Shopping with the end goal of driving the right customer behaviors; as well as Shopper Insights, with a behavioral science lens, to optimize marketing ROI; and Virtual Testing to win at the point of purchase. Craig and Stuart give a shout out to best practice organizations and share their predictions for the future.
Season 6: Episode 4 – Many financial services businesses deploy external intermediaries in one form or another. These B2B (business to business) relationships are typically between the financial institution and external salespeople, advisors, agents, brokers, wholesalers and such like. In many cases, these businesses are then selling to other businesses, rather than the end consumer. Unfortunately, it can be easy to overlook people who don't work directly for your firm, because you may not 'see' or have regular contact with them. However, as an extension of your firm, they represent your brand, products, and services. More importantly, their success has a significant impact on the success of your firm during challenging economic times.
Mary DeBisschop and Jeff Repace, Senior Vice Presidents in our Ipsos US Customer Experience team, have recently published a paper called 'Why empowering intermediaries can help financial services companies in a challenging economy'.  They join us on our Customer Perspective podcast to talk about helping businesses understand what it takes to maintain successful B2B relationships with their intermediaries.
And if you'd like to hear more from Mary and Jeff, sign-up for their upcoming webinar on June 7: Empowering B2B Intermediaries through Customer Experience.
Season 6: Episode 3 – We're delighted to welcome Emma Dark, Director of Customer Service at Estée Lauder. Emma and her team have recently been crowned the Best Small Customer Contact Centre of the year, in the highly prestigious European Contact Centre and Customer Service Awards (ECCCSAs). During this episode, Emma takes us on her career journey, with signs of success evident early on; at just 17 years old, she opened her first store as a manager. She moved up the customer service ladder in leading global brands and start-ups, but with CX and EX always at the heart of her roles. As such, she's exceptionally well-placed to share her take on some of our top topics, including what makes for truly great contact center performance, the role of Customer Experience measurement and management in CPG organizations, the importance of embedding ESG in experience, challenges when operating in our convergent commerce world, and, of course, delivering that Return on CX Investment (ROCXI). If you're looking to improve your CX performance, be sure to listen to Emma's guidance on the three CX 'must dos'!
Season 6: Episode 2 – In this episode, we're joined by Norrelle Goldring to continue our Convergent Commerce journey, but from the angle of the bricks and mortar store. You'd be forgiven for thinking that with all the talk about digital channels, the physical store is dead. Nothing could be further from the truth. Its roles are expanding not contracting. And depending on the category, often a majority of shopping task time and purchases are made in physical stores. Listen in to hear how the physical store is changing, how its roles are expanding, and, of course, what this means in terms of designing for, delivering, and measuring success.
Season 6: Episode 1 –To kick off the first episode of Season 6, we're pleased to welcome special guest Sybil Nicolson, Insights Executive for Transport for London. Listen in as Sybil describes some of TfL's research activities, including their large-scale, long-term Mystery Shopping program: London Underground Customer Care Monitor (CCM). You'll hear how it remains fresh after more than 10 years, the research and logistical challenges associated with such a major initiative and how to overcome, and, most importantly, how TfL puts this to work, to drive positive change across the organization and improvements for customers.
Season 5: Episode 11 – We welcome experience design experts, Helen Bywater-Smith, Ipsos' Global Head of CX Service Design and author of our latest Ipsos whitepaper, CX Service Design: Creating emotional attachment and driving brand growth, and Jean-Francois (JF) Damais, Global CX Chief Research Officer.
Season 5: Episode 10 – Listen in as Alison Chaltas, Ipsos' Global Head of Shopper and Omnichannel, and Norrelle Goldring, global consultant, join us to discuss convergent commerce ecosystems, including what that looks like, what this means for means for brands and retailers, including what they need to do to align themselves to consumers' ecosystems, whilst keep the customer at the heart of such a move (always!) and not developing 'things' for their own sake.
Season 5: Episode 9 – This week we talk about driving desired business outcomes with Kate McLaren (General Manager Customer Quality at Kia Motors UK) and David Hart (Kia Customer Experience Manager). They discuss how, in these challenging times, Customer Experience has never been more important, along with the associated challenges, and what really makes a difference when driving those desired business outcomes. They dive into trust, authenticity, empathy and the value and ways of creating emotional attachment with a brand. But, of course, it's all about the impact, with ROCXI (Return on CX Investment), all important. 
Season 5: Episode 8 –We are delighted to welcome Attila Szabo, who is Managing Director at Ford of Poland, and Annamária Földes, who leads the Ipsos Customer Experience and Channel Performance business in Hungary. Attila speaks to us about Ford's electric future and what that means for the future Ford Customer Experience, including the opportunities afforded by the electric CX journey to further strengthen the customer relationship.  He describes some of the learnings from the pandemic and new digital, and subsequently phygital, touchpoints introduced by necessity, but which have been retained and enhanced the experience, driving better customer outcomes.  Attila is a big fan of mystery shopping, describing it as the "moment of truth … irreplaceable", along with Voice of the Customer (VoC) research.
Season 5: Episode 7 – We are delighted to welcome Yvette Steyn who focuses on growth and innovation at Distell, Africa's leading producer and marketer of alcoholic drinks, which are sold across the world. Distell's purpose is 'Creating memorable moments. Crafting a better future', and in this episode Yvette tells us about the industry coming together in an incredible sustainability initiative, in South Africa, to drive a better future for the industry as a whole, advancing licensing in particular and a reduction in alcohol abuse, contributing to an upliftment of society, in a meaningful way. Hear more about the challenges faced, the practical aspects of mapping the size of the market, including the number of independent retailers – licensed and unlicensed – and gaining a deep understanding of this unique alcohol landscape, which has been hit hard by Covid lockdowns.
Season 5: Episode 6 – In this special edition episode, we are dishing up a 'mash-up' to give a customer AND citizen perspective on the world. We're joined by Mike Colledge, giving us the 'citizen lens', and Ray Kong, with the 'customer lens'. Ray and Mike talk to us about what matters to today's citizens – what's keeping them awake at night, of course recognizing that customers are citizens too. Among the topics covered are: customers' expectations of brands in helping them address pressing concerns – cost of living and sustainability among them; liquid expectations, including those crossing from the private into public sectors; executives' challenges, including staffing; and, on a positive note, disruption breeding innovation.
Season 5: Episode 5 – We are delighted to welcome Jasper Lam from TD, which serves 24 million customers around the globe, and is the sixth largest bank in North America, by branches. Jasper's team is responsible for Customer Experience Strategy, Customer Experience Measurement and Analytics, CX Metric Operations and Transformation, and the Customer Journey Framework. He is joined by Ipsos' Ray Kong to share their views on how customers' needs and expectations have changed over the past few years, great examples of organizations who are 'getting it right'. They also give the lowdown on customers' changing relationships with money and their banks, how the 'value equation' is evolving, and what that means for brands.  
Season 5, Episode 4 – We're joined by Carlos Aragon, a Vice President, in our Channel Performance business and Kristy Click, Senior Client Officer – co-authors of a detailed research paper exploring 'There's a market for men's cosmetics – and a generation gap'. Carlos and Kristy share a brief history of men's grooming, skincare and cosmetics products, describe how expectations and behaviors have changed, tell us about the products that are being added to routines and benefits sought, conversations that are taking place on social media and what's/who's topping the social media chats, and give advice to brands wanting to reach men searching for skincare and cosmetics products, and tap into the massive growth potential in this area.
Season 5, Episode 3 – The goal of regulators around the world is to ensure that the markets they regulate are functioning well, that the companies they oversee abide by the law, and that consumers do not suffer the consequences of malpractice. It is mandatory for compliance teams to ensure their organizations comply with regulatory requirements – and prove it. If organizations do not perform in line with regulatory expectations, and consumers suffer as a result, the commercial impact can be significant. The scale of regulator fines and consumer claims over the past decade is testament to the fact that too many organizations have failed. This week, we are joined by Ipsos' Andy Firth, Head of Analytics and Insight in our UK Channel Performance team, mystery shopping expert, and author of our recently published Driving compliance at the frontline paper. Andy talks about the ways to ensure that frontline staff are adhering to regulatory standards and treating customers fairly, mitigating risk, and the tools to measure and drive compliance, including Mystery Shopping, a key methodology in the toolkit.
Season 5, Episode 2 – We are delighted to welcome Helen Campbell-Watt, Head of Wealth Client Insight Experience, a woman of many firsts, from Coutts. Helen shares the genuinely fascinating story of Coutts, one of the best-known private banks in the world serving the likes of royalty, politicians, business leaders. Coutts is an organization where client focus comes from the top, has "culture embedded in the client", and "the client is always on the agenda"; it has "3 metrics and client is one of them". Helen also tells the story of Coutts' incredible history, highlighting philanthropy and innovation, and we hear about Helen's futures desires … with the metaverse firmly on that list.
Season 5, Episode 1 – Our first guest of 2022 is Aimie Chapple, CEO of Capita Experience. Aimie's team at Capita, a consultation, transformation and digital services business, supports clients in creating frictionless experiences for their customers and stakeholders. Hear more about what CX means to Capita, customer expectations, empowering staff on the front line to deliver on those expectations, linking CX to financial return, the 'one CX thing that she wishes everyone knew', and, of course, about the work the work that Capita is doing with Ipsos to deliver even greater CX.
Season 4, Episode 7 – Welcome to our final episode of Season 4, and 2021. In this episode, we're joined by Mark Billingham, Group Customer Operations & CX Director for The Very Group, UK's largest integrated retail and financial services provider. Mark takes time away from his very busy schedule (it's Christmas time in retail …) to discuss some of our very favorite Customer Perspective topics, including the importance of getting CX 'right' and why, successfully delivering that all important omnichannel experience, where CX is going, and the challenges that lie ahead.
Season 4, Episode 6 – Stay-tuned. We're waiting on release of this special episode featuring Ipsos' former CEO.
Season 4, Episode 5 – The last few years have seen channels and consumer engagement touchpoints mushroom. At the same time, digital and physical environments are converging. Today's environment is all about channels that are simultaneously fragmented and coming together: convergent commerce. We are delighted to welcome Alison Chaltas, Ipsos' global lead of Omnichannel who takes us through what convergent commerce means, and then explores some of the emerging channels where convergent commerce is evident, their impacts on consumer/customer journeys, touchpoints, and what this means for brands, including those operating in the Direct to Consumer (DtC) space. We get channel geeky … phases likes de-averaging, bifurcation and replication of sensorial experiences may pass our lips … but there's something for everyone here; these changes are impacting us all.
Season 4, Episode 4 – Our world is undergoing digital transformation and the Customer Experience is changing – from offline to online, from real life to virtual, from aided to self-administered, and so on. Understanding the changing user experience (UX) requirements, moments, pain points and areas of delight, are key. Ipsos UX teams have been working on many areas where UX can drive a more positive Customer Experience, for all members of society – and that's the topic of today's discussion with Ipsos' Katharine Davis and Damian Rees.
Season 4, Episode 3 – We are delighted to welcome mobility expert, Dominik Brinkmann of Stellantis – a leading global mobility player, formed from the merger of PSA and FCA, with an iconic brand portfolio, including Alfa Romeo, Chrysler, Citroen, Fiat, Jeep, to name but a few – to talk to us about his take on changing customer expectations and channel usage, the recipe for success in delivering personalized experiences across channels.
Season 4, Episode 2 – Brand and experience are becoming increasingly intertwined, creating a powerful intersection to which organizations must pay attention. An explicit understanding of the role of Customer Experience (CX) and its impact on brand equity and growth is needed to build strong brands. In this week's podcast we introduce Ipsos' Brand CX Forces, which enables organizations to bridge any gap that may exist between what a brand promises to deliver and how people interact with the brand through CX – allowing them to ensure their brand building and CX activities are working harmoniously to drive the critically important business goal of achieving and maintaining brand growth.
Season 4, Episode 1 – We are delighted to welcome Hormuzda Davar, Managing Director, responsible for Trading, Manufacturing & Financial Services at Al Mulla Group, and Joel Fernandes, from our Ipsos CX business. Al Mulla Group is a leading diversified privately held business group based in the State of Kuwait, and represents over 200 internationally renowned brands. Al Mulla Exchange was recently ranked 3rd in the entire Middle East and top in Kuwait, by Forbes magazine, as a Fintech, for its remittance and money transfer app. Kuwait's first remittance app, which enables customers to transfer money in Kuwait and abroad, has processed transactions valued at over $1 billion. We cover a great deal in 30 minutes, including an overview of Kuwait of today, how the remittance business has transformed, the story behind the success of Al Mulla Group, and, of course, the role of CX in that success, across physical and digital channels, including that leading app!
Season 3, Episode 17 – During the pandemic, Ipsos research indicated US consumers were spending more at grocery stores, with 4-in-10 spending $200 or more per month. However, as the pandemic subsides, nearly half (49%) expect to decrease their grocery store spend for meals. At the onset of COVID, grocers and big-box players implemented or expanded delivery and pickup services, to adapt to the pandemic environment, meet customers' needs and grow meal spend. But winning space in consumers' refrigerators and tables for meal occasions requires more than that… This week, we are joined by Ipsos' Jaime Tarud, Director in our US Channel Performance team. Listen in as he highlights research from a paper co-authored with Mike Murphy addressing the question of what will influence consumers to continue to spend their meal dollars with their grocery store in a post-pandemic world.
Season 3, Episode 16 – We are delighted to welcome David Hart, Kia's Customer Experience Manager to share his wealth of auto and CX experience, on the back of yet another record sales month at Kia, with market share now topping 5%. David describes some of the keys to that success, with an unrelenting focus on the customer/employee and CX, of course, sitting at the very heart. Inspired business foresight, brilliant product, super-strong partnerships with dealer networks, empowered dealers, bridging the gap between physical and digital, and the power of CX social all play a role.
Season 3: Episode 15 – This week, we're in South Africa with our guest, Nic Callegari. As well as being a CX master, including 10 years at MultiChoice Group where he was Senior Manager for CX, and CX Design Lead at Nedbank, Nic describes himself as an Employee Experience Advocate and that's where this podcast takes us – focusing on the importance of the employee in delivering brilliant CX. Ask yourself, are you/your employees ready to answer Nic's three non-negotiable questions: 1) who are you?; 2) what do you stand for – your purpose, values …?; 3) what battles do you choose to fight?
Season 3, Episode 14 – This week our guest is Luu Ky Nam, who dedicated 25 years to the life insurance industry, with his latest role being Chief Strategy and Transformation Officer of AIA Vietnam (the largest independent publicly listed pan-Asian life insurance group). We cover a lot in 30 minutes, so get up to speed with an overview of Vietnam, how the insurance sector has grown and evolved, noting the transformative impact of Customer Experience.
Season 3, Episode 13 – Key Performance Indicators (KPIs) are central to customer experience measurement and management, serving to drive customer-focused action and improved business performance. This week we are joined by Ipsos' Fiona Moss who talks about how organizations can determine the right CX KPIs to drive business performance, with a specific focus on: the key ingredients of a good KPI; how marketers can validate their CX KPIs; linking KPIs and real-life business outcomes; and how to drive action through the right diagnostics. It boils down to one central question: which commercial outcome matters most to your business and does your CX KPI reflect it?
Season 3, Episode 12 – This week we are delighted to welcome Darren George of Samsung, along with our most loyal Customer Perspective Ipsos guest, Jamie Thorpe, Head of Experience Management. Darren packs an enormous amount into this week's podcast, including, but not limited to, the role of CX at Samsung, renowned for the fast pace at which it operates – and the resultant rewards of focusing on CX, expectations of Samsung's customers and how the organization delivers on their brand promise – via the front line and back office – and how brand and experience come together. Plus, there's lots of discussion about the importance of a single view of the customer across channels – physical, digital and contact center – and along the customer journey. Of course, we cover how CX has evolved and what's coming down the tracks.
Season 3, Episode 11 – We are delighted to welcome Gergely Román, Digital Director at Decathlon, the largest sporting goods retailer in the world. Of course, no CX/Channel Performance discussion is complete these days without a focus on the omnichannel experience and Gergely tells us how he and his team deliver that 'Decathlon Experience'.  Listen in to also hear about their customers' changing needs, expectations and behaviors, and how they are supporting staff to deliver, whilst adapting to the 'new normal'.  There's much to be proud of at Decathlon in terms of their Corporate Social Responsibility (CSR) initiatives, and sounds like they have a lot of fun along the way!
Season 3, Episode 10 – This week we are delighted to speak with Stuart Bluck, Senior Insight Manager at Whitbread, UK's most-loved hospitality brand operating over 800 hotels across the UK and Germany, as well as some of the nation's favorite restaurant chains. In the face of major challenges to the sector over the past year, Whitbread has continued with an unfaltering commitment towards CX.  Stuart shares the thinking behind this and the business benefits they are deriving from such a focus. He tells us how he puts his team to work – across CX, research and insight – including building a leading CX measurement ecosystem to drive decision-making.
Season 3, Episode 9 – This week we are delighted to welcome Andrew Stephenson, Chief People Officer for EQ, international specialists in payments and technology-led services, and Ipsos' Jamie Thorpe, Head of Experience Management (XM). Andrew specializes in developing customer focused cultures in organizations. Listen in to hear Andrew's take on how CX has evolved, how to get it right, including at that point when 'normal service' resumes, and what's next for the CX profession. We also discuss ROCXI (Return on CX Investment), of course! 
Season 3, Episode 8 – This week we are delighted to welcome Jennifer Deutsch, Chief Marketing Officer, and Nicola Buckley, Executive Vice President, of Park Place Technologies, and Helen Bywater-Smith, Ipsos Global Head of CX Service Design. Park Place empowers businesses to improve operational speed and maximize uptime across their digital infrastructures.  Jennifer and Nicola talk about the secrets behind the organization's 30 years of employee growth, technology innovation and company success. You won't be surprised to learn that a relentless focus on Customer Experience plays a major role!  B2B CX-ers, we guarantee you will be quoting chunks from this podcast.
Season 3, Episode 7 – This week we are joined by Matthias Kraus, who leads our Customer Experience business in Germany. He brings with him incredible CX experience, from E.ON, McKinsey, IBM (so client-side, consultancy and tech)… and just in case, in the words of Shania Twain, that don't impress you much, he's an endurance athlete, into ultra-marathons, and long-distance triathlons. So when Matthias describes great CX as a marathon, not a sprint,  we reckon he knows what he's talking about. Listen in to learn more about what makes for truly great CX measurement and management.
Season 3, Episode 6 – How can companies best capitalize on the troves of mystery shopping performance management and strategic data they gather? Three overarching factors are critical. The first two are vital and well-understood by many companies, if not always realized. The third is what can truly elevate a program, and separate a company from its competition. This week, we are joined by Mike Murphy, VP, Client Success in our US Channel Performance business. Mike shares his take on those three factors, including that 'last mile' of turning data into a better experience for customers, and improved business results.
Season 3, Episode 5 – Governments across the world have mandated a host of health and safety measures, including the wearing of face masks, to reduce the spread of COVID. Many of these regulations mean that customer experiences have fundamentally changed, putting customers and businesses into an unprecedented state of uncertainty. This week we are joined by Ipsos' Jean-Francois Damais, Manuel Garcia-Garcia and Fiona Moss to explore the extent to which wearing face masks impacts our ability to foster human rapport and build strong relationships, and offer guidance for organizations charged with designing and delivering positive customer experiences within these constraints. With mask wearing likely here to stay, and for some considerable time yet, how do retailers create meaningful 'masked moments' that encourage customers to return, spend and recommend, while also ensuring that customers and staff stay safe? 
Season 3, Episode 4 – We're delighted to welcome Jo Causon, CEO of The Institute of Customer Service, along with Jamie Thorpe, our UK Head of Experience Management. Their conversation covers a whole host of subjects dear to our CX heart, among them: the power of CX in delivering financial return, what it takes to create and execute great experiences, CX vs. brand promise, going beyond meeting functional needs to create emotional attachment, closing the loop, the digital and human angle, post lockdown, and what's next for CX. A genuinely fascinating conversation around the topics that matter to anyone with even a passing interest in the CX space.
Season 3, Episode 3 – Tune in to hear Helen Bywater-Smith, Ipsos Global Head of CX Service Design, chat to us about the 'what, when and how' of CX Service Design, including her take on what makes for great experiences to drive that business impact – increased retention, share of spend, advocacy and operational efficiency, leading to a Return on CX Investment: ROCXI. Of course, our podcasts would not be complete without real-life case stories to bring the subject to life – Helen had many!
Season 3, Episode 2 – In this episode we welcome Craig Bradley who takes us on a 'whistle-stop tour' of Channel Performance, describing how we: size channel opportunities and share; measure brand promises and execution; and drive compliance and sales conversion … to improve performance across all sales and service channels – physical, contact centre, and digital – and help deliver profitable growth. He updates us on how the business has evolved over the past year, and plans going forward, as we address our clients' changing business questions. Get to know Craig, as he shares his passions, including reducing single-use plastic, and driving gender equality #betterbalanceforbetterbusiness.
Season 2, Episode 9 – Tune in this week to hear from our beauty experts: Estée Lauder's Kate Fannin, Executive Director, Retail Experience & Insights, North America Corporate Marketing, together with Ipsos' Kristy Click, Senior Client Officer and Reena Roy, SVP of Channel Performance. Kate talks to us about creating fabulous immersive experiences for the beauty consumer – across channels, with a call out for phygital, the power of personalization, evolving consumer and retail trends, and what the future may hold; reinventing the future of beauty. To hear more from Kristy, revisit her closing speech at the prestigious CEW's Women's Leadership Awards – a celebration of women and achievement in the beauty industry.
---
Season 2, Episode 8: Listen in as we welcome Virginia Wigley, Manager Insights & CX Design at Trustpower, New Zealand, who shares CX story – their goals, challenges, successes, and key learnings, especially relevant for those of you who are embarking on a new Voice of the Customer program, or 'refreshing' your existing one to ensure it's continuing to drive the right actions in these challenging times.
---
Season 2, Episode 7 – Keith Gait, Stagecoach Bus Customer Service Director, and CX Leader of the Year Top 25 Finalist 2020, is our podcast guest this week. Keith describes how he and his team are driving a shift in focus across the organization – from bus-centric to passenger-centric, and achieving CX culture transformation at the front line. 
---
Season 2, Episode 6 – Tune in to hear special guest Sofía Suárez, Shopper & Category Leadership Senior Manager at Nestlé Mexico, describe the changing shopper behaviors she is seeing, how Nestlé is responding, in particular how her team have had to change the way they do business, and expectations of her partners. Worth listening in for her take on future trends alone; she got it right two years ago!
---
Season 2, Episode 5 - This week we are delighted to welcome CCMA (UK Call Centre Management Association) CEO, Leigh Hopwood, to the guest chair. Hear Leigh discuss all things contact centres, with Ipsos' Andy Firth, self-proclaimed contact centre geek: shift to homeworking, switch to remote channels, accelerated digitization, automation and self-service, the vital role of contact centres in delivering Customer Experience excellence, and more …
---
Season 2, Episode 4 - Running global Customer Experience studies provides both better value for money than individual country studies, and a degree of standardisation across markets. However, their validity remains at risk from an age-old research problem: cultural response bias. This week we welcome Fiona Moss, Director in our Ipsos CX Global Analytics team, and Bharath (Vijay) Vijayendra, Head of Analytical Services in our US Ipsos CX business, to talk to us about the impact of cultural bias on response – and what to do about it, to ensure the right actions are taken.
---
Season 2, Episode 3 - This week we are delighted to welcome special guest John Walker, Head of Customer Insights at A.P. Moller – Maersk. John speaks about the differences – and parallels – between B2B and B2C CX, shares his views on how CX is evolving and the 'next challenges' for CX professionals, as well as giving advice to those new to CX/wanting fresh thinking.
---
Season 2, Episode 2 - This week we welcome back Jean-Francois (JF) Damais, Ipsos' CX Chief Research Officer who builds on last week's topic, taking us through the practical steps involved in financial linkage modeling to 'unlock' resources and prioritize spend. JF also shares examples of the specific types of business questions that can be answered by such ROCXI analytics.
---
Season 2, Episode 1 – Our special guest to kick-off Season 2 is McDonald's Matt Cahill, Senior Director, Consumer Insights Activation.  Tune in to hear Matt share how McDonald's is responding to today's and tomorrow's challenges, the role of research in making business decisions, achieving best in class CX, and how to drive desired customer behaviors.
---
Episode 15 – Our final podcast of Season 1 focuses on the power of Mystery Shopping in evaluating and improving the performance of the digital channel, as well as the practical considerations when setting up such a program.
---
Episode 14 - This week we invited Dan Zuckerman, VP in our US CX business and Sven Heine, Ipsos CX Global COO, to tell us about 'CX Tech'. Hear Dan and Sven share their take on CX technology – its role in CX measurement and management programs, factors to take into account when choosing the right platform for your business, and where it's heading.
---
Episode 13 – Take your insights to the next level by listening in as Reena Roy, Vice President, Ipsos US Channel Performance business tells us how Mystery Shopping can be used to address strategic, as well as tactical decision-making needs, better design, better execution, and better impact. Reena further highlights a range of approaches being employed to meet clients' needs across a range of sectors, including high-end luxury.
---
Episode 12 - This week we're joined by Ipsos business to business (B2B) CX expert, Matthew Chatterton, to join us. Listen in to hear his views on what makes for a truly great B2B relationship, and, of course, to get some advice on best practice CX measurement and management.
---
Episode 11 – Listen in as we speak with two of Ipsos' behavioral science experts - Colin Strong, our global lead, and Tamara Ansons, who heads up the discipline in the UK. Expect a wide-ranging discussion as we get to grips with: what behavioral science actually is; when to 'bring it to the table', how; and the role it can play in influencing service design and customer behaviors.
Episode 10 – We're joined by Stephane Sanchez who leads our Customer Experience and Channel Performance business in Singapore. Hear more about some of the challenges his clients are facing and how they're addressing them, as well as his take on the role of Mystery Shopping and Voice of the Customer (VoC) programs in the wider CX measurement ecosystem.
---
Episode 9 – This week we hear from CX experts - Lesley Haibach (Canada), Jamie Thorpe (UK), and Richard Korn (Hong Kong) - as they talk about the business questions they're being asked by clients in their markets and, of course, how they're addressing them.
---
Episode 8 – Listen in as we put Ralf Ganzenmueller, Ipsos Chairman of Customer Experience and Channel Performance, and the CEO of DACH (Germany, Austria, Switzerland), on the hotseat.  Ralf takes 'a look around the corner' as to where the world might be, what that might mean for our clients, and, indeed, for Ipsos, in our role as partners.
---
Episode 7 – Listen in to hear Nicholas Mercurio, Executive Vice President and leader of Ipsos, Channel Performance in the U.S., talk to us about which health & safety policies build consumer confidence. As economies around the world are starting to reopen, brands must take steps to ensure consumers feel safe. Learn more about this topic by reading our paper here.
---
Episode 6 – This week we are delighted to welcome Helen Bywater-Smith, an Ipsos expert in journey mapping and CX service design. Listen in to learn more about customer journey mapping and the impact this can have on organizations. 
---
Episode 5 - This week we are joined by three colleagues from our Retail/Channel Performance business: Peter Luff, Tim Denison, and Anna Hatfield Shaw. Listen in as our experts discuss the impact of the pandemic on retail traffic and consumer behaviors, how retailers are starting to come out 'the other side', and the challenges they are needing to address, in particular relating to measuring and managing occupancy levels to help comply with government social distancing guidelines, and keep employees and customers safe.
---
Episode 4 – This week's must-listen episode puts Jean-Francois (JF) Damais, Ipsos CX Chief Research Officer, in the hot seat. Listen in as he talks about CX Forces – our CX 'framework' that captures the true building blocks of relationship strength, helping organizations bring their CX strategy to the next level. In light of the Covid-19 crisis, understanding how the hierarchy of needs is changing is more crucial than ever. Read more about The Forces of CX – The science of strong relationships in challenging times.
---
Episode 3 - This week we speak with Nicolas Fritis, who heads up our LATAM Customer Experience and Channel Performance team, about the best practice measures being taken by organizations around the globe, to adapt to this new environment, to provide support, care and protection to customers, to do the right thing by employees and, indeed, to do the right thing by the world at large.
---
Episode 2 - This week we welcome Craig Bradley, Global Service Line Leader of Channel Performance, and Becky Harris, Head of Channel Performance who speak candidly about some of the changes we're seeing in this time of coronavirus and more generally, what this might mean going forward.
---
Episode 1 - At Ipsos, we're being asked for help in addressing clients' questions about the disruption that coronavirus is having on society, on their business and customers, and its impact on their CX programs. In the inaugural episode, Ipsos' Ben Llewellyn, Global Service Line Leader of Customer Experience walks us through some of these tough questions and offers insights on measurement and management.