Two Steps Forward, One Step Back
New research from Ipsos Essentials breakdowns current mindset of Canadian consumers and citizens in the midst of COVID-19.
Six months into the COVID-19 pandemic and resultant shutdowns and restrictions, Canadians collectively began breathing more easily after encouraging signs of reduced infections led to a sense of optimism about a return to some sense of normalcy.  But, the relief was short lived as Canadians, and citizens around the world, are recalibrating for what is shaping up to be a COVID marathon.
According to Ipsos Essentials bi-weekly report on consumer sentiment and behaviour, the percentage of people that felt there will be a second wave of infections decreased for several weeks, but we saw an increase again towards the second half of September.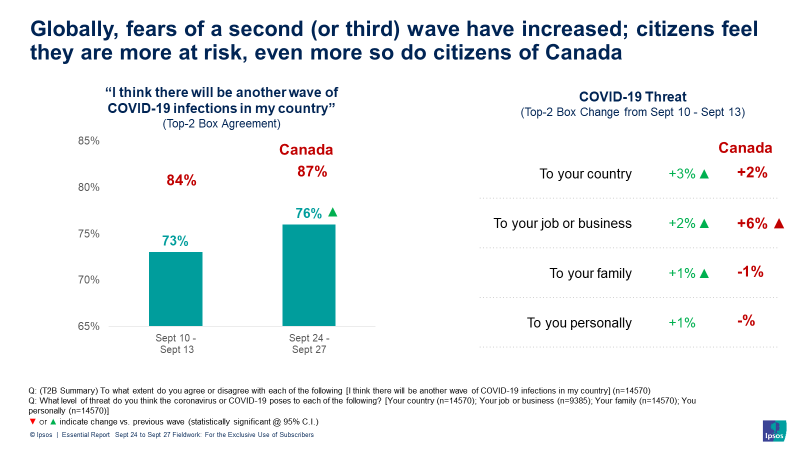 Canadians now say they are bracing for an increase in infections and potentially new or re-instituted restrictions. Fears of new emerging waves have increased the perceived threat of COVID-19 – more people now say they believe it poses a threat to their country and their job.  Canadians agree with that sentiment, but by largely adhering to preventative measures they demonstrate less concern about the threat to themselves or family.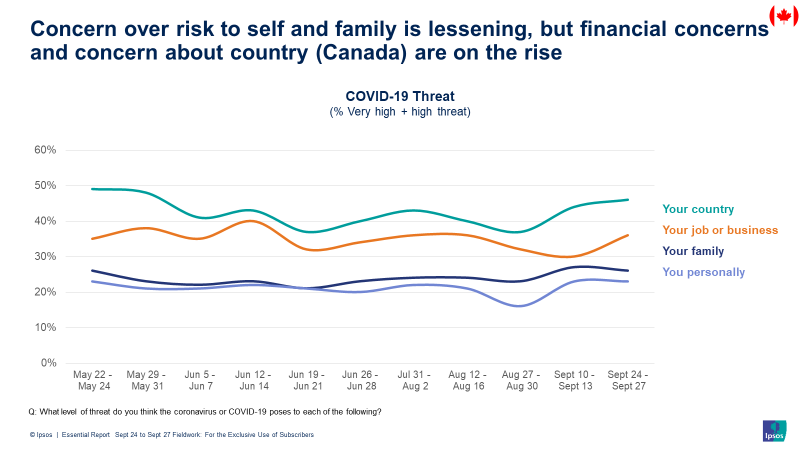 With repetition comes some anxiety relief; but we aren't loving it
As Canadians continue to incorporate COVID-19 prevention measures into their daily activities, the risk that surrounds them has become somewhat routine. Along with this normalization of risk, some of the anxiousness has decreased as well.  The percentage of people who say resuming normal activities makes them anxious has been declining since mid-July, globally as well as in Canada.  
This doesn't mean we like what is happening, but we're dealing with it – we're coping with the day-to-day strains.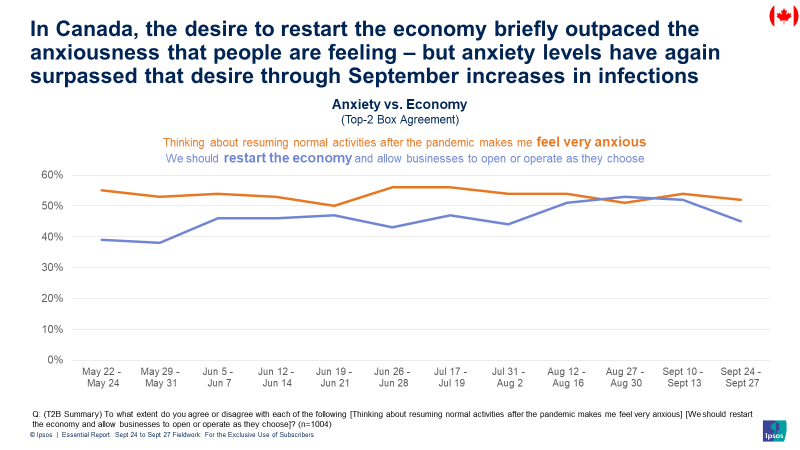 And, while some are making the best of the COVID-19 situation and focusing on a break from work, home renovations, and health and wellness - others are struggling with the restrictions, changes to work, and loss of control, and an increasing number of Canadians see a return to 'normal' as a year or further down the road.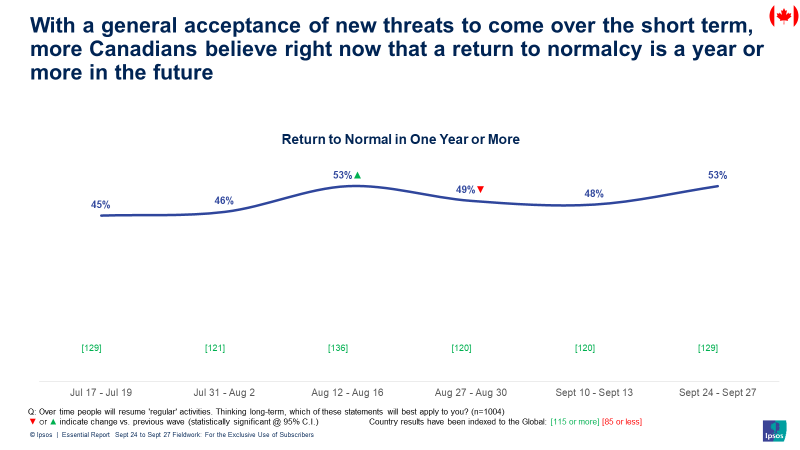 About Essentials
Essentials provides subscribers with monthly access to the largest and most precise study done on critical attitudinal and behavioural change resulting from the COVID-19 crisis.
Essentials monitors the new global order as we navigate the new rules of engagement and the resulting impact on our state of mind, state of wallet, and future intentions.
To be best positioned for success and to strategize for the future, companies and leaders need to stay connected to people, keeping a pulse on:
Their behaviours, routines and habits
Their shopping choices
Their emotions
Their concerns, health, financial, others
Their outlook and future perspectives
Their priorities
We gather data every 2 weeks in Canada and 15 other markets (Australia , Brazil, China, France, Germany, India, Italy, Japan, Mexico, Russia, South Africa, South Korea, Spain, United Kingdom and United States) and extract the key findings that are relevant for your business.
To explore this topic further, please download Staying Afloat During a Crisis.