Ipsos Disruption Barometer for Canada
For the fourth month in a row the Ipsos Disruption Barometer for Canada sits in negative territory. See what it means for your business.
For the fourth month in a row the Ipsos Disruption Barometer for Canada sits in negative territory, indicating that Canadian society is currently in a state of mild to moderate social, economic and political instability.  We know that attitudinally Canadians are currently pre-disposed to this disruption, and we see a number of factors including the latest economic reports (showing a slow down) and pending elections in several provinces and federally that could spark Canadians to behave in a way that reflects these views.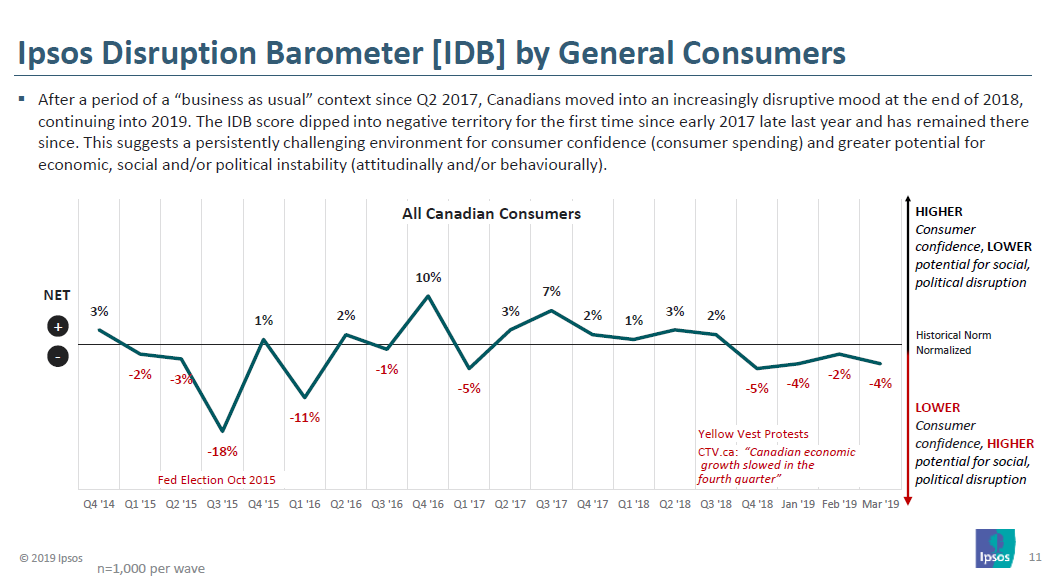 In brief, when Canadians are on the south side of the Barometer…
They are more likely to vote for change.
There will be continued pressure on consumer finances, possibly leading to more frugal spending.
Consumers will likely become more critical in and demanding of their interactions with government and business putting pressure on user/customer satisfaction.
Consumers are likely to activate (attitudinally or behaviourally) on economic, social or political issues and pressure government and business to respond.
Regional and demographic fissures that have started to emerge will likely widen, further weakening social cohesion.
The Disruption Barometer makes up one part of the IpsosContext report for Canada.  We also look at a range of issues ranging from planned consumer spending to quality of life to priority issues facing Canada.  We examine these issues through the eyes of all Canadians, and also through the lens of Canadian consumers and clients of some of Canada's largest companies including:
Air Canada
Amazon
Bell
BMO
Canadian Tire
CIBC
Costco
Desjardins
Home Depot
Home Hardware
Intact
Labatt
Loblaws
Manulife
Molson
National Bank of Canada
PC Financial
RBC
Rogers
Rona
Scotiabank
Shoppers Drug Mart
Sun Life
Tangerine
TD Canada Trust
TELUS
Tim Hortons
WestJet
If you would to know more about what the Disruption Barometer means for key companies, regions or demographic groups across Canada, please contact Chris Martyn or Mike Colledge.
For more on this topic, please read How bad is Canada's economic outlook?