Pet Ownership is the "Cat's Meow" in Canada
What is the most common type of pet in Canada? In the never ending battle of cats versus dogs, the felines edge out the canines ever so slightly. While roughly a third of Canadian households have either a cat or a dog, 35% own a cat and 32% own a dog. An additional 10% of households have some "other type" of pet.
Overall, the results of our eNation survey conducted in April 2013 show that 57% of Canadians own a pet. Compared to our friends south of the border, this number is lower than in the United States where two thirds of households (67%) own any type of pet. Another difference is that in the United States dogs are, well, top dog! Nearly half (48%) of U.S. households contain a canine companion, but only a third (34%) have a cat.

The chart above indicates that pet ownership in Canada does come with a price. While almost two-thirds of Canadian households earning over $60,000 per year have a pet, nearly half (48%) of Canadian households earning under that threshold are completely pet-free. But for those that do own a pet, three-quarters (74%) would agree that the benefits of pet ownership far outweighs the effort and cost involved.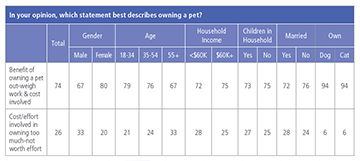 Regardless of what kind of pet Canadians own, it is good to be a pet in Canada. Indeed, pet owners across the country enjoy indulging their furry pals. The majority of pet owners (64%) say they have purchased a gift for their pet. Women are more likely to do so than men - 72% of females like to give gifts to their pets, significantly more than the 53% of men who do. Additionally, pets that have younger owners are even luckier because they are more likely to receive a gift than pets with older owners.

While many Canadian pets get the royal treatment and are doted on by their humans, sometimes their owners need a break. Only about one-third (32%) of pet owners indicate they take their pets on vacation with them. Not surprisingly, dog owners (48%) are significantly more likely to take their pet on vacation than cat owners (22%). Women are also more likely than men to travel with pet in tote.

For those who do take Fido or Fluffy along for the trip, making sure their pet travels well is a priority. The majority (71%) indicate that selecting a hotel or airline that is pet-friendly is an important factor in making their travel plans.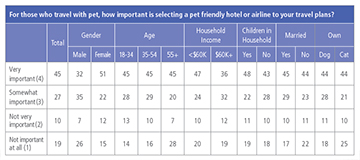 Methodology
The Ipsos Canada eNation online omnibus survey launches every business day. Each survey (wave of eNation) consists of a minimum of 1,000 completes with adults 18 years of age or older in Canada. The sample consists of individuals selected from the online segment of Ipsos' iSay/Ampario Panel, and is balanced to be representative of the general population based upon region, gender, age, and education data from Statistics Canada. The selected individuals receive a customized e-mail inviting them to participate.
Ipsos Canada eNation online omnibus survey results are tabulated by two standard demographic banners.
A. Gender, Age Education
B. Region, Income, Household Composition
eNation's standard data tabulations are provided in a weighted format. The data are weighted to give appropriate representation on various demographic factors, including: age, education, region, and gender. The 2011 Census figures available from Statistics Canada are used to determine the weighting targets for each demographic factor.