Majority of Canadians Believe their Personal, Confidential Information Held by Government is Vulnerable to
Security Breaches
Canadians Believe their Personal Data held by Municipal (56%), Provincial (55%) and Federal Governments (53%) is Vulnerable to In-House Non-Authorized Access, External Hacking and Theft
Toronto, ON
- A majority of Canadians believe that their personal, confidential information held by all levels of government is vulnerable to a security breach, including non-authorized internal access or an external data hack and theft, according to a new Ipsos poll conducted on behalf of Accenture.
Municipal governments top the list, with 56% of Canadians describing them as vulnerable (16% very/41% somewhat) to threats when it comes to personal data for things such as property tax, water/sewage and traffic fines. A minority (44%) does not see their information as vulnerable (9% not at all/34% not very).
Other levels of government don't perform much better, as many feel the same way about their provincial government, which stores confidential data for drivers' licenses, health cards and birth certificates: a slim majority (55%) say entities at the provincial level are vulnerable to data security breaches (20% very/35% somewhat), while nearly half (45%) say they aren't vulnerable (13% not at all/32% not very). Regionally, Albertans (65%) are most likely to perceive that their provincially-held data is vulnerable, followed by those in British Columbia (59%), Atlantic Canada (56%), Ontario (55%), Saskatchewan and Manitoba (49%) and Quebec (48%).
When sharing their personal, confidential data with the Federal government - for anything from taxes to SIN cards to passport renewals - 53% of Canadians feel their data is vulnerable to a security breach (20% very/33% somewhat), while fewer than half (47%) do not (15% not at all/32% not very).
Health Sector Not Immune from Data Concerns
While most Canadians likely trust their doctor, many are less convinced about the security of their health records. Half (55%) feel records held at their doctor's office or hospital are vulnerable (20% very/35% somewhat) to a security breach, while 45% do not (14% not at all/31% not very). Keeping in mind that healthcare is a provincial responsibility, it is interesting to note that those in Alberta (69%) once again are most likely to perceive that their data is vulnerable, followed by those living in British Columbia (57%), Ontario (55%), Quebec (51%), Saskatchewan and Manitoba (49%) and Atlantic Canada (49%).
Many See Their Hydro Provider as At-Risk
Other institutions are not exempt from data protection concerns. Half of Canadians (52%) feel their hydro electricity provider is vulnerable to a data security breach (14% very/38% somewhat), while the other half (48%) does not feel their information held by their hydro provider is vulnerable (10% not at all/38% not very).
Vulnerability Index Reveals Albertans Most Likely to Perceive their Data as Vulnerable; Quebecers and Prairie Residents Least Likely
Aggregating the feelings of Canadians across the five entities mentioned above allows the construction of a vulnerability index and the ability to identify who most perceives their data as being vulnerable to unauthorized access, a hack or theft.
Overall, Albertans (62%) are more likely than Canadians in any other region to see institutions as vulnerable to data security breaches, followed by residents of British Columbia (58%). Further, Ontarians (55%) were next most likely to see vulnerability across a range of entities, followed by residents of Atlantic Canada (53%), with Quebec (49%) tied for last place with Saskatchewan and Manitoba (49%).
On average, women (57%) perceive more vulnerability than men (51%), while older Canadians (55+ and 35-54 both at 57%) are more likely to see risks to their data than millennials (47%).
Perceptions also change by income group: Canadians with household income brackets of $100K+ and
Education also seems to play a role: the more educated Canadians are, the more likely they are to see threats to their data. Six in ten Canadians with a university degree (60%) agree that entities storing their data are vulnerable to security breaches or hacks, compared to 53% of those with post-secondary education, 54% of high school graduates, and 49% of those without a high school diploma.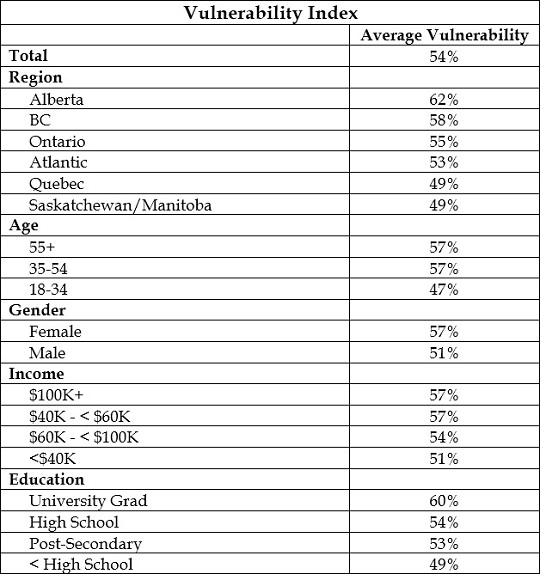 These are some of the findings of an Ipsos poll conducted between April 11 and April 14, 2016, on behalf of Accenture. For this survey, a sample of 1,009 Canadians from Ipsos' online panel was interviewed online. Weighting was then employed to balance demographics to ensure that the sample's composition reflects that of the adult population according to Census data and to provide results intended to approximate the sample universe. The precision of Ipsos online polls is measured using a credibility interval. In this case, the poll is accurate to within +/ - 3.5 percentage points, 19 times out of 20, had all Canadian adults been polled. The credibility interval will be wider among subsets of the population. All sample surveys and polls may be subject to other sources of error, including, but not limited to coverage error, and measurement error.
For more information on this news release, please contact:
Sean Simpson
Vice President
Ipsos Public Affairs
416.324.2002
[email protected]
About Ipsos in Canada
Ipsos is Canada's market intelligence leader, the country's leading provider of public opinion research, and research partner for loyalty and forecasting and modelling insights. With operations in eight cities, Ipsos employs more than 600 research professionals and support staff in Canada. The company has the biggest network of telephone call centres in the country, as well as the largest pre-recruited household and online panels. Ipsos' marketing research and public affairs practices offer the premier suite of research vehicles in Canada, all of which provide clients with actionable and relevant information. Staffed with seasoned research consultants with extensive industry-specific backgrounds, Ipsos offers syndicated information or custom solutions across key sectors of the Canadian economy, including consumer packaged goods, financial services, automotive, retail, and technology & telecommunications. Ipsos in Canada is an Ipsos company, a leading global survey-based market research group.
To learn more, please visit ipsos.ca.
About Ipsos
Ipsos is an independent market research company controlled and managed by research professionals. Founded in France in 1975, Ipsos has grown into a worldwide research group with a strong presence in all key markets. Ipsos ranks third in the global research industry.
With offices in 86 countries, Ipsos delivers insightful expertise across six research specializations: advertising, customer loyalty, marketing, media, public affairs research, and survey management.
Ipsos researchers assess market potential and interpret market trends. They develop and build brands. They help clients build long-term relationships with their customers. They test advertising and study audience responses to various media and they measure public opinion around the globe.
Ipsos has been listed on the Paris Stock Exchange since 1999 and generated global revenues of e1,669.5 ($2,218.4 million) in 2014.
Visit ipsos.com to learn more about Ipsos' offerings and capabilities.