One in Five Canadians Say They May Never Be Comfortable Living Without Masks or Vaccine Mandates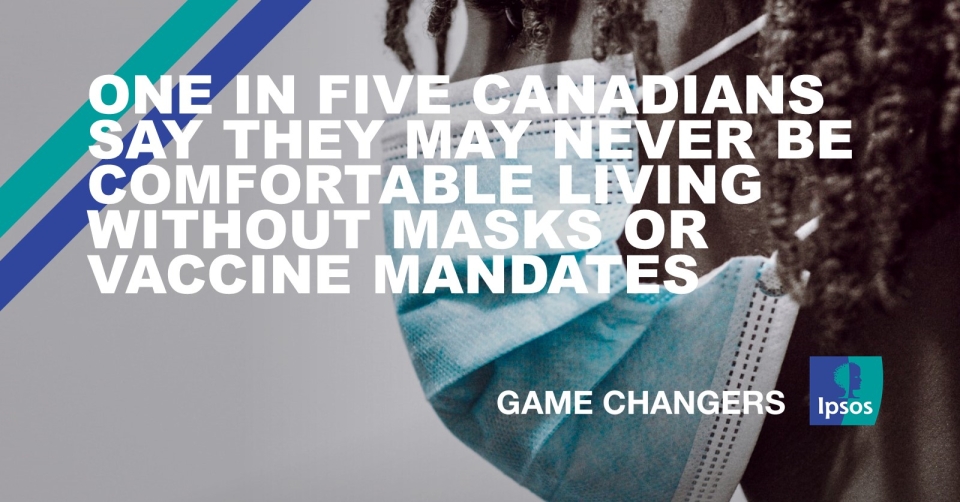 Toronto, ON, January 29, 2022 – As we approach the second anniversary of the declaration of COVID-19 as a global pandemic and viral case loads continue to break records, it's not surprising that many Canadians are wary about "returning to normal." A new Ipsos poll conducted on behalf of Global News shows that while one in five (18%) Canadians feel things are normal now, the same proportion (19%) say they're not sure they'll ever be ready to live without masks or vaccine mandates. Regardless of when Canadians feel the new normal will materialize, two thirds (64%) agree (27% strongly, 37% somewhat) that governments are not doing enough to facilitate the return to normal, a figure that is higher among Albertans (73% vs. 69% ON, 69% SK/MB, 67% BC, 56% ATL, 53% QC).
How will we reach the new normal? Four in ten (38%) Canadians think mandatory vaccination is the most effective means of getting COVID-19 under control. This opinion is stronger among men (42% vs. 34% women) and Boomers (50% vs. 37% Gen X, 29% Millennials, 27% Gen Z). The use of border closings and rapid tests in the workplace are also both favoured by 14%. 
Relatively few Canadians believe that removing all public health measures and allowing COVID-19 to spread more quickly (10%), penalizing people who don't get their vaccines (i.e. a tax, further restrictions, etc.) (9%), or shutting down all non-essential businesses (8%) would be the most effective way to get the pandemic under control.
ICU Capacity the Main Pandemic Priority for Most Canadians
Amidst increasing COVID-19 hospitalizations, eight in ten (81%) Canadians agree that the number-one priority should be to ensure that hospital Intensive Care Units (ICUs) are not overrun by COVID patients, a figure that rises to 87% among Boomers (vs. 79% Gen X, 77% Millennials, 78% Gen Z).
While many have struggled with pandemic restrictions, Canadians continue to believe in their necessity: 71% agree "we need to slow the spread of Omicron to prevent hospitals from being overwhelmed, even if this has the effect of prolonging the pandemic and health measures/restrictions," a figure that rises to 83% among Boomers (vs. 69% Gen X, 62% Millennials, 60% Gen Z).
About the Study
These are some of the findings of an Ipsos poll conducted between January 14 and 17, 2022, on behalf of Global News. For this survey, a sample of 1,001 Canadians aged 18+ was interviewed online via the Ipsos I-Say Panel and non-panel sources. Quotas and weighting were employed to ensure that the sample's composition reflects that of the Canadian population according to census parameters. The precision of Ipsos online polls is measured using a credibility interval. In this case, the poll is accurate to within ± 3.5 percentage points, 19 times out of 20, had all Canadians aged 18+ been polled. The credibility interval will be wider among subsets of the population. All sample surveys and polls may be subject to other sources of error, including, but not limited to coverage error, and measurement error.
For more information on this news release, please contact:
Darrell Bricker
CEO, Ipsos Global Public Affairs
+1 416 324 2001
[email protected]
About Ipsos
Ipsos is the world's third largest market research company, present in 90 markets and employing more than 18,000 people.
Our passionately curious research professionals, analysts and scientists have built unique multi-specialist capabilities that provide true understanding and powerful insights into the actions, opinions and motivations of citizens, consumers, patients, customers or employees. We serve more than 5000 clients across the world with 75 business solutions.
Founded in France in 1975, Ipsos is listed on the Euronext Paris since July 1st, 1999. The company is part of the SBF 120 and the Mid-60 index and is eligible for the Deferred Settlement Service (SRD).
ISIN code FR0000073298, Reuters ISOS.PA, Bloomberg IPS:FP