As Campaign Kicks Off, Four in Ten Choose Ford as Best Premier (41%) ahead of Horwath (32%) and Del Duca (21%)
Toronto, ON, May 6, 2022 – As candidates deliver their opening remarks to convince voters that they are the best person for the premier's job on June 2nd, a new Ipsos poll conducted exclusively for Global News has found that four in ten Ontarians (41%) choose Doug Ford as the person who would make best premier of the province, followed by Andrea Horwath (32%) and Steven Del Duca (21%).
With recent polls showing Doug Ford's Progressive Conservatives with a strong lead at the start of the official election period, 4 in 10 Ontarians (41%) think the incumbent would make the best Premier of Ontario, which is higher among men (47% vs. 36% for women) and older age groups (55+: 48%; 35-54: 42% vs. 18-34: 32%). Doug Ford is also running slightly ahead of his party with 41% preferring him as Premier compared to 39% who say they plan to vote for the Progressive Conservative Party.
In second place, one in three (32%) think Andrea Horwath would be the best choice for Premier, which is higher among households earning under $40K (41% vs. 40K-60K: 32%; 60K-<100K: 28%; 100K+: 26%), as well as women (37% vs. 27% among men), younger age groups (18-34: 38%; 35-54: 36% vs. 55+: 25%). Andrea Horwath is running well ahead of her party so far in the campaign. Thirty two percent prefer her as Premier while only 25% are prepared to vote NDP.
Finally, one in five (21%) believe Steven Del Duca would make the best Premier. While his scores are lower than for the other two major party leaders among every demographic group studied, they are relatively higher among those aged 18-34 (25% vs. 35-54: 18%; 55+: 20%) and those with less than a high school diploma (31% vs. 24% with a degree; 17% among those with some postsecondary education; and 17% among those with only a high school diploma). Compared to the other major party leaders Mr. Del Duca represents a slight drag on his party's electoral prospects. Twenty one percent prefer him as the next Ontario Premier while 26% are planning to vote for the Liberal Party.
Ford and Howarth are virtually tied in terms of favourability at 34% (10% very, 24% somewhat) and 33% (10% very, 23% somewhat), respectively. Following them, 18% of voters see Del Duca in a favourable light (3% very, 15% somewhat), while one in ten (10%) see Mike Schreiner favourably (2% very, 8% somewhat).  However, the premier is the most polarizing figure with four in ten (43%) seeing him in an unfavourable light, ahead of Horwath (29%), Del Duca (28%) and Schreiner (16%). In fact, Andrea Horwath is the only party leader who garners a net positive favourability score with Ontarians.
| | | | | |
| --- | --- | --- | --- | --- |
|   | % Favourable | % Neutral | % Unfavourable | % don't know enough about them |
| Doug Ford | 34% | 19% | 43% | 4% |
| Andrea Horwath | 33% | 24% | 29% | 14% |
| Steven Del Duca | 18% | 29% | 28% | 25% |
| Mike Schreiner | 10% | 32% | 16% | 41% |
| Justin Trudeau | 29% | 16% | 51% | 4% |
What might be holding perceptions of Steven Del Duca back is that a quarter of Ontarians say they don't know enough about him to say one way or the other whether they have favourable impressions of him. This compares to only 4% who don't know enough about Doug Ford or 14% for Andrea Horwath.
Interestingly, both Doug Ford (34%) and Andrea Horwath (33%) have higher favourability ratings than Prime Minister Justin Trudeau (29%) within Ontario; conversely, Justin Trudeau has a higher unfavourability rating than all of the Ontario politicians tested (51%), including Doug Ford (43%).
Strengths and weaknesses of leadership profiles
As candidates attempt to put their best foot forward while making their case for the premier's job, Ford and Howarth's leadership profiles have already formed strengths and weaknesses in voters' minds while relative newcomer Del Duca's is only starting to take shape:
As the incumbent, voters think Doug Ford's leadership is more strongly associated with defending Ontario's interests within Canada (35%), managing through tough times (33%), getting things done (33%) or managing the COVID-19 pandemic (32%). However, Ford's three lowest leadership attributes are guaranteeing affordable housing (20%), providing an open, ethical and honest government (23%) and being trustworthy (23%) – although none of the leaders excels on this metric where more than four in ten (43%) answered 'None of these leaders.'
Andrea Horwath's leadership is more strongly associated with specific social issues, pulling ahead of other candidates for being best on Healthcare (30% vs. Ford: 24%; Del Duca: 12%), protecting minorities (29% vs. Ford: 24%; Del Duca: 11%) and making housing more affordable (28% vs. Ford 20%; Del Duca: 11%). However, voters tend to consider her leadership weaker when it comes to spending taxpayer's money wisely (20%), effectively managing Ontario's budget (20%), or managing during tough times (20%).
Steven Del Duca has only just begun to shape his leadership identity among the electorate. Only 8% of Ontarians consider him to be someone they would like to have a beer or coffee with. However, his performance is relatively strong when voters consider his temperament and maturity to be premier (15%), his willingness to stand up for Ontario's interests within Canada (14%) and spending the taxpayer's money wisely (14%). On each of these attributes he is well behind Premier Doug Ford, but the election campaign will provide an opportunity for Del Duca to introduce himself to Ontarians as he attempts to close the gap with his rivals.
Ontarians associate none of the leaders with many of the attributes tested - such as being trustworthy (43%), spending taxpayer's money wisely (42%), making housing affordable (41%), providing an open, ethical and honest government (41%), or efficiently managing Ontario's budget (40%) – meaning there are many opportunities for the party leaders to establish their credentials in these areas.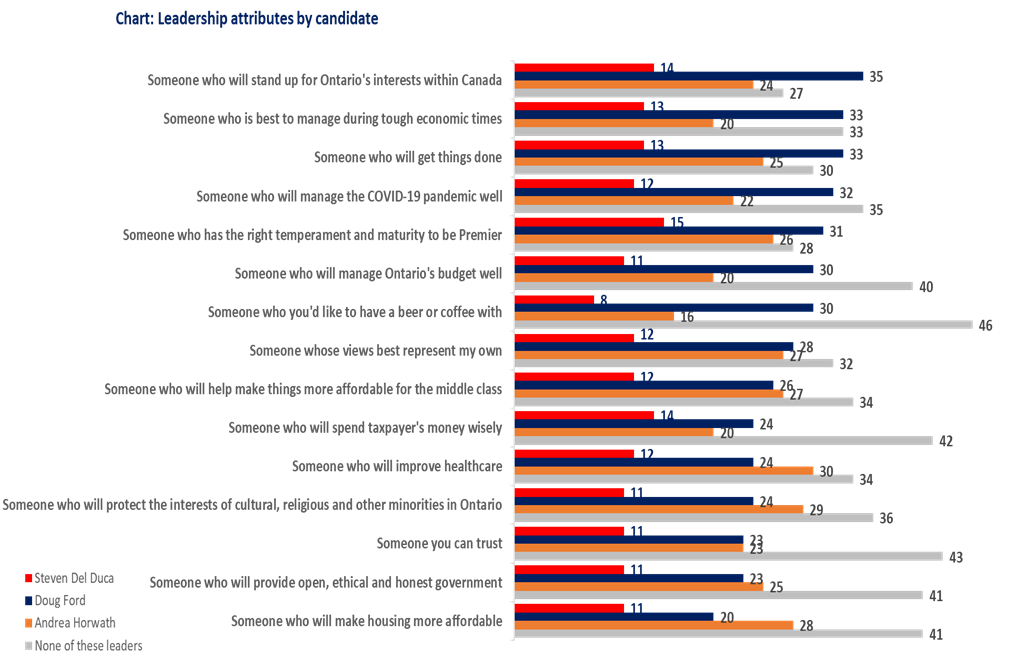 About the Study
These are some of the findings of an Ipsos poll conducted between April 29 and May 1, 2022, on behalf of Global News.  For this survey, a sample of n = 1501 Ontarians aged 18+ was interviewed online (n = 1001 though the Ipsos I-Say panel and non panel sources) and by live-operator telephone interview (n = 500 through landline and cellphones) Online respondents earn a nominal incentive for their participation.  Quotas and weighting were employed to balance demographics to ensure that the sample's composition reflects that of the adult population according to Census data and to provide results intended to approximate the sample universe. The precision of Ipsos polls which include non-probability sampling is measured using a credibility interval. In this case, the poll is accurate to within ± 2.9 percentage points, 19 times out of 20, had all Ontarians been polled. The credibility interval will be wider among subsets of the population. All sample surveys and polls may be subject to other sources of error, including, but not limited to coverage error, and measurement error. Ipsos abides by the disclosure standards established by the CRIC, found here: https://canadianresearchinsightscouncil.ca/standards/
                     
For more information on this news release, please contact:
Darrell Bricker
CEO, Ipsos Global Public Affairs
+1 416 324 2001
[email protected]
Sean Simpson
Senior Vice President, Ipsos Public Affairs Canada
+1 416 324 2002
[email protected]
About Ipsos
Ipsos is the world's third largest market research company, present in 90 markets and employing more than 18,000 people.
Our passionately curious research professionals, analysts and scientists have built unique multi-specialist capabilities that provide true understanding and powerful insights into the actions, opinions and motivations of citizens, consumers, patients, customers or employees. We serve more than 5000 clients across the world with 75 business solutions.
Founded in France in 1975, Ipsos is listed on the Euronext Paris since July 1st, 1999. The company is part of the SBF 120 and the Mid-60 index and is eligible for the Deferred Settlement Service (SRD).
ISIN code FR0000073298, Reuters ISOS.PA, Bloomberg IPS:FP