Consumer Confidence freefalls by 8.9 percentage points in May 2020: Refinitiv-Ipsos monthly India Primary Consumer Sentiment Index
Consumer sentiment is down for jobs and economy; bottoms out for personal finances & investment for future
The monthly  Refinitiv-Ipsos Primary Consumer Sentiment Index (PCSI) for India has sharply fallen by 8.9 percentage points, in May 2020, due to the prolonged shutdown and the impact of the unending COVID19 pandemic.
The monthly PCSI, which is driven by the aggregation of the four weighted sub-indices, has continued with the downward trend seen in April 2020 and has nosedived in May 2020, due to the growing pessimism. The PCSI Employment Confidence ("Jobs") Sub-Index  is down by 5.3 percentage points, the PCSI Economic Expectations ("Expectations") Sub Index, has receded by 7.9 percentage points; the PCSI Investment Climate ("Investment") Sub-Index  has majorly dropped by 12.9  percentage points; and the PCSI Current Personal Financial Conditions ("Current Conditions") Sub-Index too has plummeted by 11.7 percentage points, over the previous month.
"The unending COVID 19 crisis and these long periods of shutdown are now hitting the consumers livelihood and pockets, impacting their propensity to spend and save. While the virus is resilient and not going away, with strict measures of hygiene and social distancing, we should aim at building up some of the pillars of the economy – manufacturing, agriculture, MSMEs, e-commerce and staggered functioning of offices," said Amit Adarkar, CEO, Ipsos India. 
"Earlier the govt's complete focus was on health, now it has changed gears to majorly resurrecting the Indian economy," added Adarkar.
  India PCSI 2014-2020 Trend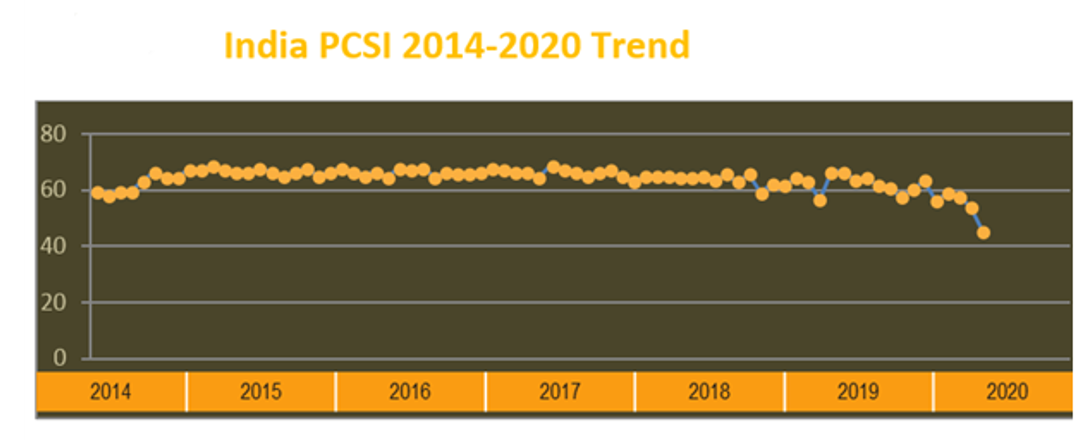 These are findings of an Ipsos online poll conducted April 24, 2020 – May 8, 2020.  For this survey, a sample of 500 adults from Ipsos' India online panel  aged 16-64 was interviewed online. As this is an online poll in India, representative of the online community in the country, it is not reflective of the general population; however, the online sample in is particularly valuable in their own right as they are more urban, educated and have more income than their fellow citizens and often referred to as "Upper Deck Consumer Citizens" or Primary Consumers. The precision of the Refinitiv/Ipsos online polls is measured using a Bayesian Credibility Interval. In his case, the poll has a credibility interval of plus or minus 5.0 percentage points for all adults. For more information on the Bayesian Credibility Interval please see  http://www.ipsos-na.com/news-polls/pressrelease.aspx?id=5836
The Refinitiv/Ipsos India Primary Consumer Sentiment Index (PCSI), ongoing since 2010, is a monthly national survey of consumer attitudes on the current and future state of local economies, personal finance situations, savings and confidence to make large investments. The Index is composed of four sub-indices: Current Conditions Index; Expectations Index; Investment Index; and, Jobs Index
About Refinitiv
Refinitiv is a global provider of financial markets data and infrastructure. The company was founded in 2018. It is jointly owned by Blackstone Group LP which has a 55% stake and Thomson Reuters which owns 45%. The company has an annual turnover of $6bn, with more than 40,000 client companies in 190 countries.