Hashtags, Harassment and Hope: the state of Gender Relations in Singapore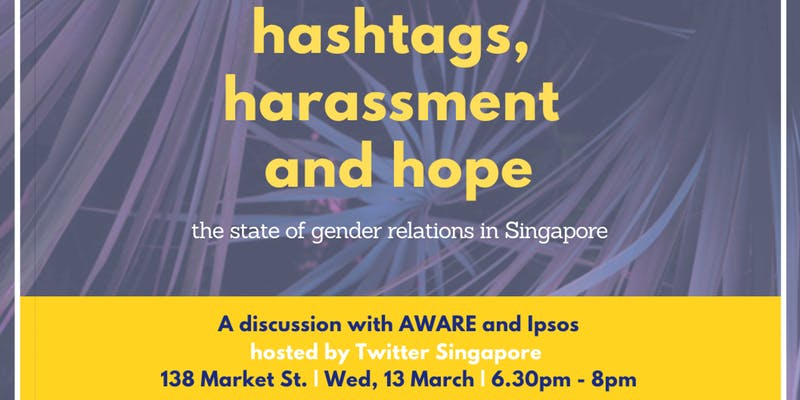 It's been more than a year since #MeToo became a global phenomenon, rippling out into every sector of society as survivors of sexual harassment spoke up about their experiences. As its impact reached Singapore's shores, AWARE began receiving a record surge in clients at its Sexual Assault Care Centre – a surge that has yet to subside.
But what other effects has #MeToo had on Singaporean society? Has the movement only improved interactions between genders, or has it in fact had any negative consequences? What gaps in understanding have we yet to bridge? And, now that we've told our stories about sexual harassment (and listened to others' stories), where do we go from here?
After International Women's Day 2019, Ipsos joins AWARE on 13 March to tackle those questions.
We'll present the results of Ipsos's eye-opening new survey on gender relations in Singapore, which follows on from its ground-breaking exploration of Singaporeans' attitudes towards Section 377A and susceptibility to fake news. This detailed survey of n=1,000 citizens and permanent residents investigates Singaporeans' perceptions of: the wage gap; sexual harassment; quotas; and the local impact of #MeToo. The findings of this research add to the growing volume of social discussion regarding gender parity in Singapore today.
A panel discussion will follow, featuring:
Susanna Nickalls, director and lead trainer of Catalyse Consulting, AWARE's anti-workplace harassment training
Siti Noor Mastura, co-founder of the non-profit organisation Interfaith Youth Circle and The Straits Times's 2018 Singaporean of the Year 
Robert McPhedran, Associate Research Director of Public Affairs at Ipsos
Philip Chua, APAC Senior Public Policy Manager for Twitter
This event is for anyone who wants to carry on the fight for gender equality, and use their position to make meaningful change.  
See event recap here : http://www.aware.org.sg/2019/03/a-recap-hashtags-harassment-and-hope-the-state-of-gender-relations-in-singapore/