[Webinar] Nationalism and The Singapore Identity

A maturing Singapore, rooted in cultural pluralism, local food and Singlish, wants a country that is socially & environmentally conscious, and technologically progressive.
These are some of the findings from a recent Ipsos survey which sought to understand Singaporeans' sense of pride for the country and what they identify with as being Singaporean. This survey was conducted in August 2020, just after Singapore celebrated her 55th year of Independence, and just weeks after the 2020 Singapore General Election.
Join Ipsos on 12th November 2020 in a webinar as we share the detailed findings of the survey.
The presentation will be followed by a panel discussion made up of 3 senior Ipsos executives who will discuss the findings, from their personal perspectives as a Singapore Permanent Resident, a Naturalised Singaporean and a born-and-raised Singaporean.
Presentation highlights:
66% of Singaporeans agree that Singapore is a better country to live in than other countries but only 3 in 10 say Singapore is a better country to retire in
Top 3 values deemed most important to Singapore as a country are Have an Honest & Transparent Government, Be Just & Fair to All, and Be Safe
74% of Singaporeans agree that Being a Singaporean is an important part of their identity, with 58% who consider themselves as patriotic residents of Singapore
40% of Singaporeans agree that the world would be a better place if people from other countries were more like Singaporeans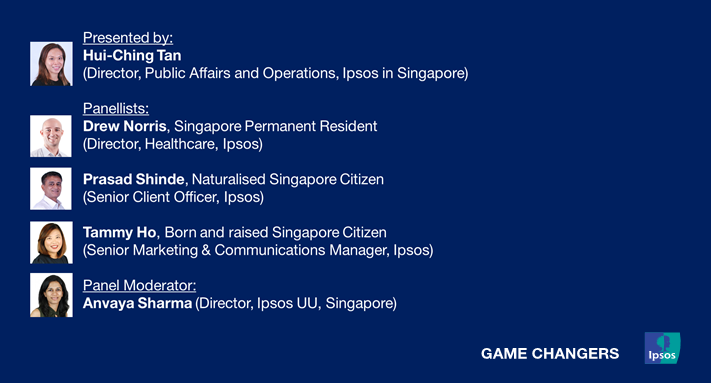 For more information and registration queries, contact us using the form below.