The New Lubricant Trade In ASEAN - A Promising New Era
Global lubricant markets have seen a dramatic rebound since the global economic recession of 2008–2009. At that time, global demand dipped to its lowest point since the latter half of the 20th century, but has since surpassed its previous high mark set in 2007. One of the key drivers of this rebound can be attributed to Asia, where the developing economies of emerging markets are fueling the rising demand for lubricants.
A Global Shift to Asia
The shift to Asia is not a surprising phenomenon as businesses and manufacturers become increasingly globalised in order to seek out better value-cost and, at the same time, compete to fulfill rapidly emerging gaps in the Asian market. European demand, for example, which has traditionally captured 25%–30% of global market in the past decade, has steadily declined to just 15%–20% market share, with North American demand showing similar trends. Meanwhile Asian demand picked up the slack, increasing from 30%–35% to 40%–45% within the same time period and currently overshadowing both Europe and North America combined. Asia's share of the global lubricant market now translates to an annual consumption of 19–23 billion litres, and considering that this amount is worth an estimated USD60–80 billion, it pays to understand what drives Asian markets in search of the next opportunity.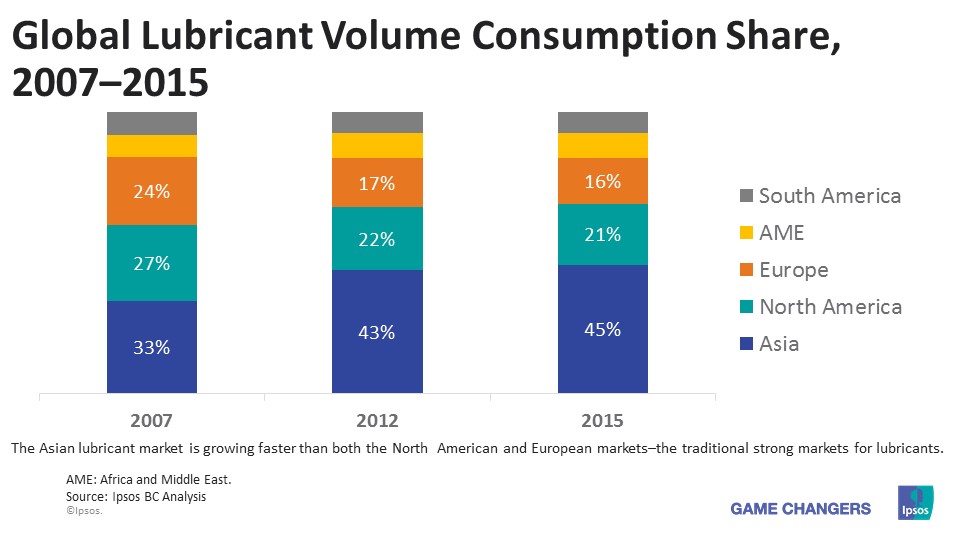 One region in particular has received increasing attention in recent years and has been deemed by many to be the next big market on the block: ASEAN.
The ASEAN Economy and its Lubricant Markets
ASEAN is an association of 10 member countries located in the Asia-Pacific region. In order to put the ASEAN economy into perspective, consider the following:
ASEAN has a population of about 600 million, making it the third largest labour force in the world after China and India. It is also the world's third largest potential economy with a sizeable proportion of its population still relatively young.
If ASEAN was a single country, it would be the world's 7th largest economy with a combined GDP of more than USD2.5 trillion in 2015. Its economy could be the 4th largest by 2050 if current growth trends continue.
ASEAN is one of the most open trading regions in the world, with total merchandise exports of nearly USD1.3 trillion in 2013 –approximately 54% of its GDP and 7% of global exports. The ASEAN–China Free Trade Area is the third-largest free trade bloc after the European Economic Area and North American Free Trade Area.
In 2015, ASEAN has developed into a single market and production base under the ASEAN Economic Community (AEC), easing access to products and allowing more flexible movement of skilled labour and capital. Intra-ASEAN and extra-ASEAN trade have grown by 7.5x and 5.5x respectively since the early 1990's.
The formation of the AEC appears to be a positive catalyst for ASEAN's lubricant market, whose economic outlook presents exciting prospects for growth. The proposed removal of tariffs on vehicles under the AEC may have a direct and immediate impact on the consumption of vehicles from international brands. Many of these—including Japanese brands—already have manufacturing facilities in Thailand, Indonesia, and Malaysia, and a rise in sales could boost lubricant demand in both the OEM segment, and subsequently the aftermarket segment. A similar removal of tariffs on lubricants may prompt lubricant players in the region to react quickly by expanding and penetrating into the other emerging markets in ASEAN. The numbers tell a compelling story: total lubricant demand in 2015 is estimated at 2.5 billion litres per year and is projected to hit 3.2 billion litres per year by 2020–a respectable CAGR of about 5%. Although ASEAN currently represents 11%– 13% of Asia's lubricant market, this share may grow to 15%– 17% by 2020, making it a sizeable market at the very least.
Although the general consensus of an open economy has been agreed upon at the highest level, uncertainties still persist in terms of imple mentation and coordination between member countries. As with other economic regions in the world, member countries in ASEAN will certainly face many challenges towards achieving the unified AEC vision, as each member attempts to compensate for the needs and demands from internal forces within their economies. Some of these compensating mechanisms include:
Significant local shareholding requirements for foreign companies.
High local content requirements for goods manufactured within the country.
Certification of products to meet national standards.
Special consumption taxes on the automotive industry.
Green policies affecting production (and product) requirements.
Many of the member countries within ASEAN are currently implementing one or more of these compensating mechanisms in one form or another, and there has been no clear indication on the longevity of these mechanisms, especially within the next 5 years. There are other variables to watch for as well, such as the relatively widespread penetration of counterfeit lubricants, due to generally weaker law enforcement and more fragmented distribution channel networks as compared to other developed regions in the world. Businesses will need to closely monitor the evolution of these barriers over the next few years in order to stay on top of the ASEAN market.
Insights into ASEAN
Industrial Lubricants
The industrial lubricants market has become a focus market in recent years as players look outside of the highly competitive (and more-or-less saturated) automotive lubricants market for new growth. Within ASEAN, industrial lubricants represent the second-largest market after passenger car and motorcycle lubricants markets, with an estimated annual consumption of between 700–800 million litres in 2015 that is projected to reach the 1 billion litres mark by 2020.
ASEAN's rising demand for industrial lubricants does not come as a surprise. The stability of ASEAN's economy in the past 5 years and availability of skilled labour, coupled with its pro-business climate and improving infrastructure have transformed the region into one of the top destinations for foreign direct investments ("FDI") in the manufacturing sector. This investment takes many forms, ranging from automotive hubs in Thailand and Indonesia, electrical and electronics clusters in Malaysia, food manufacturing and processing plants in Philippines, to petroleum and metalbased manufacturing in Vietnam. FDIs into the ASEAN region have leapt in recent years, growing from USD40 billion in 2005 to nearly USD140 billion in 2014, making ASEAN the largest FDI recipient in the developing world. Metal/metal-based manufacturing industries–one of the prime lubricant consuming industries–have the largest FDIs across the region.
The benefits of FDIs to ASEAN's development are critical. Not only do they facilitate the transfer of technologies into the country, they also act as catalysts for local industries to move up the value chain. As a result of these investments, manufacturing in ASEAN has gained traction on the world stage; the export of manufactured goods is growing at a rate that is close to the world average—and in the past few years, faster than Europe.
The distribution structure of industrial lubricants has evolved over the years to serve the dispersed industrial landscape within ASEAN. Traditionally, lubricant manufacturers have relied on primary and secondary distributors as their primary channel-to-market. However, the diversity of ASEAN means that there are exceptions in each of its member markets: lube shops (i.e. retail) are a popular channel in Thailand, while the gas station in Malaysia is an important channel to service its relatively large proportion of mobile construction equipment. Some markets may even require traders–individuals who have intimate knowledge of the market–to service the population of small-scale industrial end-users and retailers in rural regions.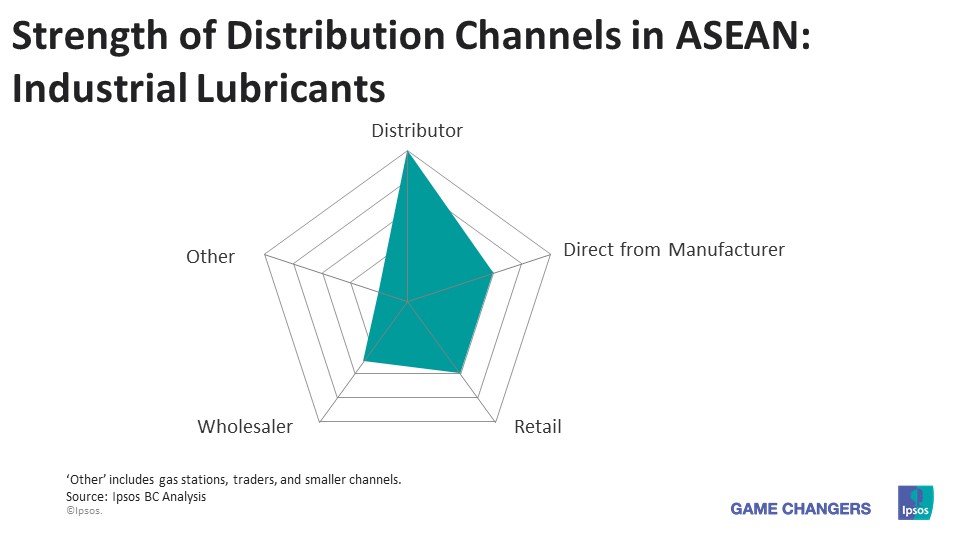 Automotive Lubricants: Commercial Vehicle Trucks
The rapid growth of the ASEAN economy and its expanding consumer markets has already resulted in larger volumes of goods being transported around the region, increasing the need for supply chain solutions. The trend is expected to continue strongly under the AEC as it supports the vision of a strongly connected region as one of its main aims, together with investments into logistics infrastructure.
Despite the numerous island states within ASEAN, land transportation remains crucial in connecting ASEAN members and also to the rest of the Asia continent. In recognition of the importance of efficient transport, significant investments have been made in road infrastructure, which has accumulated nearly 25% of total infrastructure investments that were announced from 2013 to 2025. Commercial vehicle fleet operators, especially owners of freight trucks and goods-hauling vehicles, will benefit from improved infrastructure connectivity as modern roads and bridges make road freight quicker, cheaper and more accessible than air- or sea-freights. In 2015, an estimated 5.0 million trucks owned by fleet operators were on-the-road within ASEAN–12.5% of the total number of total passenger cars on-the-road–and both the truck population and truck utilisation rates are expected to rise gradually in the next 5 years. This increase is expected to shore up demand for commercial vehicle lubricants ("CVL") from 450–500 million litres per year in 2015 to 600–650 million litres per year by 2020.
Manufacturers play a much more important role in the CVL distribution chain than in the industrial and PCMO/MCO markets, by virtue of their positioning as the dominant channel to fleet operators. Although distributors are typically engaged for the purposes of providing service to customers in harder-to-reach regions, the more common practice of direct supply translates into better margins for the manufacturer.
Moreover, our previous studies have revealed that fleet operators in ASEAN tend to perform oil changes or top-ups more frequently than some of their larger Asian peers, such as those in China, and more than three-quarters of fleet operators in the region would be happy to stick with their existing lubricant suppliers for an average of 5 years or more, if product requirements and service levels are consistently met. Almost 7 out of 10 fleet vehicles are owned by fleet operators that have in-house workshops as well, which allows manufacturers and distributors to target them easily. This ease of access and potential for long-term market success combine to make CVL more attractive than the other markets.
Automotive Lubricants: Passenger Cars and Motorcycles
In the past decade, Asia has become the undisputed growth region for passenger cars, accounting for more than 50% of the world's passenger car on-the-road growth—and within Asia, ASEAN contributes more than 13% to that growth. Indeed, more than 28 million new passenger vehicles are added to the global market each year on average, and more than 2 million of these vehicles are consumed within ASEAN alone. In 2015, it is estimated that at least 40 million units of passenger vehicles are on-the-road in ASEAN.
On the other hand, Asia has always been the dominant market for motorcycles, accounting for the lion's share (80% to 90%) of both motorcycle production and consumption globally. Within ASEAN, it is estimated that there are at least 210 million units of motorcycles on-the-road in 2015. Furthermore, the motorcycle population in ASEAN is estimated to grow 9 times faster than the corresponding figures for passenger cars within the next 5 years, driven mainly by rising demand from key motorcycle nations in the region: Indonesia and Vietnam.
The increasing motorisation rate in ASEAN, fueled by rising average household incomes over the years, has formed the bedrock for automotive lubricants in the passenger cars and motorcycles segment ("PCMO/MCO"). With an estimated annual consumption of between 800–850 million litres, PCMO/MCO is also the largest lubricant market in ASEAN. By 2020, the PCMO/MCO market is projected to reach 1,150–1,200 million litres per year.
The distribution structure of PCMO/MCO in ASEAN traditionally covers the following channels: primary and secondary distributors, servicing workshops, gas stations, automotive retail shops, and localised retail shops. Due to the need to serve a large market base across diverse geographical landscapes and rural locations with less developed transportation access, end-users typically purchase their lubricants from servicing workshops—many of which are operated by local enterprises and small businesses—followed by petrol stations and automotive/ localised retail shops.
What this market structure implies is that a good distributorship strategy is required for success in these ASEAN markets, where competition between lubricant players is stiff.
Many brands must rely on primary and a growing number of secondary distributors to penetrate the corners of the market, and yet are faced with several obstacles such as existing product exclusivity arrangements that must be managed. Additionally, a good understanding of localized channel demand trends–such as the distribution through sari-sari stores in the Philippines and motorcycle wash stands in Vietnam–may provide the winning edge to succeeding in this sector in ASEAN.
Competitive Landscape in ASEAN
The competitive landscape of lubricants in ASEAN is as vibrant as it is intense. Lubricant players have established their footholds in ASEAN, with international brands having developed a strong presence in the more-mature ASEAN-51 markets. Among them, Shell is the most established brand, with a strong presence in almost all of the ASEAN-5 markets. Other major players include BP Castrol, which has the largest presence in the Vietnamese motorcycle market, while Caltex and ExxonMobil are on equal footing across the five markets.
Compared to the international brands, the market shares of the ASEAN national brands are less expansive, being strong primarily in their own countries. However, many of the national brands do have a presence in at least three ASEAN markets (with Petronas at the forefront in all ASEAN-5 markets), and it remains to be seen if the national brands can better capitalise on the AEC and raise their competitiveness against the international brands.
In terms of the lubricant products landscape, Asia (including ASEAN) is still predominantly consuming mineral-based, low-grade lubricants compared to the more lucrative syntheticbased European and North American markets. However, the consumption trend in ASEAN has begun to gradually shift towards semi-synthetic/synthetic lubricants (i.e. "upgrades") over the past decade. OEM recommendations have played a key role in driving this shift as consumers become more aware and appreciative of performance/ longevity over base price. Recommendations from equipment manufacturers have also played a part in this ongoing market evolution, as industries transition into higher value-adding manufacturing. These trends are expected to continue as markets mature and household income rises. National brands will need to have a clear and effective product positioning strategy in order to increase shares in the growing upgrades market that is presently led by the international brands.
Takeaways from ASEAN
ASEAN as a region is an exciting market for lubricants because of the diversity of its economy, progressive business outlook, rising household income levels, and perhaps most importantly, the latent potential that it holds to develop into one of the world's leading economies in the future. Although uncertainties do surround the implementation of the AEC, they are not expected to impede growth and, overall, ASEAN as a whole should be viewed on the upside. We believe that ASEAN is one of the more attractive investment destinations for lubricant players in the next 3 to 5 years, especially in the industrial segment where the market is growing faster than before. The diversity of the manufacturing industries and their varied development trajectories in individual ASEAN countries make up an exciting and constantly evolving market with potentially lucrative niche opportunities arising for lubricant players that are able to capture the trend. Nevertheless, lubricant players need to be constantly kept abreast of requirements for locally manufactured content across ASEAN–a grey area at the moment–which could change market demand and dynamics significantly.
The automotive lubricant segment requires much more careful analysis. While Thailand and Indonesia are established automotive hubs with an attractive market size, competition in the automotive lubricants segment is much stiffer as compared to the industrial counterpart. In addition to the established international brands and government-supported national brands, there are also numerous other well-known brands (at least in their own countries) originating from Europe, North America, and China that are competing for the same market share across ASEAN. Lubricant players interested in the automotive segment will have to keep a finger on the pulse of the developing automotive trends (e.g. increasing adoption of hybrid vehicles) and key market drivers (e.g. OEM recommendations), to understand how these factors are set to drive higher-value consumption (e.g. shift from minerals-based to semi-synthetic lubricants) across ASEAN in the next 3 to 5 years in order to quickly capitalize on market opportunities.
ASEAN's fast-changing landscape, cultural diversity, and availability of untapped, developing markets of high-growth potential in Laos, Cambodia, and Myanmar mean that opportunities can arise when they are least expected. Regardless of the segment that your business is targeting, an in-depth understanding of individual markets and their corresponding characteristics and sensitivities is needed to pave the road to success.
With more than 20 years of direct consulting engagements across the diversity of ASEAN's industry value-chains, Ipsos is in the best position to help your business build, compete, and grow in your desired markets wherever they may be.