Why is customer emotion data so important right now?
Ipsos research has shown us how customer have been experiencing a whirlwind of emotions over the past 18 months. These emotions inform many of our decisions including purchase decisions.
When we experience emotion, chemicals in our brains make us feel positively or negatively about what's happening in front of us.
Whether customers complete a purchase, leave a review, or mention a brand on social media there is always an emotional state connected to their actions. For many sectors, the pandemic has been a catalyst for disruptive change, with manufacturers looking to open up direct channels to their customers empowered by e-commerce and customers looking for value and authenticity from brands.
Capturing and analyzing this emotion is at the heart of understanding, measuring, and improving customer relationships. And it's the key to making informed decisions when thinking about digital transformation. Once you have these insights and data on such emotions, you can evolve your business, product, or service to meet your customers' needs in real time.
Social intelligence provides a unique opportunity to capture this emotion data in real time at scale. We can go further and map these emotions to purchase occasions and ultimately understand what this means for a brand's online reputation.
With this context in mind, there can be few things that stir the emotions more than football tournaments. This month we have the Euro2020 football tournament being played out among 24 European nations, which has equally generated a lot of interest from audiences in MENA.
Such an event provides a great opportunity to look at emotion data at scale and understand how its application can be impactful for brands.
Below we look at the emotions evoked by the Euros 2020, comparing MENA to worldwide emotions. On first glance audiences in MENA are most likely to express positive emotions of joy and surprise: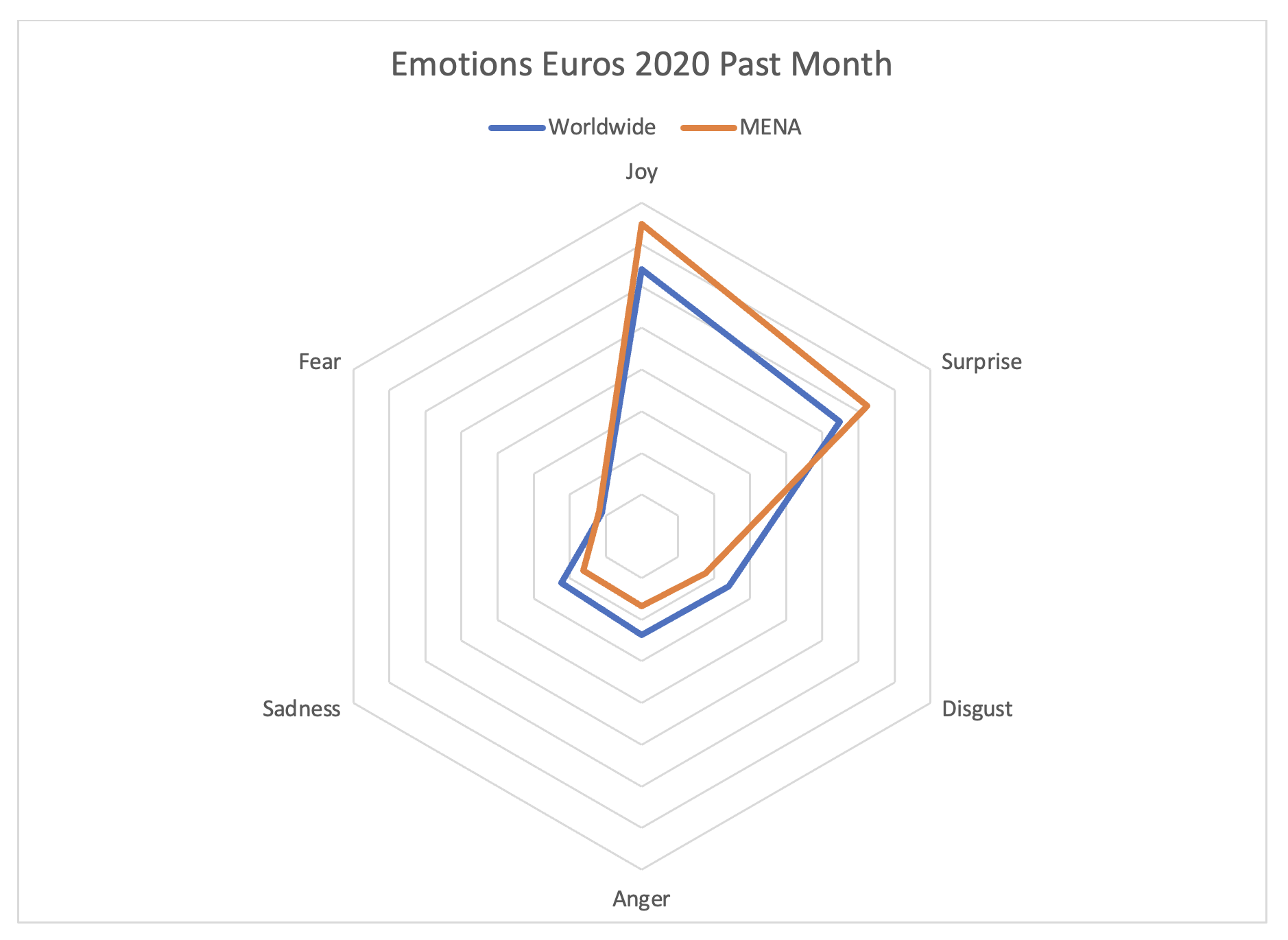 Social intelligence gives us the ability to look into changing emotions as they happen. A case in point is the news conference where a product placement for Coca Cola went wrong, and Cristiano Ronaldo, the Portuguese football super star, removed the Coca Cola bottles from the table in front of him, during a live broadcast and called on fans to drink water instead.
The outcome is emotions and conversations around Coca Cola were strikingly more negative than those towards Cristiano Ronaldo or the tournament overall.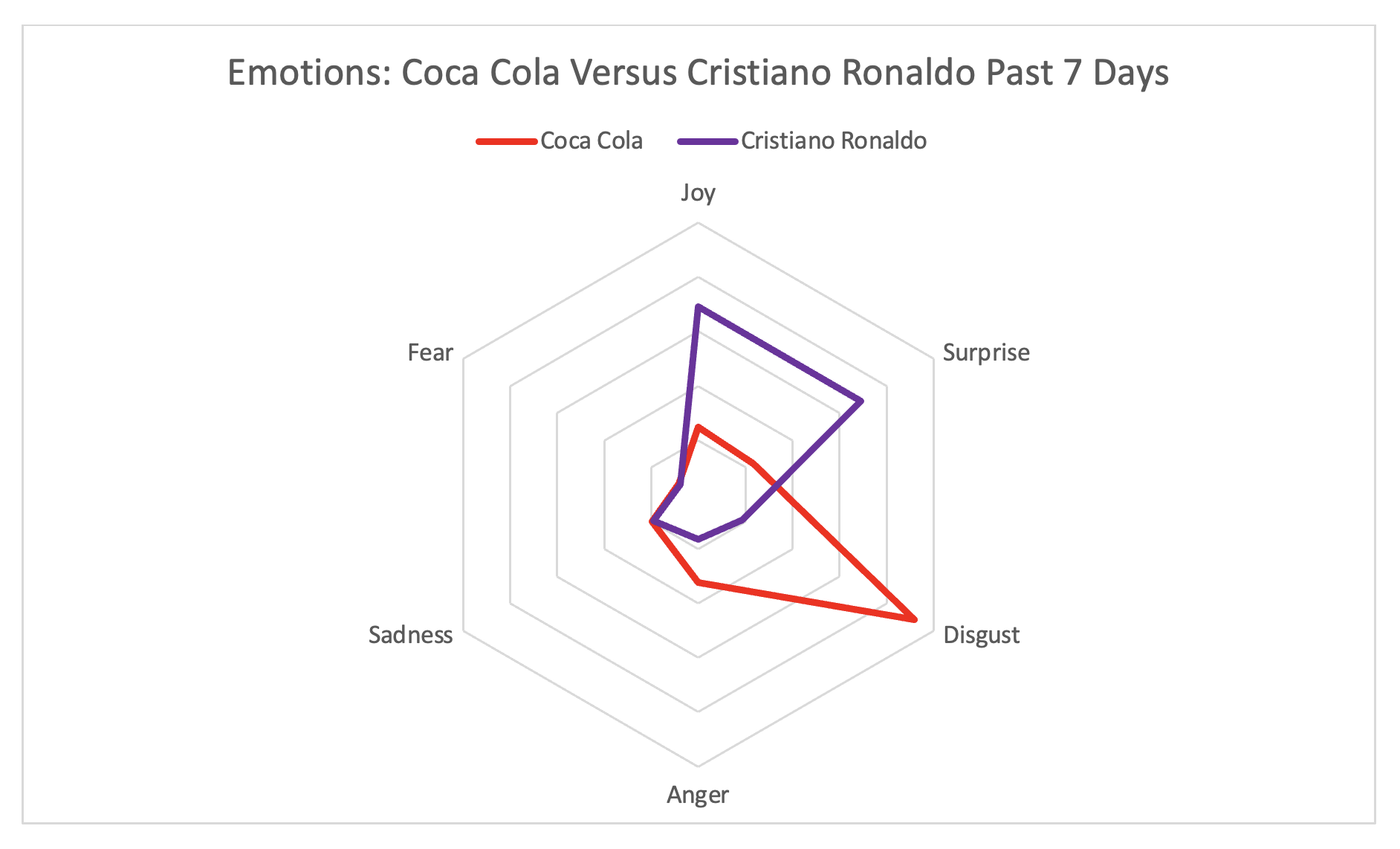 Ultimately these shifts in emotions can have significant impact on the bottom line. Ronaldo's actions are claimed to have a knock-on $4billion impact on Coca-Cola's share price. Looking at numbers, it looks like it is not the biggest loss for the brand. Indeed the sentiment went from resolutely positive to dangerously negative - a potential crisis to follow-up on quickly, that can only be done if these metrics are closely monitored.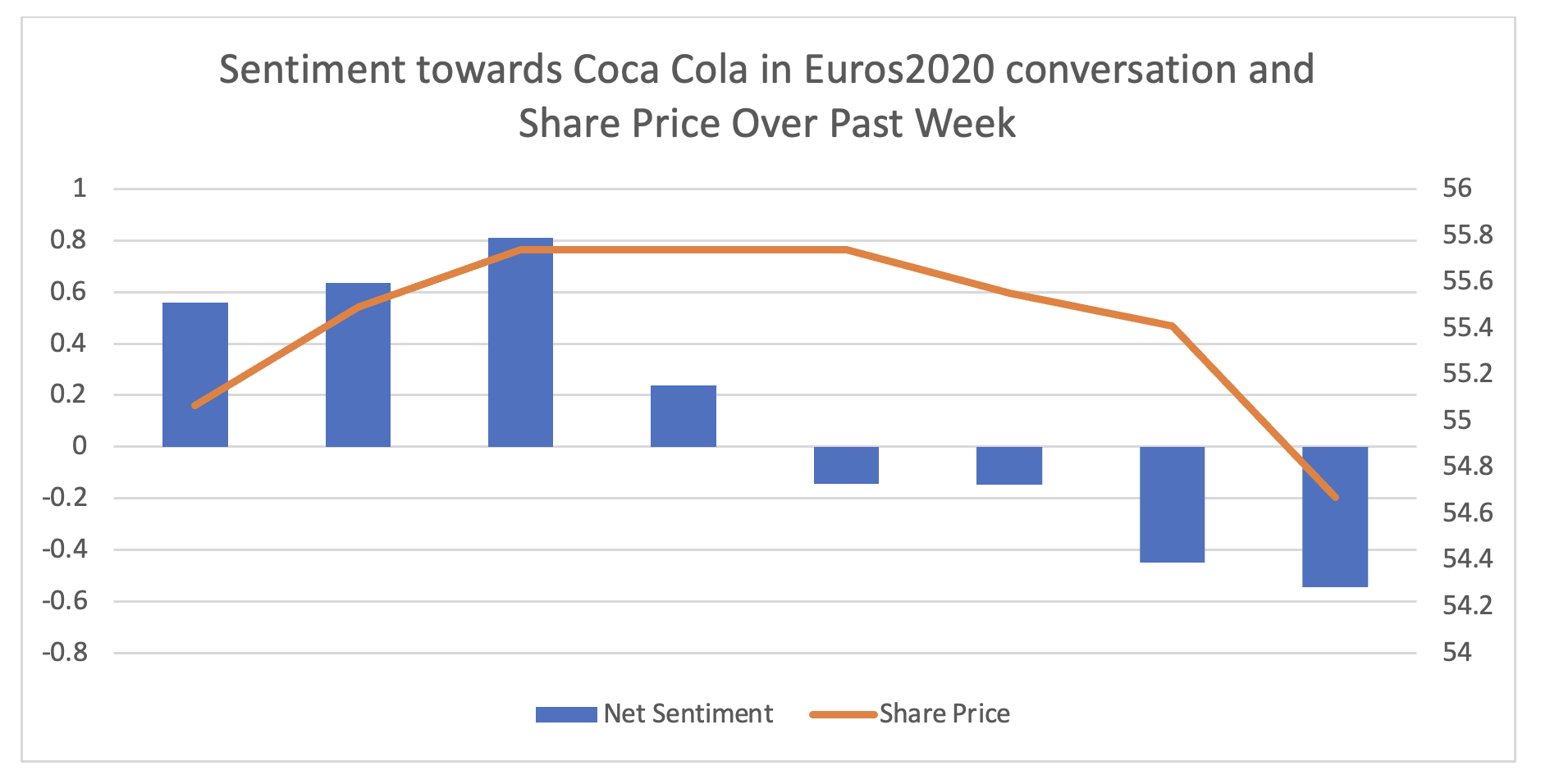 As brands look to navigate through periods where their customers have experienced negative interactions with the brand, or when going through the roller coaster of emotions, it has never been more important to have access to customer emotion data in real time. Ipsos supports this through our social intelligence and analytics solutions.