[EVENT] Ipsos at the MIE 2020
05 February 2020
- 06 February 2020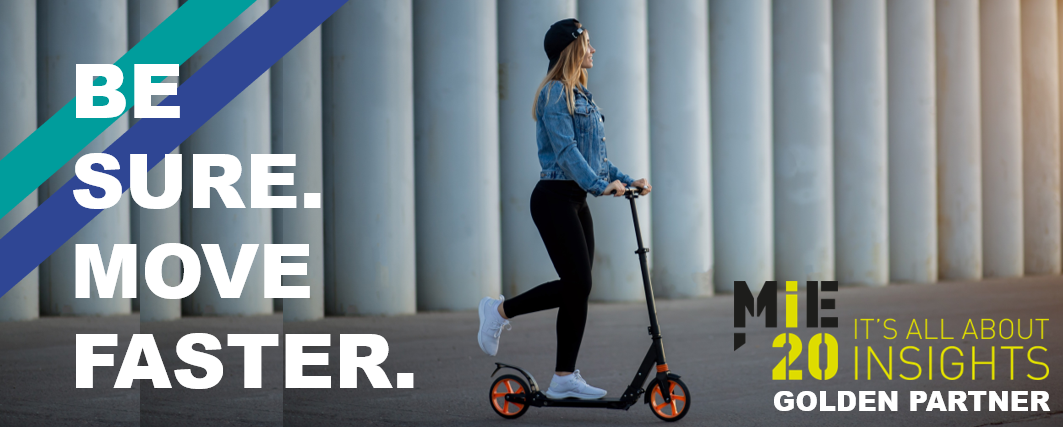 On 5 and 6 February, the annual MIE conference takes place in the Jaarbeurs Utrecht. This year, Ipsos will join the event with two interesting lectures where you will learn how to seduce the intuitive mind with your brand and innovations and discover what Fortnite can teach you about digital engagement. Below you can read the descriptions of the lectures in more detail.

Next to the two lectures you can also join our round table sessions where Chief Client Officer, Eric Landwaart will go into discussion about Do It Yourself research tools and what the effect of these tools is on the future. Read below the details. 
Lectures
Digital engagement: what brands can learn from Fortnite
In a digital world, human thinking is still needed to get to truly useful insights. Using Fortnite as an example, we explain how we got to the heart of the game's success by focusing on the individual gamers and the culture that surrounds them. By understanding the factors which have driven the success of this game we are able to gain a valuable understanding of what will drive engagement for the generation of the future and how brands can leverage these insights for innovation communications and branding. 
Presented by
Stephen Johnson

Head of Qualitative Capabilities at Ipsos

Stephen is the Head of Qualitative Capabilities within the Ipsos Media Development team, specialising in Media, Technology and Kids research. With 15 years' experience he works with the worlds leading media and tech brands to understand their audiences and how to optimise content and products.

Visit this lecture 5 February, 12:00 – 12:45 in the Ipsos Hall
---
Stop scraping, Start digging! How to seduce the intuitive mind with your brand and innovations - with a "taste" of SPA
Get a glimpse of the world of SPA and the transformation they see. Brands apply technology to interact differently with their consumers. These interactions change consumers' expectations and impact how they make choices. All these elements make it harder to predict how people choose brands and products. Instead of just finding what drives the consumer on the surface, it is important to uncover and measure the behavioural dynamics below the surface. What drives their autopilot and what activates their intuition? Find out how consumers make choices, how you can influence this and how SPA went beyond the surface to understand their consumers' mind.
Presented by
Cristiana Caldarelli

Associate Research Director Innovation

[email protected]
+31 20 6070 723

Cristiana has over 10 years of experience in leading consumer insights into successful innovations for her clients. She is an expert on the drivers of innovation across the entire development path: from identifying profitable opportunities, screening and optimizing mix, to forecasting sales potential and optimizing for the launch.

Patricia Verhoelst

Associate Research Director Market Strategy and Understanding

[email protected]
+31 20 6070 811

Starting her career at the Censydiam institute, specialized in uncovering deeper human needs, Patricia has developed herself as an expert in complex consumer segmentations and strategic brand growth studies. She is passionate about how consumers behave, how their mind works and especially in figuring out how brands can influence this and optimize their strategy. Over the past 12 years she helped various international clients to optimize their brand growth strategy by unraveling consumer needs.

Remco de Feijter

Senior Brand manager Spa NL

Working within the drinks industry during his whole career. An incredibly fascinating industry for as every person in the world gets in touch with drinks multiple times per day. What drives the consumer in these daily moments of decision making and how can we bring brands and products to live which suit these consumers best are the fundamental questions which drive him every day. 

Visit this lecture 6 February, 12:00 – 12:45 in the Ipsos Hall
---
--Impact Not to be Sniffed At-- How One study Changed the Global Culture of Fragrance
Sponsored by ESOMAR; this presentation was awarded "Best FUSION Presentation" by all the delegates attending ESOMAR Fusion in Madrid, Nov 2019.

This is a story about how one piece of research changed the way IFF work across different categories. The research – an anthropological look at the way people interact with fragrances – led to a truly cross-category innovation, ultimately ending up with a new product due to hit the shelves in 2020.
This presentation will talk about:
The dynamic between the client organisation and the research agency, and how to create outputs that land in an organisation;
The ways in which ethnographic research – through focusing on behaviour rather than stated behaviour – is the perfect springboard for innovation;
How, through taking an anthropological approach, you can create new insight about one of the most researched markets in the world (the US).
The presentation will showcase some of the more interesting findings from the research, and will play ethnographic video of consumer behaviour to demonstrate these points.

Overall, you should be able to take away lessons on how to use research to create impact within the client organisation, how insight can be used to fuel an innovation pipeline, and how ethnographic research can be used in a commercial setting. And with any luck, it will be an enjoyable presentation too, and is being presented at MIE because it was voted Best Presentation at ESOMAR Fusion Conference, Madrid 2019.
Presented by
Oliver Sweet

Head of Ethnography at Ipsos

Oliver has been running the Ethnography Centre of Excellence at Ipsos for the last 10 years. His experience spans both the public and private sector, having conducted research in over 30 different countries. As a form of 'modern day anthropology', ethnography is used by governments and brands to understand the unarticulated reasons why people behave the way that they do. His work has been published in the mainstream media, in medical journals, and in numerous marketing and research publications. Oliver is a board member of the Association for Qualitative Researchers (AQR),
Visit this lecture 6 February, 15:00 – 15:45 in the Markteffect Hall

Round Table
Do it Yourself; conducting research by yourself on the Ipsos panels, is this the future?
Speed is good, but not at the expense of the quality, reliability and actionability of insights. With this in mind, Ipsos developed a new Do It Yourself (DIY) research platform. 

As a user, you have immediate access to a built-in panel of 250,000 members. Within 24 hours you program your questions yourself, put them live and have the results in a clear dashboard. 

What do you think of this new generation of DIY platforms? Handy or not? How would you use it? Is this the future? And are research agencies still needed? We will show you how it works and invite you for a nice and solid discussion.
Hosted by
Eric Landwaart

Chief Client Officer at Ipsos

E[email protected]
+31 20 6070 742

 

In October 2007, Eric joined GfK, which was partly taken over by Ipsos in 2018. Eric played a key role in the transition of 50 new colleagues from GfK to Ipsos. With his broad background in research plus commercial responsibilities for driving change in various industries, Eric adds a strong point-of-view on how to make Ipsos' clients stronger and more future-proof for the challenges to come.
Interested in a personal meeting? Ask your questions to our experts! 
What marketing challenges do you face in your work and where do you look for the solution? Feel free to schedule a meeting with one of our experts to exchange ideas without obligation. Our experts listen to your challenges and think along with you in solutions. Contact Eric Landwaart via [email protected] and let him know what challenges you face and he will get you in contact with the right expert. 
Do we see you at the MIE? Visit us at Stand 19. Get your MIE tickets here.