Innovation's Product Testing & Social Intelligence Analytics (SIA) win prestigious ESOMAR Smart Data Award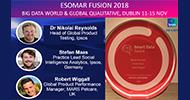 Speaking at the ESOMAR Fusion conference in Dublin on 13th November, Ipsos' Dr Nikolai Reynolds and Stefan Maas joined forces with Mars Petcare client, Robert Wiggall, to present their case on Product Intelligence. 
Mars Petcare wanted to convert their plethora of consumer data into actionable insights. To do this, the Ipsos team created a framework building on a database of 85 product tests and incorporated Mars' Key Performance Indicators (KPIs) to achieve their business goals. A qualitative deep dive into specific topics completed the analyses.
Competing against 30 other cases, the joint Ipsos and Mars case was judged by the ESOMAR committee, followed by an evaluation of the on-stage presentation, which led to winning the ESOMAR Smart Data award due to its:
fusion of traditional market research (quantitative product tests and qualitative) together with social media data (e-commerce) in a fast and efficient framework
use of online user ratings and reviews and analysis of social data
strategic deliverables that outline satisfaction drivers, product strengths and weaknesses, and insights into performance versus competition

"This analysis on the drivers of product superiority, a strategic focus for Mars Petcare currently to fight against Nestlé, has already brought value to Mars business, growing the sales of some of their key products…great to retain our Product Testing global program!" - Marie Stora, Chief Client Director for Mars.

"Combining the teams' knowledge and expertise of Product Testing and SIA led to a customer-centric solution and award- winning results! Thanks to everyone involved" - Dr Nikolai Reynolds.
For more information, please contact Nikolai.Re[email protected], [email protected] or [email protected]