Affluent Highlights: Are Affluents listening to podcasts?
It is no secret that media consumption is changing fast. While mass media continue to dominate, some alternative formats are rapidly growing in popularity.
Let's talk about podcasts, in particular. It's remarkable how quickly the number of titles produced has risen. It is now estimated at over 800,000 globally*, and keeps increasing every day. So, it comes as no surprise that podcast audiences are on the up too, including the important, upmarket Affluent population. The Ipsos Affluent Europe Survey reveals many details of this podcast listening at a brand level, across Europe, making it an invaluable source of high-quality audience data. 
Podcast Highlights
Podcast listening among Affluents has grown over the last three years. 
The Affluent are nearly twice as likely to listen to podcasts than the general public. 
The more Affluent someone is, the more likely he or she is to listen to podcasts. 
High-earning Affluents of all ages, particularly those who travel a lot, are avid listeners, challenging the accepted view that only younger people listen to podcasts. 
Podcast listening varies by country, with some very noticeable differences. Spain stands out as having the highest levels of daily listening; Germany has been slower on the uptake.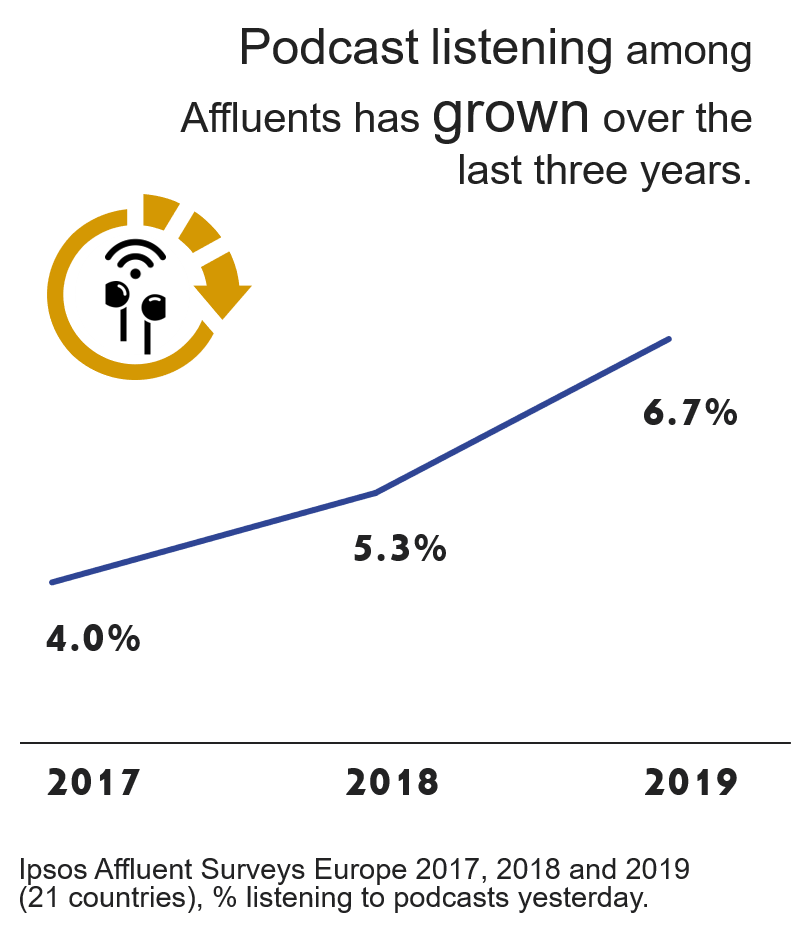 The Ipsos Affluent Europe survey uniquely provides trend data for podcast listening going back over the last three years. These stats show how the Affluent are rapidly taking up podcasts, and that listening is not just limited to a younger age group.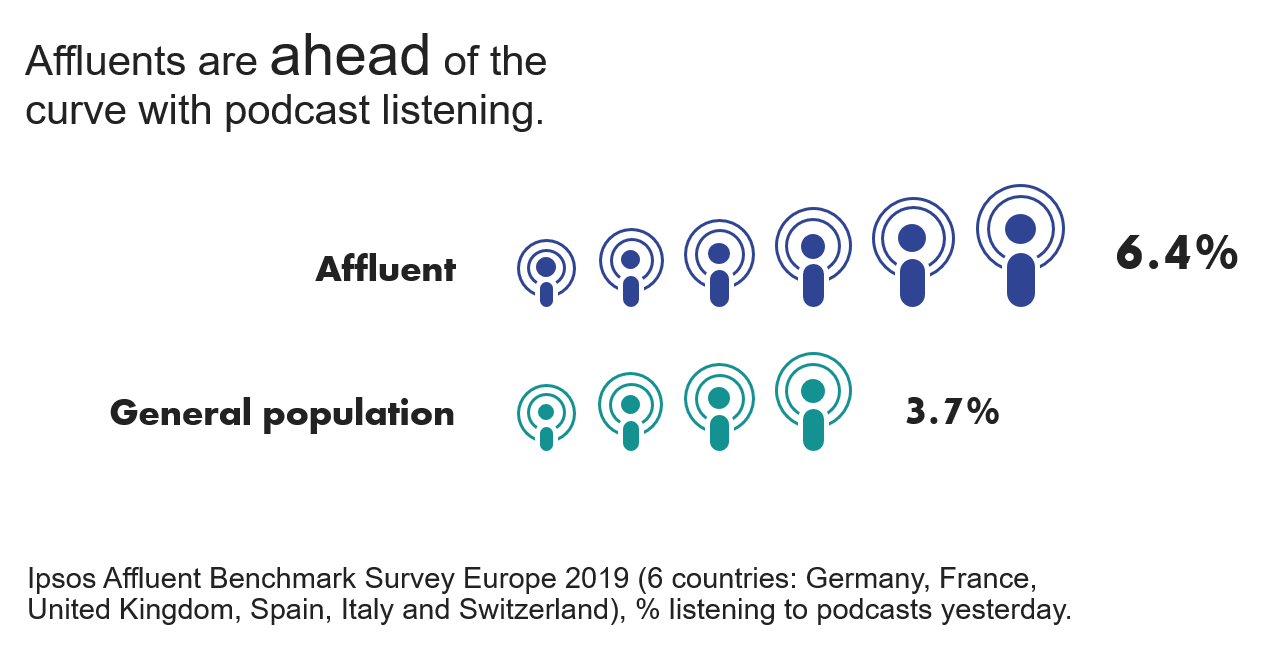 The Affluent Europe Benchmark data, which measures media consumption amongst the General Public in addition to the Affluent, shows that Affluents as a group are nearly twice as likely to listen to podcasts than non-Affluents. This fits in with a general pattern that we are already familiar with, where Affluents are much more likely to embrace new media formats. They are early-media-adopters in this regard.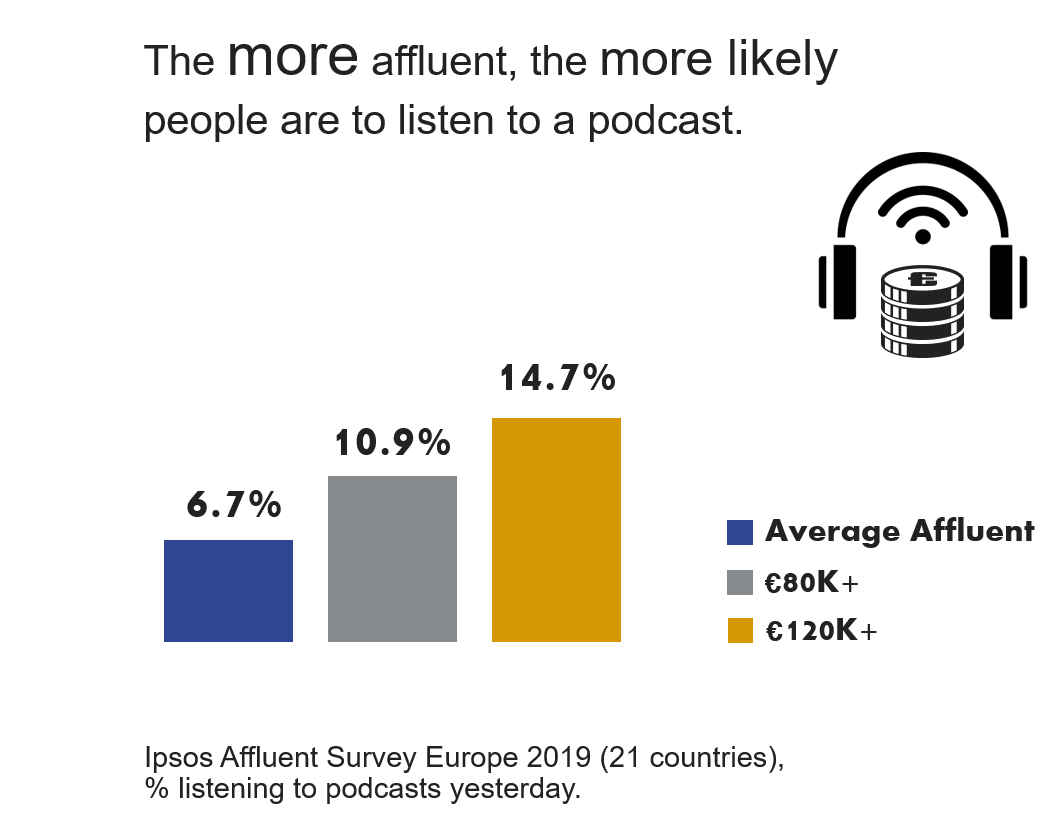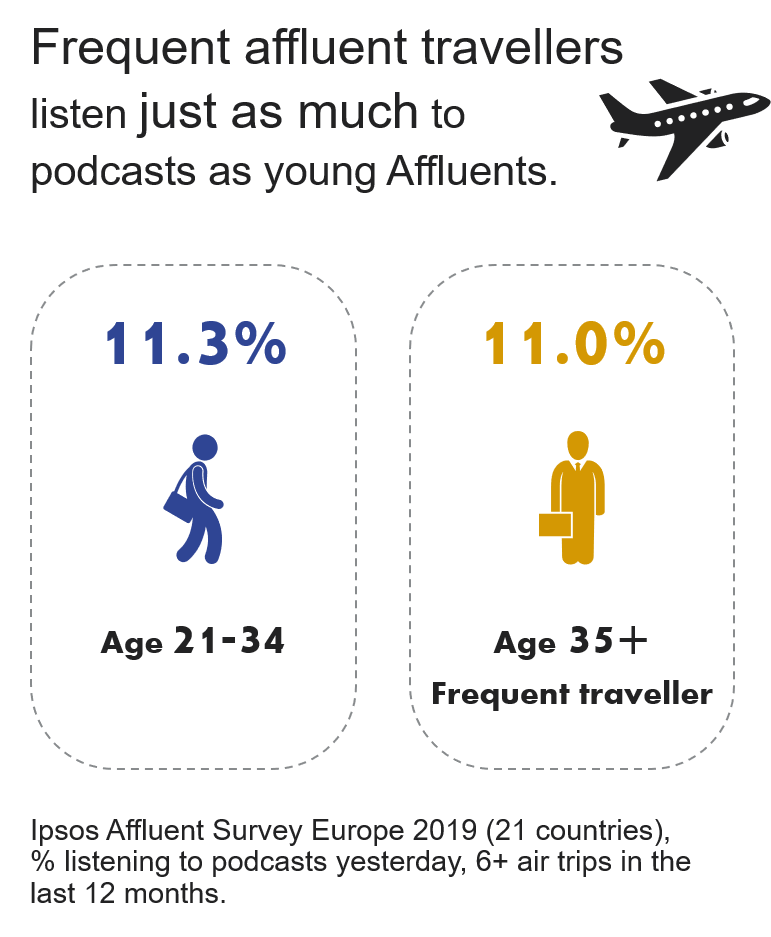 High-earning Affluents, and those who travel a lot are just as avid listeners as younger people. Indeed, the higher the income, the more often people listen to podcasts. 
The Affluent Europe Survey reveals that there are even important differences between countries. Our latest numbers show that Spain leads the main countries in Europe in terms of podcast listening (9.5% yesterday listening). Italy and Germany have been relatively slower on the uptake, with 5.2% and 4.3% respectively.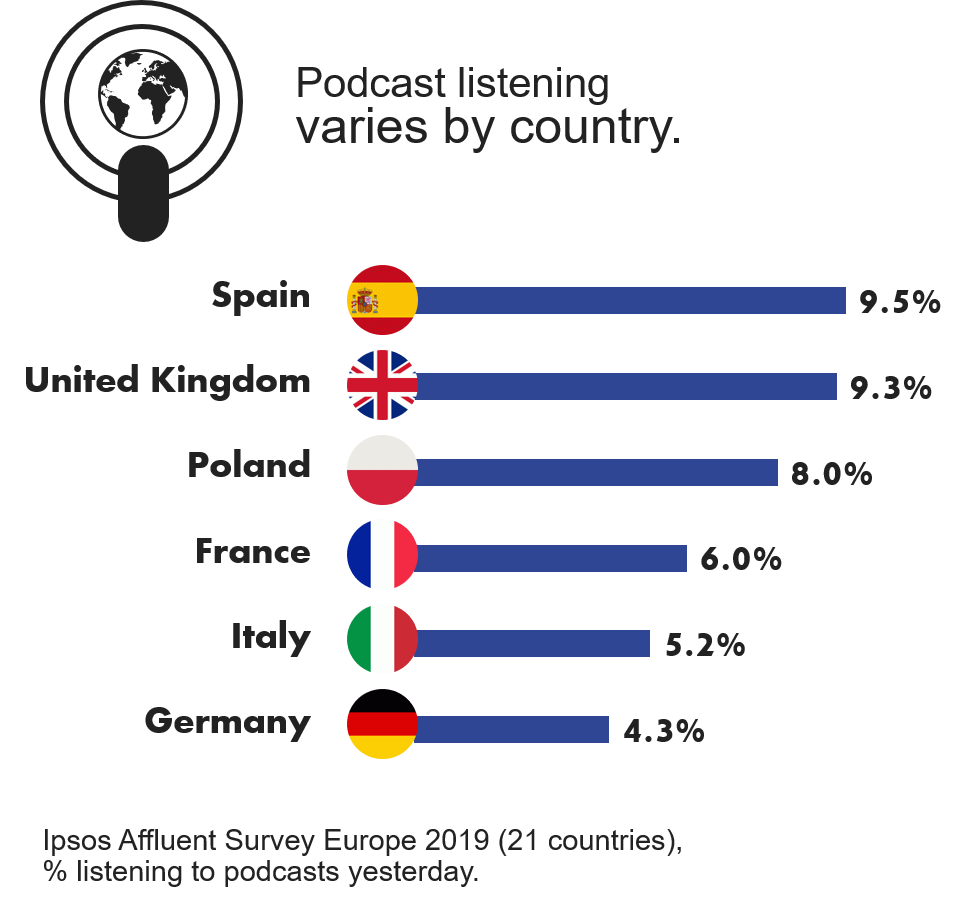 *Source: Podcast Insights
There's a deeper story behind the data
This is just a glimpse of the results. These monthly Affluent Highlights pick out a few notable findings from the rich Ipsos Affluent Europe survey database, which contains many more broad and valuable facts about the attitudes, preferences and behaviour of the Affluent population. Our goal? To deliver data and insights to help you understand, and reach, the world's most influential customers. 

Get in touch with our research experts to learn more about the Ipsos Affluent Survey, for information about subscribing, or how our research can be customised to your needs.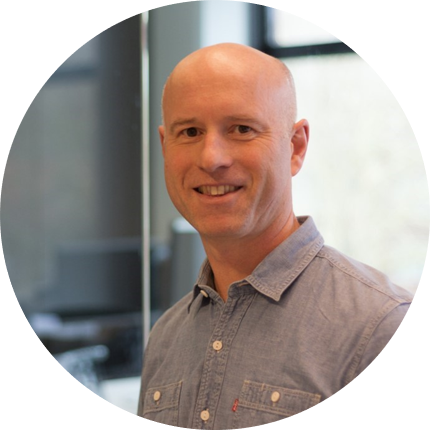 Charlie Fox 
Associate Research Director
+31 20 6070 877
charlie.fox@ipsos.com
About the Affluent Survey
The Ipsos Affluent Europe Survey is an ongoing and dynamic Survey, which has been conducted for over 20 years and delivers continuous insights in the media and consumption habits in 21 countries across Europe, and 47 worldwide. Since Affluents spend more, adopt earlier and recommend often, we strongly believe that engaging and understanding this audience is key for media companies, advertising agencies and brands. Yes, it's a resource like no other.