Building the business case for AI-enabled consumer intelligence
Social listening 2.0 is here. AI-enabled consumer intelligence solutions enable market research and insights pros to spot trends and stay ahead of the market.
Born from other categories like social listening, VoC, and customer feedback, AI-enabled consumer intelligence has emerged to meet brands' needs for better, faster consumer insights.
By combining consumer-generated data with best-in-class SaaS technology and human expertise, AICI programs deliver actionable insights that are
more comprehensive because they account for both online and offline consumer behaviour,
more accurate because they're derived from AI-powered algorithms and analytical frameworks that distill only what's meaningful and relevant to your domain, and
more predictive because they incorporate custom models and expert teams that apply the right context and nuance.
For brands, AICI means being able to fuel more strategic, consumer-centric initiatives with real-time insights you can trust. While social listening has traditionally lived under social marketing teams, AICI breaks down silos to get the full picture of consumers and empowers decision-makers in a variety of roles from market research to brand health and product innovation.
Yet, moving from social listening to AICI requires a new business case. In our latest report, Building the Business Case for AICI, we share the 4 key elements of a winning business case and discuss how AICI aligns with your overarching business objectives - like reducing costs, generating revenue, and improving CX. We also evaluate the costs and benefits of your investment. For example:
Benefit #1: Establishing a central source for consumer insights reduces the time required to get insights and duplication of work across teams. AICI programs cut across internal data silos in social listening, CRM, customer feedback management, and more to create a single source of truth. With a centralised, real-time view of consumers, insights pros can take immediate action on new insights. Meanwhile, teams across the enterprise can consolidate piecemeal consumer-understanding efforts to ensure consistency, accuracy, and efficiency.
Cost #1: Expect to invest in training outside teams on new processes. While some are accustomed to incorporating real-time consumer data into their business decisions, others will need training on new tools and ways of working to make consumer insights a part of their daily work. Some vendors provide self-service solutions which means you'll be responsible for analysing data and deriving insights, while others (like Synthesio) take a "hybrid" approach by integrating custom services and models to help your teams find actionable, accurate insights.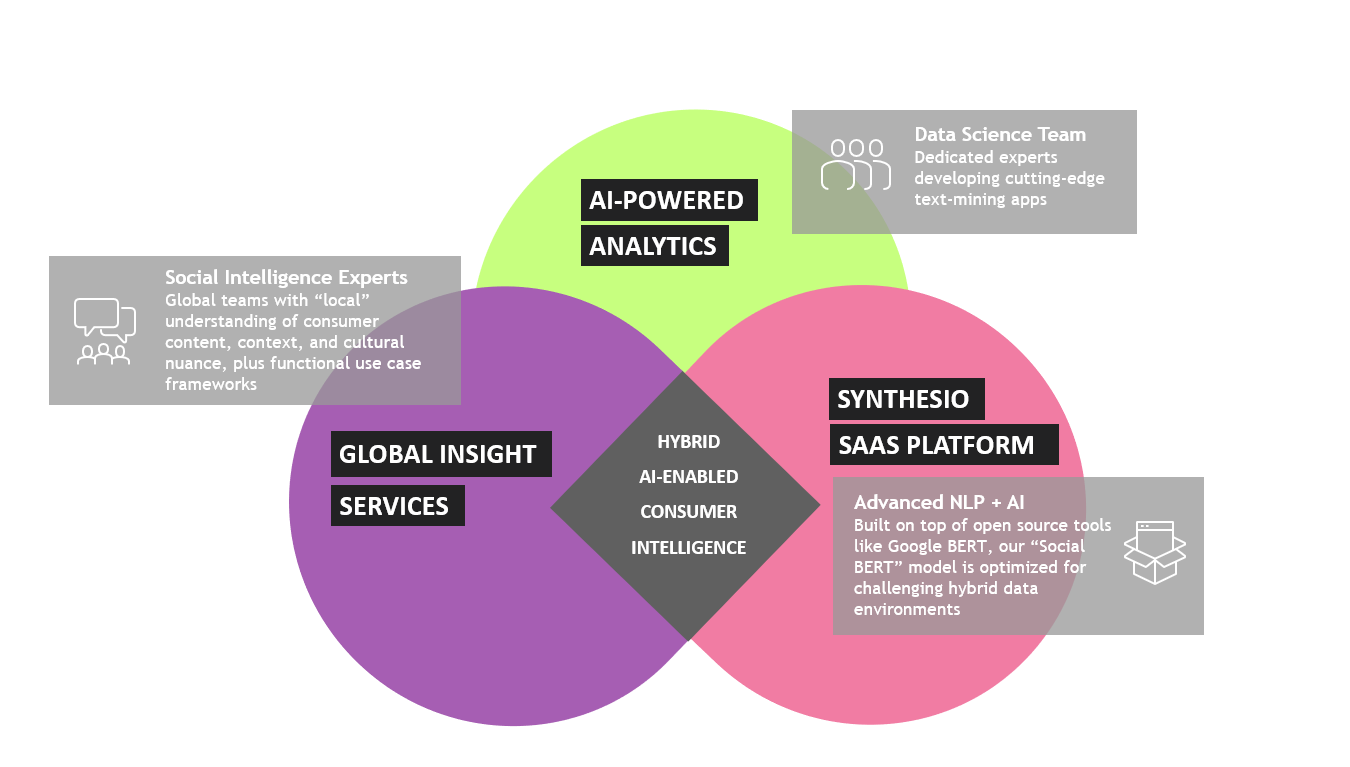 To future-proof your brand, you need new ways to keep pace with consumers and beat competitors to action. For more on building the business case for AICI, download the full report here. And, if you're ready to see AICI in action, request your free demo with one of our experts today!