Fewer Britons see themselves as happy compared to last year, but three-quarters remain cheerful
Global Happiness 2020 survey shows happiness has receded in many, but not all countries since last year.
Despite the events of the last few months, a new Ipsos survey shows 77% of Britons say they are very or fairly happy, putting them among the happiest countries in the world (research was carried out from 24 July to 7 August in 27 countries around the world). However, unsurprisingly, this proportion has dropped since the same question was asked in June 2019, from 82%. Globally, an average of 63% say they are happy.
Britons are most likely to get their happiness from their relationship with a partner/ spouse (45%), their health/ physical wellbeing or their children (both 41%). Despite worries about the economy, shown in the Ipsos Issues Index, having more money is less of a factor, with one in four (25%) saying this is a source of the greatest happiness,  while only 13% say being recognized as successful is key to their contentment. While relationships are important to Britons, only 1 in 5 (21%) say a good sex life is a great source of happiness.
Globally, health and physical wellbeing is the most common source of happiness, 55% say this provides them with great happiness. A relationship with a partner/ spouse is seen as a key cause by half (49%) while the same proportion derive great happiness from their children.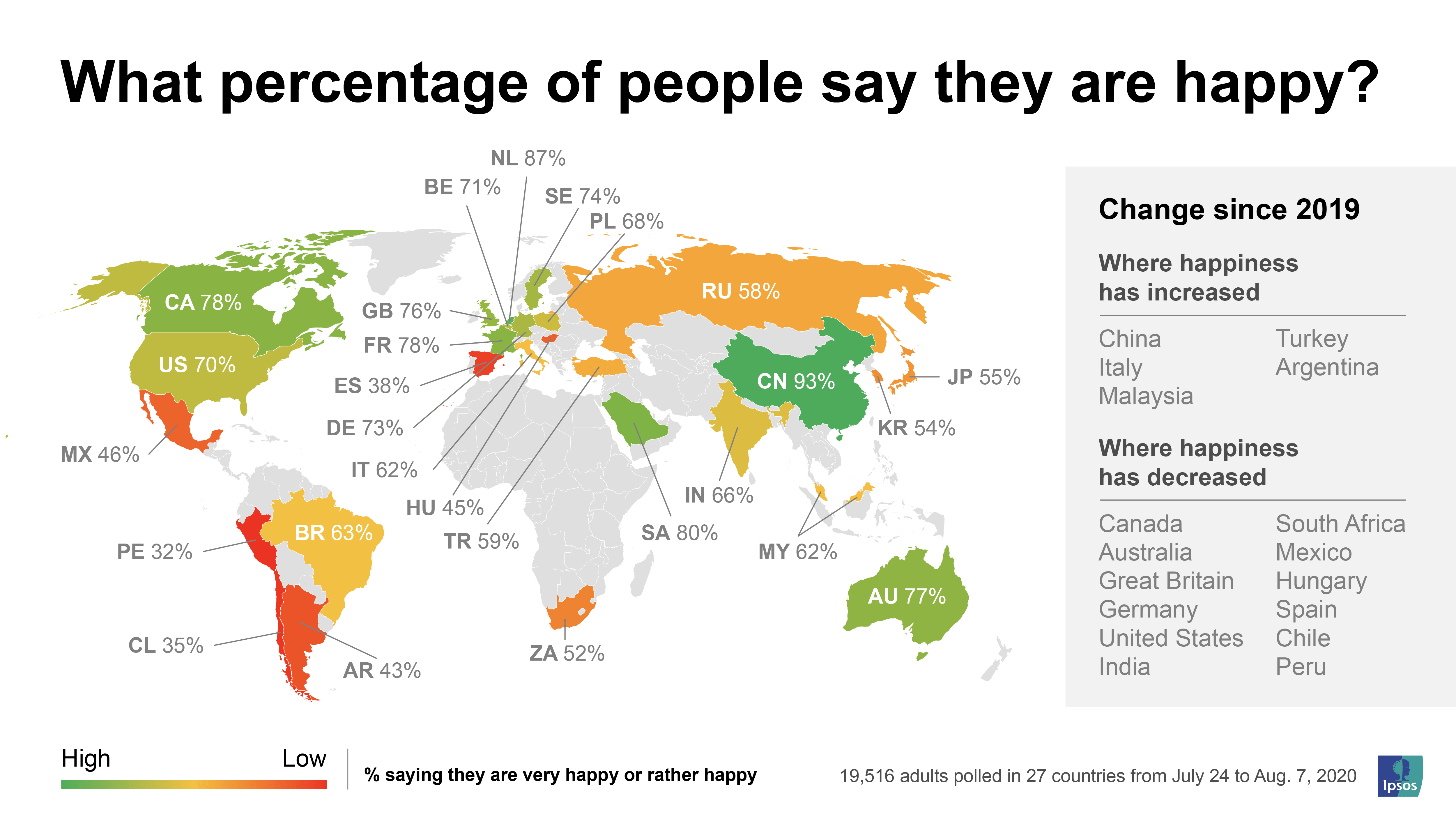 Other global findings include:
Globally, the average prevalence of happiness has remained nearly unchanged compared to what it was 2019: it dipped by just one percentage point from 64% to 63%.
The largest increases have been seen in China and Russia, Malaysia, and Argentina, the largest decreases in Peru, Chile, Mexico, and India
Countries with the highest incidence of adults who consider themselves very happy are Saudi Arabia (30%), India (22%), and the Netherlands (20%)
Those with the highest share of adults saying they are not happy at all are Spain (13%), Chile and Argentina (both 12%), and Hungary (11%)
The survey shows that the top sources of happiness tend to be universal. In 14 of the 27 the countries surveyed, each one of the top five sources of happiness, i.e., those people most frequently say gives the "greatest happiness," is among the top 10 sources at the global level. However, there are some country differences – for example safety and security is particularly important in Argentina, China, Mexico, Peru, and Saudi Arabia, while spiritual and religious well-being is particularly important in Malaysia, Saudi Arabia, Brazil and South Africa.
Ben Page, CEO of Ipsos, said:
Despite a tumultuous year of the pandemic and recession, overall the British remain relatively happy compared to much of the world - and our perception of how happy we are has fallen only slightly, down from 82% to 76% over the last year.  Overall we say our relationships are a bigger source of happiness than money - and these will hopefully sustain us in tough times ahead.
These are the findings of a 27-country Ipsos survey conducted July 24 - August 7, 2020 among 19,516 adults aged 18-74 in the United States, Canada, Malaysia, South Africa, and Turkey and 16-74 in 22 other countries, via Ipsos's Global Advisor online survey platform.
Each country's sample consists of 1000+ individuals in Australia, Belgium, Brazil, Canada, China (mainland), France, Germany, Great Britain, Italy, Japan, Spain, and the United States, and 500+ individuals in Argentina, Chile, Hungary, India, Malaysia, Mexico, the Netherlands, Peru, Poland, Russia, Saudi Arabia, South Africa, South Korea, Sweden, and Turkey.