Flair Brazil 2015 - Criticism and Progress
Many marketing executives, advertisers and name brand and publicity managers have difficulty understanding the reality of Asia and Latin America. Either they have geographic and economic knowledge, or they have inherited a deformed image, as mirrored in literature and the cinema.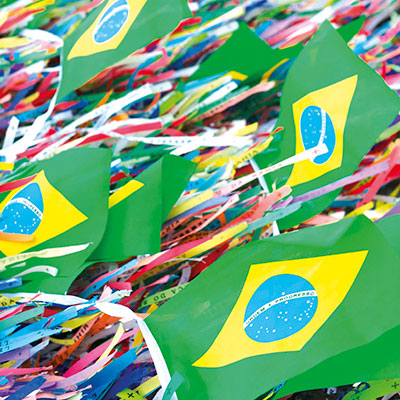 Of all countries, Brazil was certainly that which was inflicted with the most stereotypes.
On the Heads side: carnival, samba, Rio, idyllic beaches, importance of physical looks, plastic surgery, physical pleasures, sun, gold, tropical forests, Candomblé, exuberant colors, baroque Catholicism, mysticism, excesses and futurism...
On the Tails side: violence, corruption, slums, crime, drug dealers, regional disparities, social inequalities, malnutrition and poverty...
Of all the vocabulary, the two most symbolic words are no less contradictory : passion and longing.
Obviously, it is difficult to evaluate a country the size of 8.5 million square kilometers, practically a continent within a continent, with over 200 million inhabitants.
But it must inevitably be noted that 2015 will be a crucial year for Brazil, with both uncertainties and certainties.
The uncertainty is from an economic point of view: will Brazil re-discover their performance from 2004-2008 when its growth exceeded 4% per year ?
In 2014, at the sixth BRICS1 summit (hosted by Brazil), a particularly complex situation began to be noticed: an obvious slowdown in growth and an inflation forecast that increased from 5.6% to 6.2%.
According to more pessimistic experts, the situation is thus that we can ask if Brazil can still be considered to be within the BRICS, given the deficit of the current account balance (USD-109 billion). According to other expert, the growth will return to that of BRIICS2, albeit with a risk when considering the weakness in Europe, but still rated with an average expected growth of 5.7% in 2015.
From a social perspective, this convergence of data and signals will certainly develop a critical, opinionated spirit.
With a growing middle class, increasing inflation, decreasing purchasing power, the spread of Internet, the development of social networks, and the upcoming October elections, 2014 saw the emergence of a challenging spirit as never seen before.
Two perfect examples are :
The World Cup soccer championship provoked an unprecedented question regarding organization at a time when the country's growth was very weak.
Never-seen-before public transportation strikes occurred in Sao Paulo, taking advantage of this huge event.
This challenge sees the emergence of a critical culture that works in complement with the economic competence of the entire category of population with access to middle class status.
This resembles the situation in France during the Third Republic beginning in the 19th century, when the population progressively became more and more aware of their status, their weight and their potential, thus leading to their desire for more and more recognition.
This critical spirit does not apply (today) to the intangible: faith in God, the gods and the spirits (echoing the monotheistic, polytheistic and pantheistic cultures in Brazil).
However, this desire for emancipation spares less and less the materialistic realm, where the word "institutions" covers a vast field, from the more classic (politicians) to the more current (consumers, name brands, medias, communication…).
They are the ones on the firing line, largely due to social networks that are working on this challenge of previously sanctified models (government, name brand imaging, consumer society), to amplify and generalize it.
Our first Ipsos Flair in Brazil arrives just in time to clearly describe what motivates consumers: their expectations, their desires and their new values in this sensitive context.
This is the goal of Ipsos Flair, which was designed to give our clients a complete tool for strategic planning, as well as a tool for any decision support they might need, thanks to the Ipsos experts working in this country :
What kind of opinions do people have regarding name brands, ads, campaigns and institutions ?
What are the elements that permit understanding the messages and attitudes (favorable/unfavorable, confident/skeptic, positive/critical, etc.) ?
What are the consequences that companies will face in order to define the influencing strategy (marketing, media, advertising, etc.) ?
The national flag and motto "Order and Progress" are a source of inspiration.
Firstly, because they were influenced by the French philosopher Auguste Comte, founder of Positivism, with his phrase "Love as a principle and Order as the basis; Progress as the goal".
Secondly, because they are confronted with the perception of Brazilians, pessimistic regarding the economic situation of today and tomorrow, but hoping for recovery and new hope.
The defeat of Brazil in the semifinals of the World Cup was not only a cold shower ; if the President cited "make a comeback" by Paulo Vanzolini, it was also to revive the country : "Recognize the fall and don't despair / Get up, shake off the dust / and make a comeback".
Marketers, strategists, advertisers and the media should now move from this tightrope to cross the ramp of adversity and desire.
This is why we entitled this edition, "Criticism and Progress", because the culture of critical opinion is not nihilistic, but develops into a demanding and positive attitude, fueled by the electroshock of Brazil's massive defeat during the World Cup.
In this sense, Brazil proposes a different model, where opinion encourages and rewards creativity, innovation and rupture. The cover of this edition pays homage to Brazil's flag and faith in the future.
The "fita do Bonfim" is a satin bracelet that comes from a church in Salvador de Bahia. The bracelet has a symbolic, spiritual, esthetical dimension and is one of the many expressions of the country's religious syncretism.
The image is a perfect illustration of Brazil's diversity, variety and dynamics; Brazil is a country where differences are huge and yet everybody seems to look in the same direction.