Flair Brazil 2018 - The Mask Slipped! Time for Truth
For many Brazilians, it's the "Time for Truth". Years of political scandals, government corruption and the omnipresent "false news" have become too numerous - people now trust only themselves to discover reality. Brands, advertising, companies are not spared by this new age of suspicion.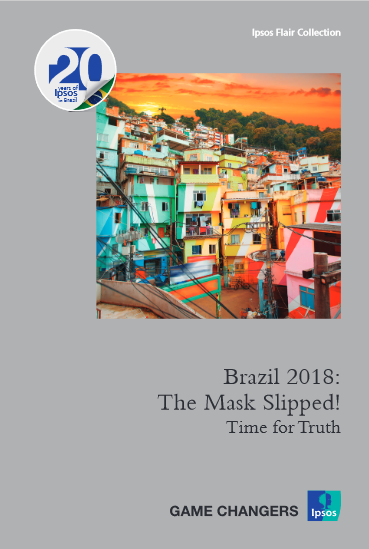 The 2018 presidential election will reveal a lot about how people feel politically. Meanwhile, the rise of technology continues with more than 78% of the population with mobile broadband, and mobile devices essential for consumer communications.
1. Brazil feels literally "cheated".
What stuns and disappoints most Brazilians is to see that they have been misled by the media, politicians and by all those who inform and govern them. The question of truth is so important this year that post-truth and "fake news" are part of daily conversations. No wonder: corruption worries now 56% of Brazilians ("What Worries the World" – Global @dvisor).
2. Brazil wants truth.
People are now increasingly deciding by themselves regardless of traditional established behaviour patterns. If you have to address Brazilian consumers today, do not use a mask. Brazil is asking for transparency and consistency. BeautyLiesTruth is an expression of how the focus on quality standards is likely to become a fundamental trend in the upcoming years.
3. Brazil favours healthier and eco-friendly alternatives.
Few industries or brands have managed to achieve relevance, differentiation and credibility with their claims of healthiness or being natural. Even though respect for the environment generally remains a secondary consideration driver in Brazil when it comes to actual purchase behaviour, companies do not underestimate the importance of their footprint in a country so vulnerable to the effects of environmental change.
4. In the 2018 presidential election,populism may thrive.
Indeed, the country's still uncertain situation, the deep feeling of dissatisfaction and the growing wave of conservatism can pave the way for political outsiders and to the possible election of a Brazilian Trump.
5. Brazil is far away from the cheerfulimages of samba and carnival.
However, the economy is now recovering after the worst economic recession in the country's history. Important social changes are happening: people are pursuing their personal development and affirm their identity as individuals.
6. Brazil is home to more and more singletons.
This market segment numbers 10 million individuals (as many people as Portugal's population) out of 207.7 million Brazilians. Economically active singles have got a significant disposable income and generate sales of 27 billion euro annually. Beyond an image of workaholism, individualism, eternal bachelorship, and party-till-you-drop types, single-unit homes actually cover a variety of different realities (singles who do make family their priority, divorcees, widows and widowers, etc.) with common issues and aspirations.
7. Brazil is also home to many Peter Pans.
It is quite common for adults in their early or mid-30s to live with their parents. This psychosocial moratorium on being adult creates a generation of well-off, educated, demanding and vocal consumers. Brands increasingly have to cope with the tantrums of spoilt children.
8. Brazil is redefining beauty.
Brazilian women want to highlight what products used to hide. A greater affirmation and acceptance of all types of personal features challenge the cosmetic brands' established product ranges and prompts new developments.
9. Brazil is overwhelmingly connected via mobile technology.
The country is part of the group of 79 in which more than 50% of the population has Internet access. Mobile broadband here plays an essential role by covering 78.1% of the overall population according to the ITU report. Mobile devices are thus a priority channel of communication when reaching out to Brazilian consumers.
10. Brazil needs pets' love.
Pets embody a safe emotional outlet of substantial relevance in many people's lives. Caring for pets is often for Millennials a preparation to paternity or maternity and sometimes an alternative to them. And for parents of young adults who are finally leaving their homes, it is a way to fight the empty nest syndrome.