Flair China 2012 - The Resolute Spirit Of The Loong
"China is a horse and the world, an idea" 2012 is the Year of the Dragon, a major symbol and myth within Chinese civilization that signifies strength and power – and how very apt this is.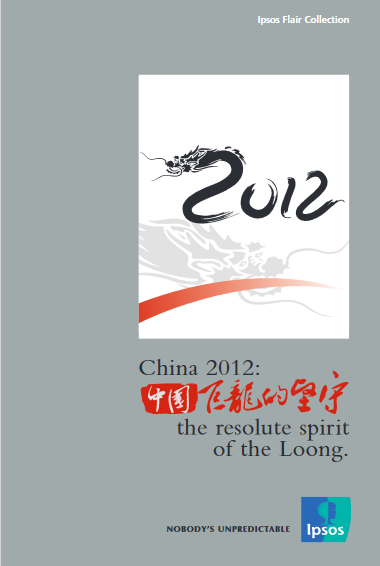 After the 2008 Beijing Olympics Games, the 2010 Shanghai World Expo (with its 73 million visitors) and growth of 10.3% in 2010, the Dragon took flight with confidence, despite some turbulence. In 2011, China grew by 9.2% and expects another 8% at the end of 2012.
In October 2012, the Republic of China also celebrates its 63rd birthday – with 1,364 million inhabitants as at June 2012 (versus 1,295 million in the previous census, ten years before) which is more than double the 594 million recorded in the first national census of 1953.
2000 saw the introduction of Ipsos in China. Twelve years later, following the acquisition of Synovate by the Ipsos group, Ipsos in China is the largest market research company in the country – with offices in Shanghai, Beijing, Guangzhou, Hangzhou, Chengdu, Wuhan, Shenzhen, Hong Kong, and Taipei. Today, Ipsos in China conducts more 2,500,000 interviews and manages 3,000 projects that involve more than 20,000 groups each year.
It is on this, the 12th anniversary of Ipsos in Greater China, that we are honored to share with you our vision and the analysis of our experts.
We know that China is no longer an emerging country, but a country emerged, while other parts of the world are sinking. We understand that this is not an awakening, but a renaissance: until the early eighteenth century, China was the most powerful country in the world. We know too that, at this stage in its development, China will have to manage the structural consequences of its growth on a global scale.
It is now time to invite you to discover the current and projected life stages of Chinese society, its rhythms and expectations – in other words, the major issues that will determine the strategies of advertisers and companies.
As the Chinese proverb says, "A fool looks at the finger when the wise point at the moon." Ipsos will accompany you in pointing at the bright moon!