Flair Russia 2021 - Progress
In the third edition of Flair Russia, Ipsos experts share their vision of what the future may hold for us over the coming years and what signals of the future we can recognise today.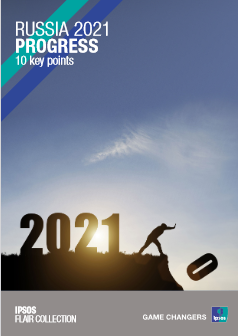 In Flair Russia 2021: Progress, Ipsos experts share their vision of new consumer behaviour under the influence of emerging trends, reinforced and transformed by the Covid-19 pandemic. Based on data and our experience of the present, we cast our gaze into the future.
1. Covid has significantly impacted the way Russians shop
Either online or offline, measures taken by consumers to cope with contagion risks have reduced the share of impulse purchases. Simultaneously, they also increased shoppers' ability to navigate options offered them by new technologies and which could be leveraged by retailer and manufacturer brands alike to revive impulse shopping with, for example, 3D and other devices.
2. The Covid pandemic favoured a re-birth of domestic tourism in Russia
Research shows that the main motivations of Russian tourists can be satisfied locally by the huge variety of choices that Russia offers visitors.
3. Functional drinks play to the rising aspiration for healthiness
As the pandemic reinforces concerns about immunity and nutrition, consumers are increasingly open to functional food and drinks. But high prices remain a barrier to prolonged and regular consumption, as they do for dietary supplements, limiting the current surge to a series of trials and episodic consumption.
4. From heavy-smoking to heavy-vaping country?
Russia is one of the most important tobacco markets in the world and innovations in the nicotine category are systematically put to the test here. What if we look into the future of the category in 10+ years, where could things go next? One of the ideas sounds both logical and surprising, as tobacco companies turn to be more tech: why not use vapes to deliver vitamins and other healthcare vapour products to a human body? Smoking as a habit started with a doctor, and, maybe in a decade it could make a turn and come back to serve a medical purpose again?
5. Anti-consumption
A growing consumer segment consists of people who put the environment first and try to reduce their consumption's impact. Poor waste recycling crystallizes many of these frustrations. At the same time, a more responsible consumption is also increasingly considered a source of mental wellbeing.
6. E-sports show growing popularity in Russia
Cyber-match streaming is seen as an alternative to watching TV and videos on the internet, which allows one to experience vivid emotions, become part of a community, and get away from the routine of everyday life. Brands which take this kind of new entertainment seriously could earn a real prize for this.
7. Russian Gen Z have got new conceptions around beauty and being a woman
Modesty is a rising value among young Russian women.
It underlines a new approach to women's role in society and to the best way to accomplish oneself. Simplicity in dressing and make-up reflect the importance of the inner self and of leading a good and responsible life.
8. Russia's affluent consumers aren't a homogeneous group anymore
'Old-style' self-made millionaires, heirs, owners of thriving IT businesses or HENRY - High Earners Not Rich Yet have got hardly anything else than money in common. Their tastes and habits diverge, and sometimes stray far away from ready-made clichés.
9. 50% of Russians are ready to buy an electric vehicle -if they had the option
The need to extend the infrastructure for charging electric cars is clear. Yet there is a strong aspiration for electric mobility among Russian consumers and brands must be attentive to the way the market currently shapes up. There is a risk that the Russian market, if it does not change structure, may not be able to meet consumers' interest in more environmentally-friendly travel or indeed the OEMs' strategic ambitions.
10. 37% of Russian consumers are open to anything new
Those brands who adopt the idea of actively changing the future will need to find allies among consumers. Our research finds that those who are "open to anything new" are interested in arts and fiction, anything related to imagination. In movies they choose both highly emotional genres like dramas or horrors, but also show interest in historical films and documentaries. Businesses that see new bright ideas in crises and are ready to go beyond the already well-known trends will find good allies in open-minded consumer-innovators. This will help them discover new categories and find great insights that will drive commercial success.