Ipsos Update – August 2019
This month's edition of Ipsos Update features Ipsos research and thinking on gender equality, what worries the world, video research, sustainable packaging and consumer trends in Russia.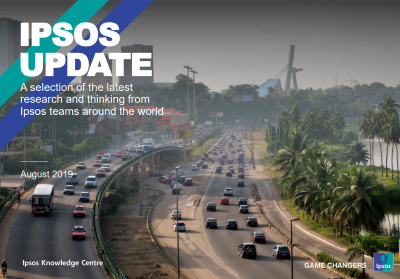 Our new edition of Understanding Society, A Woman's World, presents a rich and diverse collection of articles which shine a light on the realities of women's lives around the world. Including contributions from trailblazing women and experts across sectors, the publication focuses on multiple issues from economic empowerment to violence and harassment and explores how to overcome barriers to gender equality in Australia, Turkey, Malaysia, Ireland, Nigeria and beyond.
New analysis of our global What Worries the World survey looks at which issues are most concerning for citizens in 28 countries today and how they have changed over 100 months. Our white paper, The Illusion of Stability, shows that beneath the consistent headline figures are constant shifts and uncertainty.
A key finding is the long-term decline of Unemployment as the world's single dominant concern. This correlates with the latest scores from our Global Consumer Confidence Index, which finds that jobs are driving July's high score.
Turning to Africa, our Ipsos Flair collection goes to Ivory Coast for the first time and finds a country that is both robust and frail, with a fast-growing economy that is sensitive to fluctuations. Our analysis from the local team in Ivory Coast provides key insights on society, markets and people in the "central nervous system" of Francophone Africa.
Our latest research from Russia in our 2019 TrendVision report outlines the country's current socio-economic situation and builds a comprehensive picture of consumer trends for 2019, with examples of how innovations in the market are responding to the needs and desires of the modern Russian consumer.
Meanwhile, a new briefing paper from our Japan team, Thinking Outside the Box, Bag and Wrapper, looks at issues surrounding sustainability and packaging waste in Japan. It argues that while Japanese consumers are among the least likely in the world to take action to tackle problems of plastic waste, this is likely because of a lack of options. So, now time for brands to take leadership on sustainable packaging in Japan.
Video content is now the biggest component of consumer internet traffic but only a relatively small proportion of marketing and research data is video-based. It is not only a great qualitative tool for bringing insights to life but also a rich source of quantitative data itself. Our new report on how video research is ballooning shows how video can play a larger role in consumer research.
Finally, on the 50th anniversary of the moon landings, we look at public opinion of the event itself and at space exploration more widely. A UK poll also tells us which politicians people would most like to send on a one-way trip to the moon.
Download