3 in 4 Britons believe wearing face masks in public is very important
Despite face masks becoming voluntary next week, a strong majority of Britons are likely to continue wearing them in many public situations
New polling by Ipsos shows widespread support for the use of face coverings in certain public situations. Three in four (73%) say wearing masks in places such as shops and public transport is very important in stopping the spread of coronavirus, including 43% who say it is essential, up from 37% who said the same this time last year. 
Older Britons are most likely to view face masks as essential. Over half (54%) of 55-75s believe they are essential to preventing the spread of the virus while 42% of 35-54s and only a third (32%) of 18-34s say the same.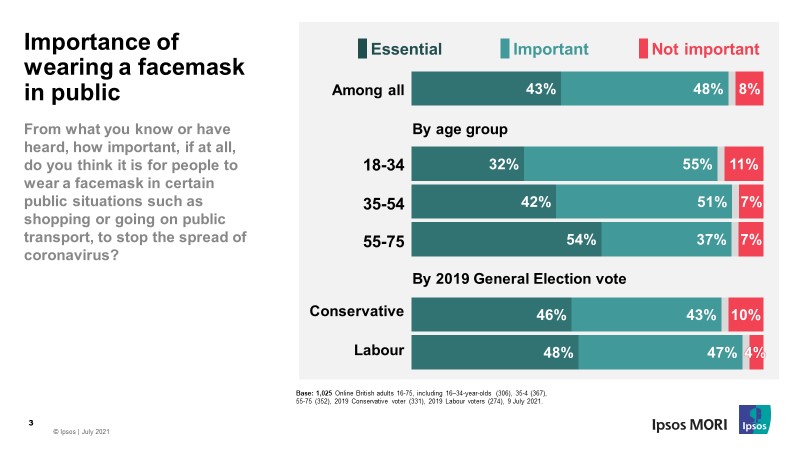 When face masks are no longer compulsory, around three-quarters of Britons are likely to continue wearing them in shops (76%) and while using public transport (74%). A majority are also likely to wear them on planes (64%), in theatres and cinemas (60%), in their place of work (59%) and in pubs and restaurants (55%).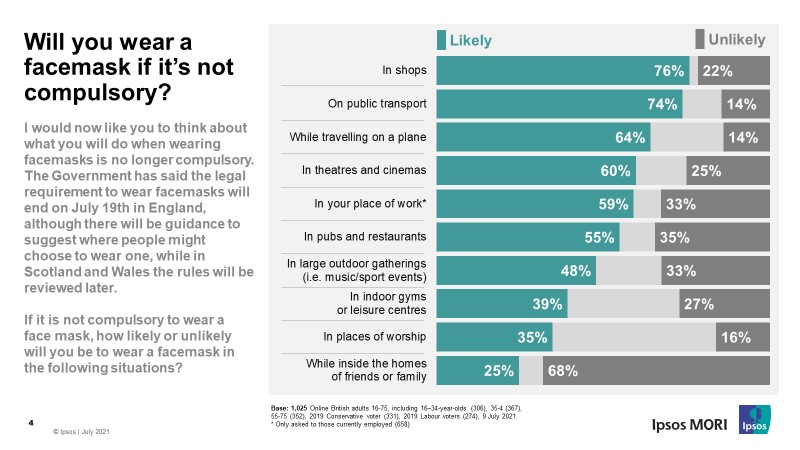 Less than half say they are likely to wear face coverings in large outdoor gatherings (48%), in indoor gyms/leisure centres (39%), in places of worship (35%) and while inside the homes of friends or family (25%). Just under seven in 10 say they are unlikely to wear masks inside the homes of others (68%).
Kelly Beaver, Managing Director of Public Affairs at Ipsos, said: 
While most Britons appear likely to continue wearing face masks beyond 19th July, it is clear not all situations will inspire a majority to keep their mouths and noses covered. With 7 in 10 unlikely to wear face masks inside the homes of friends and family, people will need to ensure they open windows and ensure air circulation while hosting others to limit the spread of the virus as we continue into the next stages of our fight against COVID-19.
Technical note:
Ipsos interviewed a representative sample of 1,025 British adults aged 16-75. Interviews were conducted online on the 9 July 2021. Data are weighted to match the profile of the population. All polls are subject to a wide range of potential sources of error