7 in 10 parents worried about their children catching COVID-19 when they return to school
As schools return after the summer holidays, we look at expectations and worries about the effect it will have on COVID-19 levels.
With children starting to head back to the classroom, polling by Ipsos shows a large majority of British parents with school-age children are concerned about the risk of their child(ren) catching COVID-19 while at school. Seventy per cent are concerned about this risk with only 3 in 10 untroubled. 
Worry increases slightly among mothers with children at school, 74% of whom are worried compared to 64% of fathers. Those with children at secondary school are more likely to worry, 72% are concerned about the risk of their children catching COVID-19 while 68% of primary school parents feel the same.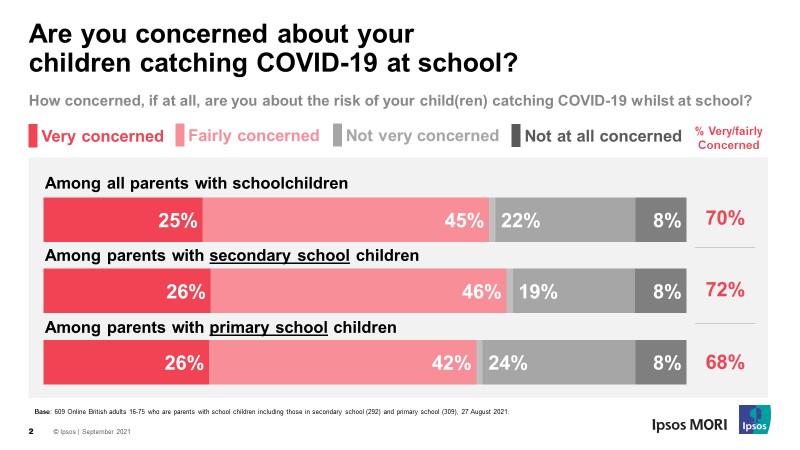 Looking forward to the coming academic year, over 7 in 10 (71%) believe it is likely that the number of coronavirus cases will rise as a result of children returning to school, only 8% deem this unlikely. 
While almost two-thirds (65%) think most school staff will take lateral-flow tests twice a week, as the government currently advises, only half of secondary school pupils are likely to so the same (51%).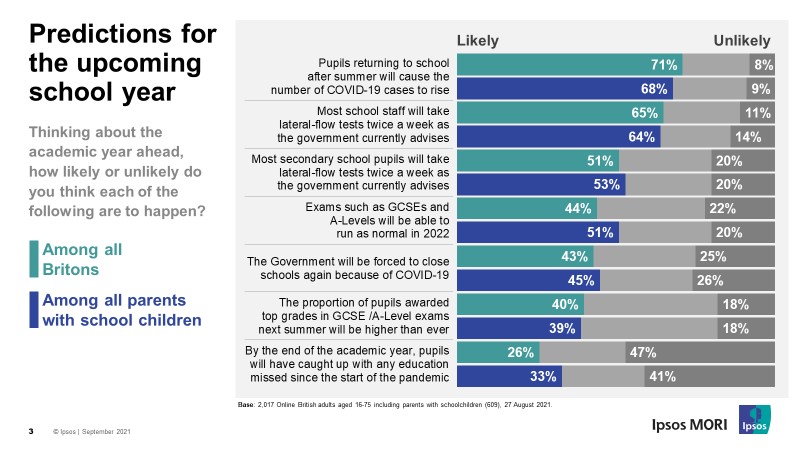 Less than half of Britons (44%) expect to see exams such as GCSEs and A-Levels run as normal in 2022, 22% think this is unlikely. Parents are slightly more hopeful, 51% say exams are likely to run as usual. Four in 10 (40%) say it is likely that the proportion of pupils awarded top grades in their GCSE and A-Level exams will be higher than ever, 1 in 5 (18%) disagree. 
More than 4 in 10 (43%) believe the Government will once again be forced to close schools because of COVID-19, 1 in 4 disagree. Therefore, it may be no surprise that almost half say it is unlikely that by the end of the upcoming academic year, pupils will have caught up with any education missed since the start of the pandemic (47%), only a quarter think this is likely to happen (26%), increasing to a third of parents (33%). 
Kelly Beaver, Managing Director of Public Affairs at Ipsos, said:
As pupils return to schools across the country, it's clear that there is a certain degree of concern and trepidation about the impact of that on COVID cases, as well as concern among parents about the more direct impacts on them and their children. There are also broader educational concerns about the way that exams will be run next year and about the degree to which pupils will have 'caught up' on time lost academically from last year. These are important issues for parents, who'll be watching closely to see what the Government does around this crucial area.
Technical note: 
Ipsos interviewed a representative sample of 2,017 Britons aged 16-75. Interviews were conducted online on the 27th August, 2021. Data are weighted to match the profile of the population. All polls are subject to a wide range of potential sources of error.
 
Download