Base Rates and EMU
Survey assessing support for Britain joining EMU.
Base rates and EMU are not directly connected, but they are both topical.
The 25bp rate cut reduces risks - which in any case appeared quite low - that the UK economy will slow sharply enough to require base rates to fall more than already priced in. With massive fiscal loosening, rising consumer confidence, plus the pound's recent decline, we expect GDP growth to slow only modestly, to 21/2%-3% this year from 3% last year. Base rates are unlikely to fall further unless global activity falls sharply.
With the debate over whether or not the UK will join EMU, post election hotting up, our latest MORI poll suggests that the balance of opinion against EMU entry has fallen slightly since November, but remains higher than it was when Labour came to office in 1997. Public opinion is two to one against EMU entry. We doubt that public support for EMU entry will rise enough to allow the government to risk a referendum post election. It seems more likely that the government will have to continue to find economic reasons to stay out, even though the chief obstacle to entry remains political.
UK - Balance of Opinion Over EMU, 1991-Feb 2001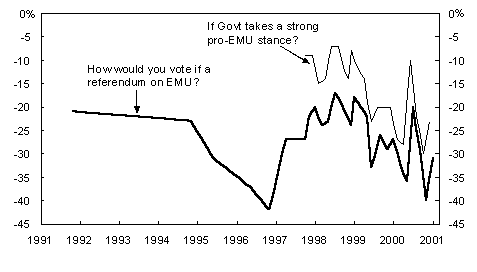 Technical details
Latest polling conducted between 25 and 30 January 2001. Sample size 1,897 people for latest survey, and similar for earlier results.

Economic & Market Analysis - Sterling WeeklySchroder Salomon Smith Barney[pdf format - 130K]