Boris vs Ken
As nominations open for candidates for May's Mayoral election in London, a new Ipsos poll for BBC London shows that the race for City Hall is extremely close between Boris Johnson and Ken Livingstone.
The most important issue that will help Londoners decide who to vote for in the election is creating jobs and economic growth: six in ten  (59%) Londoners say this will be the key issue for them. However, candidates Johnson and Livingstone are neck-and-neck in terms of being seen to have the best ideas of how to create jobs and growth (27% each). Perhaps more tellingly, four in ten Londoners (40%) do not know which candidate has the best ideas on this issue. The high levels of people being unsure who has the best ideas on issues shows that the race is open, with plenty of minds still to be made up.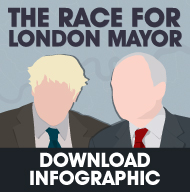 Boris Johnson does hold a small lead over Ken Livingstone (26% to 22%) in being seen to have the best ideas on crime - the second most important issue in helping Londoners who to decide to vote for (49%), although again around four in ten say they do not know which candidate has the best ideas (39%).
Improving public transport (38%) and building affordable housing (37%) were the other top issues for Londoners choosing how they would vote. Boris Johnson holds a small lead over Ken Livingstone on transport (35% to 31%) while Mr Livingstone holds a 10 point lead on housing (28% to 18%) – although half of Londoners say they don't know who has the best ideas on housing.
The  London Mayoral Election is closest thing Britain has to a Presidential Election, with personalities playing an important role. With that in mind, it is interesting to see that both candidates clearly have their strengths and weaknessesBoris Johnson is more liked than Ken Livingstone – 43% say they like Mr Johnson the most, 35% say Ken Livingstone.
Ken Livingstone is clearly seen as having a better grasp of details, 44% compared to 28% for Boris Johnson.
More Londoners think Ken Livingstone would be best in a crisis (43% compared to 23%) but Boris Johnson is seen as the better ambassador for London (47% compared to 32% for Mr Livingstone).
Half of Londoners (49%) think Boris Johnson will get the best deal for Londoners from government compared to 31% that think Ken Livingstone would.
However, Ken Livingstone is seen as the candidate most likely to understand the concerns of ordinary Londoners (49% compared to 26%).
One in five (20%) people say that neither candidate is the most trustworthy, while the same proportion of Londoners trust Boris Johnson (31%) as do Ken Livingstone (30%).
The two candidates are seen as neck and neck on making best use of public money – 38% saying Boris Johnson and 36% saying Ken Livingstone.
Technical note
Ipsos interviewed a representative sample of 1,001 adults aged 18+ across London. Interviews were conducted by telephone between 10th and 13th March 2012.  Data are weighted to match the profile of the population.