Confidence in the NHS to deal with coronavirus falls to lowest level since pandemic began, but 3 in 5 still believe it can cope
People are increasingly worried about the NHS's ability to cope with the pressure of the pandemic, but 3 in 5 still have faith.
A clear majority of Britons are confident in the ability of the NHS to deal with those who are ill as a result of the virus, but this has fallen 12 points from November and now stands at the lowest level since the pandemic began. 
Meanwhile 35% are not confident the NHS can cope, up 11 points from November.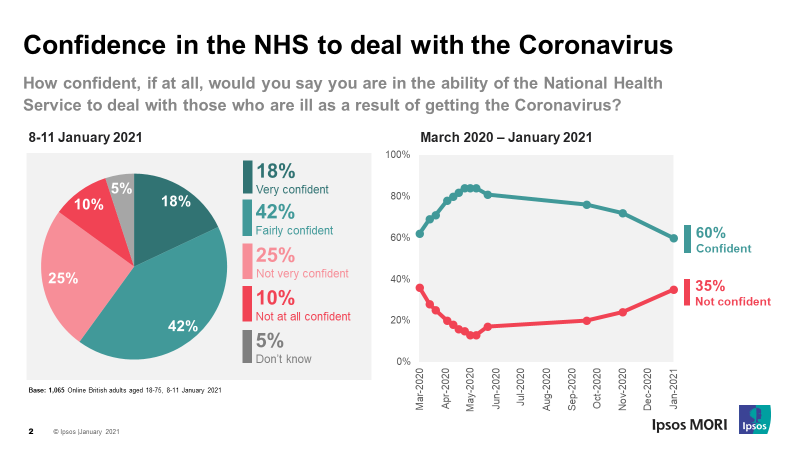 Two in five in London (41%) say they are 'not confident', whilst a third of those in the South (33%) also lack confidence and 36% of those in the North and Midlands feel the same.
Confidence is split along party lines, those favourable to the Conservatives are significantly more likely to be confident in the ability of the NHS to deal with the Coronavirus (72%) than those favourable to the Labour Party (56%). 
Ben Page, CEO of Ipsos, said:
Public confidence in the NHS has fallen to its lowest point in the pandemic, driven by media coverage of hospitals under pressure. In one sense this may be helpful in encouraging the public to maintain social distancing, but the challenge will be rebuilding it after the pandemic when waiting lists will likely be at record levels.
Technical note: 
Ipsos interviewed a representative sample of 1,065 British adults aged 18-75. Interviews were conducted online from 8th-11th January 2021. Data are weighted to match the profile of the population. All polls are subject to a wide range of potential sources of error.