Despite concerns for the year ahead, majority of Britons are hopeful for 21st June end of lockdown
Britons are hopeful the current lockdown will end as planned on the 21st June however many are concerned about further lockdowns, new COVID-19 variants and another wave of Coronavirus cases
New polling by Ipsos shows that people are hopeful that England will soon be out of lockdown, with around three-quarters (73%) of Britons saying it is likely that 21st June will be the end of the current lockdown, as planned by the UK Government. Only one in five (19%) disagree. This drops significantly among 18-24-year olds, only 55% expect the lockdown roadmap to continue as planned, while 4 in 10 (39%) say it is unlikely.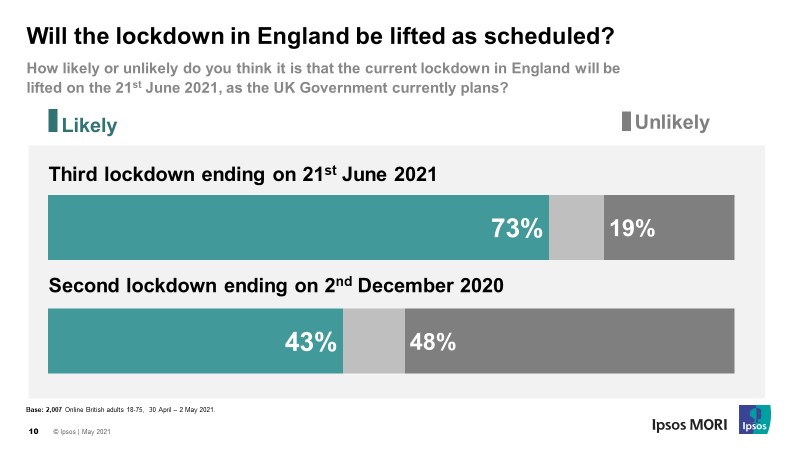 There are also signs that the pandemic is having less of a negative impact on Britons' spirits. Whilst two in five (42%) still say they are finding it harder to stay positive day-to-day compared with before the coronavirus outbreak, this is the lowest we have seen since we first asked the question in March 2020. Now, the same proportion say it is about the same as before the pandemic (43%), while 14% are finding it easier. 
The same is seen in feelings about staying positive about the future. The number of Britons finding it easier to stay positive about the future has increased (to 16%), while those finding it harder is at its lowest, although still nearing half (47%). In both cases, women are still significantly more likely to being finding it harder to stay positive than men.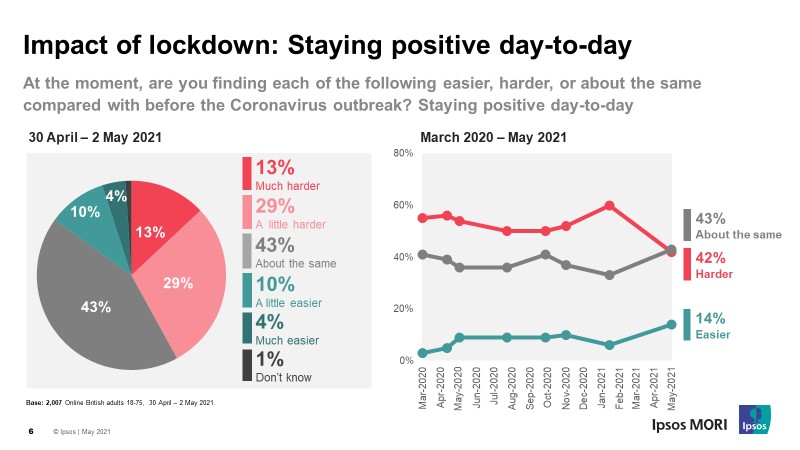 Despite hope for the end of lockdown next month, Britons are not convinced everything will go  back to normal, with many concerned for what the rest of the year has in store. Few expect life to be as it was before the virus; 72% are concerned that there will be a lower quality of life than pre-COVID. Eight in ten (79%) are worried about another wave of coronavirus cases or the spread of a vaccine-resistant strain of the virus. A further three-quarters (73%) are concerned about the possibility of another national lockdown in the next year. 
Britons also have economic concerns for the rest of the  year. Three in four (76%) say they are worried about the chances of the economy going into recession while seven in ten (69%) are concerned about taxes being raised, but with the same proportion being worried about public spending being cut (71%). However, fewer are worried about the furlough scheme ending or losing their job, although still nearing half (both 46%).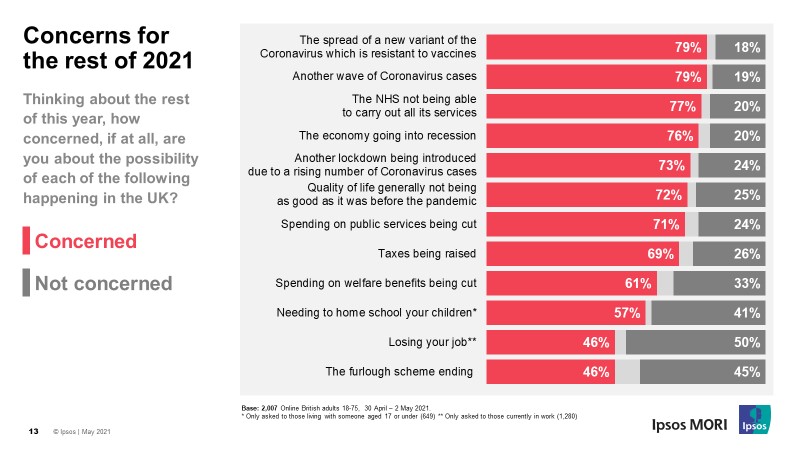 Many are worried about the NHS and public services. Nearing eight in ten (77%) say they are concerned that the NHS might not be able to carry out all of its services, while others worry spending on welfare benefits will be cut (61%). Almost six in ten (57%) parents are concerned about the possibility of having to home school their children again in the next year. 
Gideon Skinner, head of political research at Ipsos, said:
With the success of the vaccine programme and the process of coming out of lockdown, Britons are beginning to feel a lifting of the cloud brought on by the pandemic – and they are hopeful that the final removal of restrictions remains on track for the summer too.  
However, the pandemic continues to have an impact on people's mental wellbeing – particularly women – and there are anxieties about the year ahead, particularly the chances of another wave or a vaccine-resistant variant, so we are not out of the woods yet.   Nor is there any easy answer for the economic questions facing the Government.  With concerns about the possibility of a recession, there are worries about taxes being raised – but just as many about public spending being cut.  Getting this right will be crucial for the country's post-Covid recovery.
Technical note:
Ipsos interviewed a sample of 2,007 adults aged 18-75 in Great Britain using its online i:omnibus between 30th April and 2nd May 2021. Data has been weighted to the known offline population proportions for age, working status and social grade within gender, government office region and education.  All polls are subject to a wide range of potential sources of error.
 
Download